This post has adult content. If you are under the age of eighteen years old and/or sensitive to adult language/situations, please do not read this post.
It's Day 13 of NaNoWriMo insanity. If you're on schedule, you've written 20,000 words. If you're not on schedule (where I am right now) and you want to make your goal, you might wish to pick up the pace.
How do you kick it into top gear? One of the tricks of writing a fast first draft is turning off the internal editor, that highly critical part of the brain.
If the muse is a sparkly good-natured yet extremely inconstant fairy, the internal editor is a dark, bitchy scene-sucking demon that never wants to leave. The internal editor and the muse hate each other, refusing to be in the same brain. We can only pick one or the other to humor, and, for the first draft, we want a happy muse.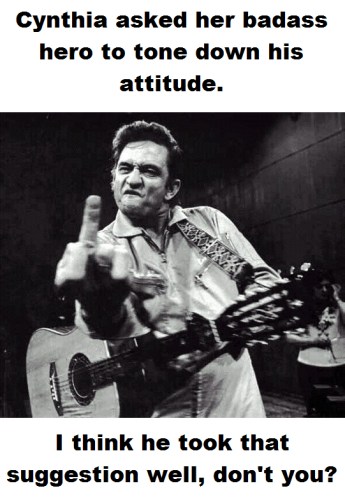 Why We Want To Write A Fast First Draft
Writing the first draft of a story is job #1 for writers. As an editor buddy told me, a great editor can fix even the messiest first draft (I've seen it done – A NYT best selling buddy of mine submitted a manuscript I thought was written in a different language. The finished product was a work of freakin' art). Editors can't write that first draft. Critique partners can't write that first draft (unless you're James Patterson). Only we can. The quicker we do that job, the better.
With a first draft written and an upcoming deadline looming, we can outsource our revisions. We can ask our grammar-loving (and clearly insane) buddy to check our punctuation. We can ask our plot guru friend to ensure we don't have any WTF (what the fuck) moments. If we don't have this first draft written, they can't help us.
For pantsers (writers who have no plot before they start to write) writing on proposal (the publisher buys the story before it is written), a fast first draft is even more critical. With many pantsers, the finished story doesn't match the proposal. I tell my editor my hero is attending a masquerade ball in chapter three, and my hero says "Fuck you, word wench. I'm going to the gun range." I always run the first draft story by my editor. She tells me if there are any red flags, story twists she wouldn't have approved in the proposal. THEN I start revising this steaming piece of dookie, readying it for submission.
Romance writers often say "Write the first draft with the door closed". This means the first draft is for YOU and you alone. Assume no one will see it. No one will judge you on it. Be as strange and as crude as you want. This first draft is going nowhere.
The benefit of this is you'll likely write balls to the wall (which actually refers to cannonballs but I prefer to picture another set – grins). I write some freaky-ass stuff in my first drafts. Once I had a hero fuck the heroine's ear. I don't think that's possible and I doubt many readers would think it was as sexy as I did. I'll never know because it didn't make the submission draft. My characters are usually more extreme in the first draft. The hero might be more asshole than alpha. He says things he should only think. He certainly isn't slick.
If you're on a tight deadline and this first draft does go to your critique partners or to your editor, they're professionals. They know first drafts are shit. They shouldn't judge you on it.
Be Aggressive. Be, Be Aggressive
Speaking of deadlines… I suspect one of the reasons NaNoWriMo has the set goal of 50,000 words in 30 days is because this goal is aggressive yet doable. Upcoming deadlines scare internal editors, silencing them. We don't have time to worry about sentence perfection. We have to get shit written.
When deadlines are really tight, buddies of mine have passed pages off to critique partners as they're written. There is no looking back, only moving forward.
The Shit We Don't Know
Nothing stops a story cold like something we don't know – whether it is a setting or historical fact or the heroine's name. I put in placeholders for the small things. If I don't yet know the hero's name, I'll call him XXX. When he finally introduces himself, I'll perform a search and replace on XXX (this is why I use a placeholder that isn't a real word). For larger things, I'll make assumptions and create a comment, reminding myself to research it.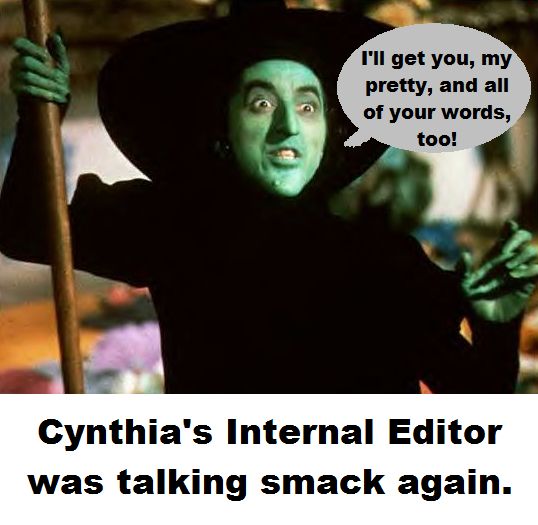 Saving Fresh Words For Blank Pages
I research anything I don't know after I've written my fresh words for the day, when my brain is fried, unable to hold another creative thought. I've found that research takes up creative brain space but fresh words don't take up research brain space. Research always comes after the fresh words.
I don't rewrite the scene after I've completed this research. I can't. My brain is empty. I put the information in a comment at the beginning of the scene. If I've printed the pages, I write it in the margins. Then I write as though this change has already been incorporated in the story.

Story Changes
I use this technique for story changes also. If my character has made a wrong-for-her decision in chapter three and I'm writing chapter five, I'll briefly note the changes and write chapter five as though she made the right-for-her decision. Running the scenes through my brain takes less time than writing them down.
Why don't I make the changes now? Because I don't know if they will stick. Say I'm writing a fight between the heroine and the baddie and I don't know how many shots her glock can fire without a reload. After my fresh writing is completed, I find out this information. I rewrite the scene. Then three chapters later, I discover the scene would have more meaning if the heroine had used a different gun. Ugh. I have to rewrite the scene again. (And yes, everything, including the gun characters use, has meaning in my stories.)
How do you turn off your internal editor?
If you liked this post, you might like
Writing Erotic Romance – Balancing Sex And Plot
or
Writing Erotic Romance – Making Every Sex Scene Different
or
Writing Erotic Romance – Making Sex Sexy
or
Writing Erotic Romance – The Basics Of A Sex Scene
or
Writing Erotic Romance – Word Choice
***
Subscribe To My Release Day Newsletter: http://tasteofcyn.com/2014/05/28/newsletter/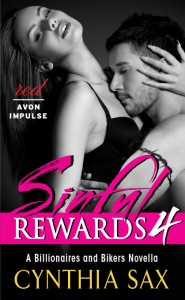 Four years ago, Bee Carter left her tiny hometown, escaping her tormenters. She concealed her tarnished reputation under a good-girl persona, hiding her history from Nicolas, her strong and silent billionaire; Hawke, her tattooed bad-boy biker; and Cyndi, her man-crazy best friend.
Today, she's returning home … and she's not alone. Some of her deepest, darkest secrets will be revealed. Trust will be tested. Clothing and inhibitions will be discarded. Bee and her hometown will never be the same.
When her past and her present collide, will any of Bee's relationships survive?
Buy Links:
Amazon: http://www.amazon.com/Sinful-Rewards-Billionaires-Bikers-Novella-ebook/dp/B00I7V89N4
ARe: https://www.allromanceebooks.com/product-sinfulrewards4-1645053-149.html
Barnes And Noble: http://www.barnesandnoble.com/w/sinful-rewards-4-cynthia-sax/1119919839
Google: https://play.google.com/store/books/details/Cynthia_Sax_Sinful_Rewards_4?id=PvxzAwAAQBAJ
iTunes: https://itunes.apple.com/us/book/sinful-rewards-4/id814148698