This post has adult content. If you are under the age of eighteen years old and/or sensitive to adult language/situations, please do not read this post.
"I'm considering walking away from erotic romance because I'm tired of writing about sex. There are only so many combinations of tabs and slots a girl can think of."
"My book needs to be longer so I'm adding a sex scene. I don't care where in the book this additional fuckfest goes. I'll write a generic scene and let my editor decide."
"I'm in a time crunch so I'll insert a sex scene from a story I discarded. Sure, the old story was a SciFi featuring a doubly blessed alien hero and I'm writing a contemporary with a one-cocked billionaire, but sex is sex, right?"
If you're thinking any of these thoughts (and let's face, we've all contemplated these – usually when staring at the bottom of a wine bottle), then you likely need a reminder of what a great sex scene should be.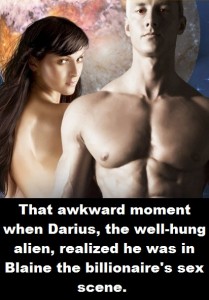 No Separation Of Sex And Story
Sex scenes should change the romantic relationship or reveal character or push the plot forward, or accomplish all of those other things any great scene should do (that I can't remember right now). It isn't filler. It isn't a bonus scene. It has a purpose.
There is also no separation of sex scene and story. Whatever happens while clothed affects what happens when naked and vice versa. Sex can really fuck things up, increasing conflict, or it can resolve differences, forcing couples to work together. If you can remove a sex scene and nothing changes, the sex scene shouldn't be there.
Every sex scene should be different. I have over 80 erotic romances published. That translates to 250 sex scenes, give or take a few. No two are the same. There are some similarities because yes, there are only so many physical combinations we can write, but readers aren't reading sex scenes for the actual sex. They're reading for emotion, for character, for plot.
Every Character Approaches Fucking Differently
They do. Take a simple climax scene. The hero is sextastic. Boyfriend is pulling out all the stops, fucking the heroine into the mattress, and she's coming hard, the lucky bitch.
A SciFi heroine might go supernova, seeing stars. Diamonds glitter for a fashionista heroine. A phoenix shifter heroine bursts into flames. A warrior heroine's world explodes into a million daggers. A cowboy heroine is dazzled by sparks from a campfire.
You're in your character's point of view. Be your character. Ask yourself if your character would use the words you're writing for him or her. Would the gruff, tough cop hero know his heroine is wearing a silk camisole (revealing his secret side job as a fashion designer) or would he remove a top so damn flimsy and soft, he's worried about tearing it?
Would your talkative heroine be quiet during sex (maybe showing she's nervous) or would she chatter during the entire encounter, forcing the hero to shut her up (in sexy ways)? Does coming loosen the normally stoic hero's lips or does he stay in character and show his changing emotions? Is a clumsy heroine also clumsy in bed, kneeing our poor hero in the groin (taking care of that pesky birth control problem), or is that the one place she's graceful, becoming the Cinderella of the bed sheets?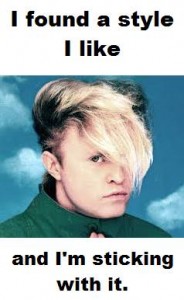 Your Character's Fucking Style Will Change
In an erotic romance, the main characters have what is known as a character arc. They change. The hero and heroine grow as individuals, becoming people able to sustain a lasting love. This change affects EVERY aspect of their lives, especially their sexual encounters.
Bee, the heroine from Sinful Rewards, cares about her appearance and about what other people think about her. At the beginning of the serial, she gets pissy when thing get… ummm… messy (and things do get messy during sex, don't they?). As she changes, becoming less uptight about appearances, she also becomes less uptight about sex. The Bee having sexy encounters in Sinful Rewards 12 isn't the same Bee who had sexy encounters in Sinful Rewards 1. The sex scenes can't be swapped.
The Relationship Will Change
The relationship between the hero and the heroine will change also. One of the reasons I love writing erotic romances is that, while men don't always talk about their feelings, they're really good at showing them, especially in the sack.
When two near-strangers fuck, it's a gloriously selfish thing. Both the hero and the heroine are usually concentrating on getting themselves off. Sure, if the other person comes, that's a bonus, a pat on the back for our big strong alpha male, but his focus is on himself.
He arranges the hook up so he can leave as soon as he's done (they fuck in his car or between meetings). There's no talking about personal things or the future. He doesn't use her name or take her preferences into consideration.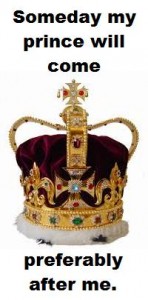 As he cares more and more, his focus switches from himself, to the two of them, to her. Maybe he tucks a pillow under her ass before he pounds her senseless. Maybe he goes downtown on her and doesn't expect anything in return (and it isn't even her birthday! He IS a hero.). Maybe he cuddles.
Whether or not he/she sleeps over and where the couple sleeps can be a big indicator of where they are in a relationship. Does he make the bed before she comes over? Buy her a toothbrush? Prepare breakfast the next day? These details are important, revealing character.

Sex And Conflict
Sex is a delicious source of conflict. The heroine and hero could be at different stages in their relationship. She's falling in love with him and he doesn't want to sleep over (because, unbeknownst to her, he has nightmares from the war and worries about harming her). She sees his leaving every night as a rejection.
Sex could bring out deeper issues. She assumes the werewolf hero likes to do it doggy style and he thinks she views him as an animal, good for a fuck but not a relationship. He calls her his dirty little slut and she's spent her life fighting that label.

Other Considerations
There are other things that can make your sex scenes special. I often use motifs or symbolism in my sex scenes. In Breaking All The Rules, the hero is called the Iceman. Temperatures or acts of nature (and Camille IS an act of nature) are woven into the scenes.
Sex in the city (in apartments with paper thin walls) is very different than sex in the country (scream your heart out, hon). Winter sex (cuddling in front of a fire place) is different from summer sex (fucking on the front lawn). Sex when we're twenty (all night long) is different than sex where we're fifty (let's take a breather). Sex in a car (watch the steering wheel) is different from sex on a beach (sand in bad places).

There are a million ways to make your sex scenes unique. What are some of your favorite ways?
If you liked this post, you might like
Writing Erotic Romance – Making Sex Sexy
or
Writing Erotic Romance – The Basics Of A Sex Scene
or
Writing Erotic Romance – Word Choice
***
Subscribe To My Release Day Newsletter: http://tasteofcyn.com/2014/05/28/newsletter/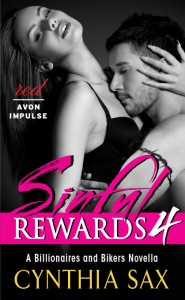 Four years ago, Bee Carter left her tiny hometown, escaping her tormenters. She concealed her tarnished reputation under a good-girl persona, hiding her history from Nicolas, her strong and silent billionaire; Hawke, her tattooed bad-boy biker; and Cyndi, her man-crazy best friend.
Today, she's returning home … and she's not alone. Some of her deepest, darkest secrets will be revealed. Trust will be tested. Clothing and inhibitions will be discarded. Bee and her hometown will never be the same.
When her past and her present collide, will any of Bee's relationships survive?
Buy Links:
Amazon: http://www.amazon.com/Sinful-Rewards-Billionaires-Bikers-Novella-ebook/dp/B00I7V89N4
ARe: https://www.allromanceebooks.com/product-sinfulrewards4-1645053-149.html
Barnes And Noble: http://www.barnesandnoble.com/w/sinful-rewards-4-cynthia-sax/1119919839
Google: https://play.google.com/store/books/details/Cynthia_Sax_Sinful_Rewards_4?id=PvxzAwAAQBAJ
iTunes: https://itunes.apple.com/us/book/sinful-rewards-4/id814148698