This post has adult content. If you are under the age of eighteen years old and/or sensitive to adult language/situations, please do not read this post.
Knowing how to write a sizzling hot sex scene is a must-have skill for erotic romance writers. Today, I'll be talking about some sex scene basics.

Know Your Anatomy
Before you write a sex scene, know your basic anatomy. Unless your hero is an alien, his cock isn't touching the heroine's womb. That's not possible. It also isn't piercing her clit. (winces) That's a big ouch! Slamming his cock head into her cervix is extremely painful (and highly unlikely unless he's an alien). Having anal sex without lubrication can send a human to the hospital. It certainly isn't sexy.
Keeping Track Of Body Parts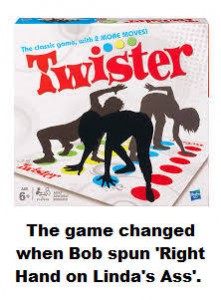 A hero can't rub a heroine's clit, grab her breast AND brace himself over her writhing body at the same time, not unless he's an alien. A man only has two hands.
Some writers use Barbie dolls to keep track of body parts. This also ensures that the position is possible and semi-pleasurable (for human lovers). If your Barbie or Ken looks like the girl from Exorcist, you might want to rethink your sex scene.
The body part issue is one of the many reasons erotic romance writers tend to avoid writing in public places. Many of us act out the scene while writing it. Starbucks doesn't appreciate customers giving imaginary heroes handjobs. (grins)

The Order Counts
Unless your character is being abused or severely disciplined, anal sex is always last. ALWAYS. Don't have your heroine suck your hero off after he's had his cock in her ass. In Romanceland, anal sex might be clean. In real life, it is often VERY dirty. Sucking a shit-flavored cock isn't sexy.
Don't have the hero go from anal to pussy without a shower or a brand new condom (even the brand new condom is an iffy call), not unless the follow up scene is a trip to the doctor. No heroine wants shit in her woman parts. Trust me on this.
No, Thank You To All Night Long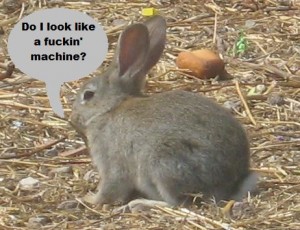 Yes, when a couple (or more) get together for the first (or second or third) time, they often fuck like bunnies. They don't, however, have sex sixteen times in one night. The guy would probably die of dehydration. Body parts would be rubbed raw. (winces) The chafing would be horrifying.
And readers don't want or need to read that. One long fuck, with plenty of foreplay, is better than sixteen short fucks. Think quality over quantity in an erotic romance.

Recovery Time Needed
Which leads to the next point… guys need to rest between sex sprees. Women can come multiple times. The average human man comes once and then has to have a break. The average recovery time (or refractory period) for a man is half an hour (unless he's eighteen, then it is fifteen minutes – http://en.wikipedia.org/wiki/Refractory_period_%28sex%29 ). Your human hero might be doing other things like giving the heroine oral sex but he won't be hard.
How Big Is BIG?
Okay, I admit to liking heroes with huge cocks. A snug fit not only helps with great sex but it signals manliness and being "meant for each other". How I feel about cock sizes is similar to how I feel about billionaires. I could read about broke ass heroes with small cocks but that isn't my fantasy and, damn it, fantasy is what I'm looking for.
However, when I read about a 12 inch cock, I wince. The average man has an erect cock varying between 5.1 and 5.9 inches (http://en.wikipedia.org/wiki/Human_penis_size ). 12 inches is way too big for this average gal.
But you might feel differently. That's why I prefer not to mention a specific length. One woman's HUGE might be another woman's small.
What other sex basics should erotic romance writers know?
If you liked this post, you might like the equally bizarre – Writing Erotic Romance – Word Choice.
***
Subscribe To My Release Day Newsletter: http://tasteofcyn.com/2014/05/28/newsletter/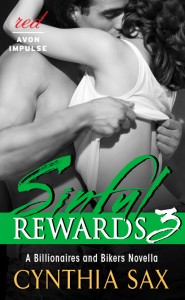 Bee Carter's carefully constructed world is tumbling down around her designer knockoff heels. Pleasing others isn't working for this small-town fashionista. Bee decides to throw caution to the Chicago wind for one night and release her inner bad girl, accepting a sexy challenge from an unknown texter, exploring the backseat of a limousine with gorgeous billionaire Nicolas, and entering a rough, tough biker bar with the mysterious Hawke.
Two hot men, one wicked night. When this good girl goes wild, who will make her erotic dreams come true—the enigmatic billionaire or the tattooed bad boy?
Buy Links:
Amazon: http://www.amazon.com/Sinful-Rewards-Billionaires-Bikers-Novella-ebook/dp/B00I7V89JS
ARe: https://www.allromanceebooks.com/product-sinfulrewards3-1613793-149.html
Barnes And Noble: http://www.barnesandnoble.com/w/sinful-rewards-3-cynthia-sax/1119919837
Google: https://play.google.com/store/search?q=9780062354143
iTunes: https://itunes.apple.com/us/book/sinful-rewards-3/id814148707