This post has adult content. If you are under the age of eighteen years old and/or sensitive to adult language/situations, please do not read this post.
Saturday is the official start of NaNoWriMo, National Novel Writing Month, the annual craziness many sickass writers (including myself) voluntarily sign up for. We're challenged to write 50,000 words (200 pages) in 30 sleepless, Nutella-fueled days. (My handle is http://nanowrimo.org/participants/cynthia-sax if you'd like to Friend me) These might be Alice In Wonderful fucked up beyond belief words but hey, they're on the screen and that's a great thing.
Why?
Because blank screens are the epitome of evil. They're a writer's kryptonite, representing many of our insecurities. Can I write this new story? Is this idea any good? Do I have another story in me? Oh my God. Will the words ever come?


First Draft Shit Vs Submission Draft Magic
Much of this blank screen insanity is self-inflicted. Writers are told over and over again – the first line, paragraph, page is key. If these first words aren't gripping, no one will buy or read our story, our precious. This will disrupt the erotic romance-literary balance. The world will tilt, be knocked off its axis and spin into the sun. Yes, the future of mankind depends on this first page. No pressure!
Save this nutbar thinking for your second draft. For your first draft, you have permission to write a totally sucktastic first page. Don't believe me? Listen to our favorite hard drinking, gun toting, kind of resembles Santa Claus, now dead writer Ernest Hemingway. "The first draft of anything is shit."
Don't worry about hooks or selling your story or perfection. Get that shit written.
What should you write first? This depends on you, on how your fickle bitch of a muse works. I'll give you some suggestions. You can take one of these gems (grins) or find your own twisted path to erotic romance writing greatness. There are no rules.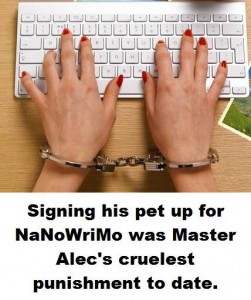 The Scene That Inspired This Story
I usually have one scene, often early in the story (as I'm a linear writer – preferring to write the story in order from beginning to end), that I'm super stoked about. This is the scene that woke me up in the middle of the night, screaming "Write me now, you lazy word slut!" I then rushed to the bathroom, as to not disturb my wage-earning sugar daddy (aka the dear wonderful hubby), and I jotted the bare bones of the scene into the notebook I have stashed there.
The first thing I do is transfer these bare bones onto the screen. Bam! I no longer have the dreaded blank screen of death. I have the outline of a scene. By the time I flesh out this scene, I'm in the groove and I continue to write. I might go back and add previous scenes or I might barrel forward, gleefully yelling over my shoulder "Fuck you, writer's block. You can't get me." (This yelling is yet another reason why I don't write at Starbucks.)

Your POV Character's Everyday World


Some writers like to start with a glimpse into their point of view character's everyday world. This grounds them (and readers – not that we care about readers during this first draft word vomiting but still…) in who this character is. We know this everyday world won't last because…well…the everyday world is as boring as hell. Plus for a character to change, becoming a person capable of lasting love, her/his world also has to change.
But it gives us a base. This is a great scene to make us care about this character. What makes her/him special, potentially deserving of love, worthy of writing about? YOU know this. Write that shit down. There. No more blank screen.

Fuckfest Documented
We're erotic romance writers. Many of us love writing sex scenes. If you're stuck, write a headboard banging scene between your hero and heroine (or more). You'll fill that blank screen, reassure yourself that your characters have chemistry (which is rarer and more important than non-writers think), and the words will never be wasted. Even if you don't end up keeping this scene, you can offer it as a bonus for blog readers. They'll love you forever.

The Ending
Yes, I heard some writers gasp, but I know writers who always start their stories by writing the ending first. We're writing erotic romance. The ending isn't much of a stretch. The couple or more get together, have their happy for now or happy ever after.
These ass backward writers tell me it is like setting up a target. They know where they're aiming and they write toward that point. It works for them. That's all that matters!
The Talky Talky
Some writers start with dialogue (or description or action or whatever turns their cranks). One of my buddies has a first draft that resembles a movie script. There's dialogue, minimal stage direction and that's it. She then goes back with the second draft and fills the scenes in.

Which scene do you write first?
If you liked this post, you might like
Writing Erotic Romance – Balancing Sex And Plot
or
Writing Erotic Romance – Making Every Sex Scene Different
or
Writing Erotic Romance – Making Sex Sexy
or
Writing Erotic Romance – The Basics Of A Sex Scene
or
Writing Erotic Romance – Word Choice
***
Subscribe To My Release Day Newsletter: http://tasteofcyn.com/2014/05/28/newsletter/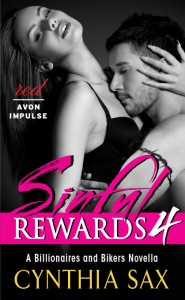 Four years ago, Bee Carter left her tiny hometown, escaping her tormenters. She concealed her tarnished reputation under a good-girl persona, hiding her history from Nicolas, her strong and silent billionaire; Hawke, her tattooed bad-boy biker; and Cyndi, her man-crazy best friend.
Today, she's returning home … and she's not alone. Some of her deepest, darkest secrets will be revealed. Trust will be tested. Clothing and inhibitions will be discarded. Bee and her hometown will never be the same.
When her past and her present collide, will any of Bee's relationships survive?
Buy Links:
Amazon: http://www.amazon.com/Sinful-Rewards-Billionaires-Bikers-Novella-ebook/dp/B00I7V89N4
ARe: https://www.allromanceebooks.com/product-sinfulrewards4-1645053-149.html
Barnes And Noble: http://www.barnesandnoble.com/w/sinful-rewards-4-cynthia-sax/1119919839
Google: https://play.google.com/store/books/details/Cynthia_Sax_Sinful_Rewards_4?id=PvxzAwAAQBAJ
iTunes: https://itunes.apple.com/us/book/sinful-rewards-4/id814148698