I've been interviewed on Nice Girls Writing Naughty!
http://ngwngroup.com/2017/04/28/a-to-z-challenge-x-is-for-cynthia-sax/
Here's a snippet…
You explore the boundaries of space and society in your books—cyborgs, space travel, even cannibalism in your latest release. Why do you write sci-fi romance—what is it about this subgenre that makes it fascinating for you?
Cynthia Sax: The 'what-if's of SciFi Romance really appeal to me. What if we created half human, half machine beings to fight our wars? How would our society, our world as we know it, change? Would we consider these manufactured beings to be humans or weapons? If they're considered to be weapons, would we allow them to make their own decisions, to fall in love, to have babies, or would we seek to control all of that?
The core of my stories is the romance and characters you and I can relate to. They might be living in a futuristic world but they want the same things we do—to be free, to be loved.
***
Subscribe To My Monthly Newsletter: http://tasteofcyn.com/2014/05/28/newsletter/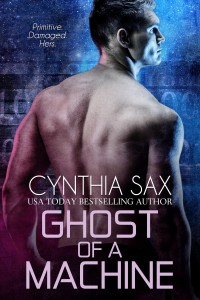 Fragile. Stubborn. His.
Ghost, a C Model cyborg, has disconnected his machine from his human side. Severely damaged, he knows two things—the curvy human female on his ship belongs to him and he must keep her safe. He'll stop at nothing to protect her, claim her, make her his.
Primitive. Damaged. Hers.
Lethe has seen the savage side of beings. The courageous Rebel captain has never met a male like Ghost. Overpoweringly dominant, he appeals to her on a primal level, filling her mind with thoughts of sweet surrender, hard kisses, and body-heating encounters against the warship's walls.
They are two broken beings, one determined to protect, the other intent on flying into danger. Can love heal them both before they face their common enemy?
Ghost Of A Machine is Book 9 in the Cyborg Sizzle series and is a STAND-ALONE story.
It is also a BBW Cyborg SciFi Romance.
Pre-order Now:
Amazon US: https://www.amazon.com/Ghost-Machine-Cyborg-Sizzle-Book-ebook/dp/B06XR6M6GG/
Amazon UK: https://www.amazon.co.uk/Ghost-Machine-Cyborg-Sizzle-Book-ebook/dp/B06XR6M6GG/
Apple/iBooks/iTunes: https://itunes.apple.com/us/book/ghost-of-a-machine/id1218969448
B&N: http://www.barnesandnoble.com/w/ghost-of-a-machine-cynthia-sax/1126040142
Kobo: https://www.kobo.com/us/en/ebook/ghost-of-a-machine