I sat down (virtually) with TL Reeve for a short interview. Today is the release day for TL Reeve's Sex, Cyborgs, and Champagne! Yes, CYBORGS and this is a menage. I don't really have to say more than that. (grins)

Cynthia Sax: The entire premise of Sex, Cyborgs, and Champagne is awesome but what did you find especially thrilling?
TL Reeve: I think what drew me to the story was that, it was different. Sometimes, every story has the same plot. Boy meets girl (or boy) they fall in love throw in some strife and then happy ending. But, with Sex, Cyborgs, and Champagne, I could tell it from a different angle. I knew the ending before I wrote the book. Saw it and Lincoln clear as day. So, I knew filling it in would be the fun part. (FYI: Plot twist, but you have to figure it out.)
Cynthia Sax: I do love plot twists! What is your favorite line from Sex, Cyborgs, and Champagne?
TL Reeve: "As you wish, temptress." It's my favorite line, because throughout the story, Conner would do anything for Flora, and I think this represents their relationship quite well.

Cynthia Sax: Awww… that's sweet. Where did you get the idea for Sex, Cyborgs, and Champagne?
TL Reeve: It's a submission call for my publisher, and when I stared at the prompt for a minute, Lincoln (my cyborg) jumped into my mind first. I saw him at a bar, drinking, and people watching. He whispered (to me of course) I want to feel human for a night, can you help me? So, I built the story around him, but not just around him. Then when I gave him two humans. It kind of took off from there. However the ending really complements the book. (And you'll never see it coming.)

Cynthia Sax: (grins) You're such a tease. How does Sex, Cyborgs, and Champagne start?

TL Reeve: The story opens as a married couple Conner and Flora Mann, are ready to start their swinger cruise near the tropical islands of the planet Vega. It's their anniversary and they're doing the one thing Flora has always wanted to do. Be shared. As they're standing on the small transport ship waiting to dock, you get a glimpse of how prim and proper Flora really is.
Cynthia Sax: This sounds so intriguing. Thank you for joining us today, TL Reeve!
TL Reeve's Website: http://www.tlreeves.com
*****************************************************************************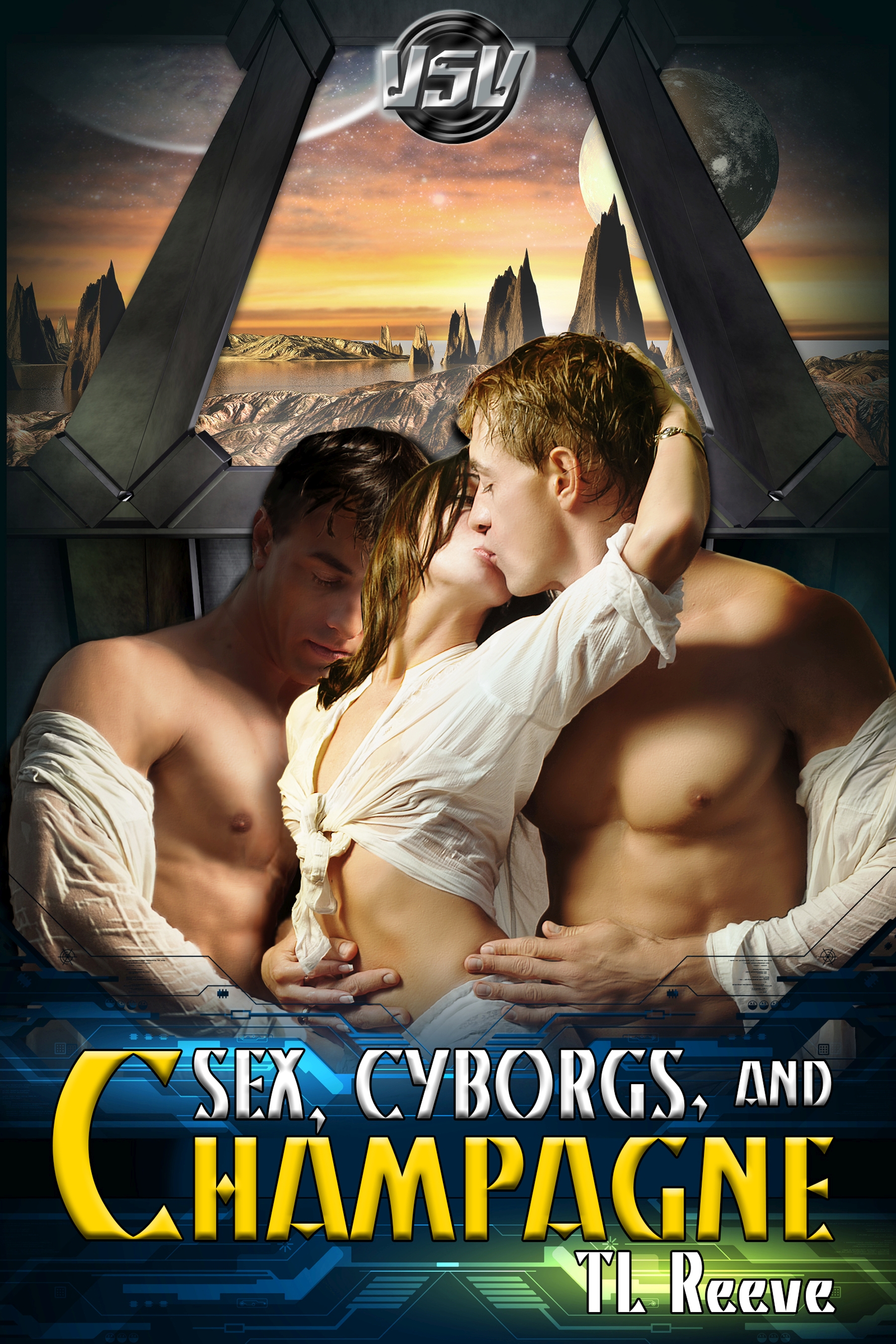 We can help with that.
Conner Mann is on a mission. For his tenth anniversary, he wants to give his wife, Flora, a present she'll never forget. When he sees an ad for Vega Space Vacations, he knows exactly what to do.
Flora Mann, grew up in a strict home with conservative parents. Expressing her sexual desires never came easy to her due to her prim upbringing, and because of it, she'd never been able to tell her husband what she wants most—a threesome.
Vincent Carver is the man with the plan.
Unit L-2817 or Lincoln to his friends, is ready to experience life through human eyes. As a reformed government mercenary, he's free to finally experience everything others take for granted—including creating emotional connections. He isn't sure what love is, but the instant attraction he feels between Conner and Flora, can't be denied.
Their emotions run high as they contemplate their next moves. Can a cyborg assimilate to their hectic routine? Conner, Flora and Lincoln, are willing to find out. But, what if all they are left with are distant memories?
Buy Now:
On Amazon: http://amzn.to/2n3YukS
On Barnes & Noble: http://bit.ly/2nRW7Ag
On iBooks: http://apple.co/2ot0nrD