Ghost Of A Machine will be releasing on May 16th (it is available for pre-order now!).
I've been sharing scenes from the first chapter.
You can read the first scene here: http://tasteofcyn.com/2017/04/17/ghost-of-a-machine-first-scene/
This is the second scene.
***
Ghost stared at the wall and listened to the chatter in his head, the discussions of battle strategy, the musings about females and the Homeland.
The warship tilted to the right. He widened his stance, bracing himself. The floor under his bare feet leveled.
The vessel jerked, steadied, jerked again.
Were they in a battle? Ghost breathed deeply, smelling nothing, no blood, no projectile residue. No one gave him orders to attack, to kill.
He wanted to end lifespans. That was his one remaining function in the universe. Ghost remembered having another purpose, a more worthy purpose. He couldn't recall what that was. All he knew now was death, pain, violence.
Ghost.
He straightened and growled. One of the voices inside his skull knew his name.
Ghost, are you functional? Another voice asked.
That question held the strength of an order. He had to respond. Ghost searched his organic brain for the words. It had been solar cycles since he'd last spoken. Ugh. That was all he could manage.
He's damaged.
He might be too damaged to assist us.
Assist, Ghost repeated. If the task required action, not talking, he could complete it.
There was a stretch of silence.
He'd failed the voices as he'd failed…he couldn't remember who he had failed. Ghost's shoulders slumped. He stared at the wall, waiting for a command.
Ghost, we need your help. The first voice returned.
Ghost lifted his head. Ugh. He'd help them.
Open your holding chamber, warrior.
Ghost glanced at the doors. They were closed. His gaze shifted to the control panel to the right. He placed his hands on the flat surface, ashamed of how dirty, how unkempt his fingers were.
Nothing happened.
The power to open the doors was within him. He was certain of that. Ghost narrowed his eyes at the control panel and concentrated.
The doors remained closed.
Ghost, I have to hack into your machine. The voice stated an intention. Do I have your consent?
Machine. That was the piece of him that was missing. He'd shut that part down. There was a reason he did that, though he couldn't remember what that reason was.
Ugh. He tried to communicate his misgivings to the voice.
The voice didn't listen to him. His processors were poked and prodded.
They whirred, reviving. A tingling spread over him, pricks of pain, as though pins and needles were being stuck into his skin. His body tried to resist the invasion.
The voice, Ghost could now identify him as Ace, was too strong. The K Model cyborg deftly reconnected Ghost's processors, undoing the separation it had taken the C Model almost a solar cycle to fully accomplish.
***
Read the next scene (available May 1st) here: http://tasteofcyn.com/2017/05/01/ghost-of-a-machine-third-scene/
***
Subscribe To My Monthly Newsletter: http://tasteofcyn.com/2014/05/28/newsletter/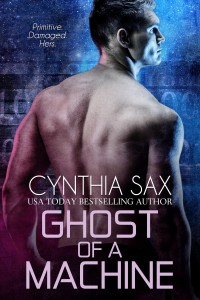 Fragile. Stubborn. His.
Ghost, a C Model cyborg, has disconnected his machine from his human side. Severely damaged, he knows two things—the curvy human female on his ship belongs to him and he must keep her safe. He'll stop at nothing to protect her, claim her, make her his.
Primitive. Damaged. Hers.
Lethe has seen the savage side of beings. The courageous Rebel captain has never met a male like Ghost. Overpoweringly dominant, he appeals to her on a primal level, filling her mind with thoughts of sweet surrender, hard kisses, and body-heating encounters against the warship's walls.
They are two broken beings, one determined to protect, the other intent on flying into danger. Can love heal them both before they face their common enemy?
Ghost Of A Machine is Book 9 in the Cyborg Sizzle series and is a STAND-ALONE story.
It is also a BBW Cyborg SciFi Romance.
Pre-order Now:
Amazon US: https://www.amazon.com/Ghost-Machine-Cyborg-Sizzle-Book-ebook/dp/B06XR6M6GG/
Amazon UK: https://www.amazon.co.uk/Ghost-Machine-Cyborg-Sizzle-Book-ebook/dp/B06XR6M6GG/
Apple/iBooks/iTunes: https://itunes.apple.com/us/book/ghost-of-a-machine/id1218969448
B&N: http://www.barnesandnoble.com/w/ghost-of-a-machine-cynthia-sax/1126040142
Kobo: https://www.kobo.com/us/en/ebook/ghost-of-a-machine