I sat down (virtually) with Carmen Falcone for a short interview. Carmen Falcone's most recent release is Brazilian Capture, a Romantic Suspense!

Cynthia Sax: What causes problems between Emanuel and Erika?
Carmen Falcone: I'm a sucker for lots of conflict, so, yes, I make sure there's plenty of it in my books! In Brazilian Capture, Emanuel Duarte is a successful financial investor who moonlights as an activist. In fact, helping others in need is a passion of his. He wants to redeem himself from wrongdoings from his past. His target is Silas Lancaster, who's a real estate giant who's involved in embezzlement and possibly the disappearance of an employee who knew too much. After dozens of disadvantaged families lose their homes due to Lancaster's greed, Emanuel decides he's had enough. He kidnaps Lancaster's daughter, Erika, to use her as leverage. So, as you can imagine, this event sets all kinds of twists and turns. How can Erika trust her captor? And how can he give her back to her father when he's falling for her? Yet, if he doesn't fulfill his part of the bargain, all his efforts will have been in vain—and the promises he made to others, unfulfilled.
Cynthia Sax: Ohhh… that's some juicy conflict. Is Brazilian Capture part of a series and will you be writing more stories in this series?
Carmen Falcone: Yes! The first book in the Brazilians was Brazilian Revenge, and the next one is Brazilian Surrender. I'm totally in love with the sexy, daring Duarte brothers.

Cynthia Sax: What advice would you give new writers?
Carmen Falcone: Hang in there. Write. Writing probably should come first—instead of complaining or doubting yourself, use your energy and write. I firmly believe each book teaches us a lesson, and it exists for a reason. Even if your first book won't be the one you'll self-publish or the one to wow agents and publishers, still write it. And then another, and another.

Cynthia Sax: That's great advice! What do you love about writing romantic suspense?

Carmen Falcone: I love romantic suspense because it puts the main characters in odd and dangerous situations. Just think about it—tension/despair/panic can being the worst in people. So I really enjoy making the characters get to know each other while in danger of some sort; because everything becomes much more intense.
Cynthia Sax: Tension DOES bring out a different side of people. Thank you for joining us today, Carmen Falcone!
Carmen Falcone's Website: http://www.carmenfalcone.com
*****************************************************************************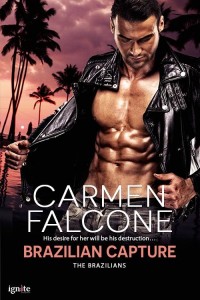 Financier turned activist Emanuel Duarte has promised he would find the one witness who can testify against real estate developer Silas Lancaster. Sick of having every attempt at exposing Silas shut down, Emanuel wants to honor a promise he made, and takes from his opponent what matters most–his beautiful daughter Erika. Only he gets more than he bargained for with the tempting–and frustrating–woman.
Fundraiser and socialite Erika Lancaster can't believe she's been kidnapped. Her sexy captor is feeding her lies about her father that she refuses to swallow. Emanuel's plans will hurt her and ruin her mother's legacy–and that she can't allow.
Desperate to find a way out of the lush Brazilian jungle, she decides there's only way to disarm the enemy–seduce him. But her plan backfires and soon she realizes that seducing the enemy comes with a hefty price…loving the enemy simply isn't an option.
Buy Now:
On Amazon US: http://amzn.to/2r6LFIg
On Amazon UK: http://amzn.to/2q0034G
On Amazon CA: http://amzn.to/2rFRGbG
On Amazon AU: http://amzn.to/2rFNGI7
Paperback: http://amzn.to/2qIIOUH
On Kobo: http://bit.ly/2qF865H
On iTunes: http://apple.co/2qETvai