I sat down (virtually) with Regine Abel for a short interview. Regine Abel's most recent release is Escaping Fate, a MFM Sci-Fi Paranormal Romance!

Cynthia Sax: What makes Lhor and Khel so freakin' sexy?
Regine Abel: The only way for an unmated male to slow down the Taint plaguing him is through physical exertion. Xelixians therefore train on average four times a day, giving them insanely hot bodies. But the best part? Their fangs. No, they aren't vampires. Their fangs are mainly used as weapons to paralyze or poison their prey. However, in the right dose, their venom acts as a recreational drug that brings a woman's climax to a whole other level. On the other hand, Amalia's Veredian markings darken when she's aroused, making them erogenous. Wandering fingers or a teasing tongue brushing over them will make her writhe and squirm. But beware. When she enters her season, woe onto anyone who stands between Amalia and her mate.
Cynthia Sax: Ohhh… VERY sexy. What do you find especially exciting about Escaping Fate?
Regine Abel: Escaping Fate has a lot of flirting, sexual tension and steamy scenes. But that's not what the book is about. There is a strong story with tons of action, suspense, and unexpected twists and turns. Amalia and her boys each have a unique personality that create some interesting situations from pretty funny to insanely intense. They're all strong in their own way, often mischievous and badass when needed. I'm in love with those characters. If only I could meet them in real life and hang out!

Cynthia Sax: Where did you get the idea for Escaping Fate?
Regine Abel: I'm a junky for any romance with the Mars Needs Women trope. There was no question in my mind I would write something in the genre, but what? I'm a huge fan of Nalini Singh's Psy-Changelings series, Tracy St. John's Clans of Kalquor and M.K. Eidem's Tornians. The idea of a species where individuals could each have a unique psychic ability excited me. I loved the world building in the Clan's series with all the political intrigues and how the Kalquorians revisited what constituted a family unit to delay the slow extinction of their species. Grim inspired me with the social impact of their own crisis due to the scarcity of women; how it reshaped their society, redefined a woman's role, a man's worth, and the importance of social status. Escaping Fate was an attempt to combine these concepts in a fresh new way.

Cynthia Sax: I LOVE that trope also. Yum! Is Escaping Fate part of a series and will you be writing more stories in this series?

Regine Abel: Yes, this is a series, although each book is intended to work as standalone. I'm currently halfway through writing the second book. There is an overarching story which should incentivize people to read the novels in order. Most main characters from the previous books will reappear in the sequels. However, each book explores the romance of a different Veredian female. While Escaping Fate is MFM, the rest of the series will be MF only. That said, I do plan two spin-off series set in the same universe, one of which is shaping up to be MFM. My new book, Anton's Grace, part of my Dark Tales series, is actually set in this world though it takes place on the other side of the galaxy. I'm curious to see how many readers will catch the Easter egg there.
Cynthia Sax: My readers usually catch the Easter Eggs. (grins) Thank you for joining us today, Regine Abel!
Regine Abel's Website: https://www.facebook.com/regine.abel.author/
*****************************************************************************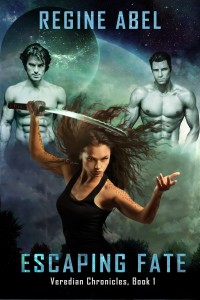 Born and raised on a slaver's ship, Amalia plans to escape before she's forced to participate in her master's psi breeding program. She finds refuge on a foreign planet where she meets the cousins Lhor and Khel. Together, they fight against those hunting her down, while attempting to rescue the other victims of her master's blood and sex slave ring.
Between her master's dogged pursuit, deadly rivalries, assassins and corrupted nobles, can the cousins keep Amalia safe or will their respective feelings for her tear them apart?
This MFM novel is a constant toe-curling, action-packed thriller, and the first book in the Veredian Chronicles series. It is standalone with no cliffhanger.
Buy Now:
On Amazon US: https://www.amazon.com/dp/B06XPPB5BW/
On Amazon UK: https://www.amazon.co.uk/dp/B06XPPB5BW/
On Amazon CA: https://www.amazon.ca/dp/B06XPPB5BW/