I sat down (virtually) with Naomi Lucas for a short interview. Naomi Lucas' latest release, Star Navigator, is a SciFi Romance with a cyborg hero and is the third standalone book in the Stranded in the Stars series.

Cynthia Sax: What makes Atlas sexy?
Naomi Lucas: Atlas: Adjustable Thickness Length and Size. I love my character Atlas, he has a lot of snark but he's still a badass Cyborg soldier. I consider him my Frankenstein's monster in space. What's great about him is that he's this killing machine that currently doesn't have a body, as he was shot down many years before during the Great War so now he's just a sentient intelligence. And boy does he know how to use his voice to get a girl off! Does he get his body back? I don't know…you'll have to read it and find out!
Cynthia Sax: Where is Star Navigator set?
Naomi Lucas: The story is set far in the future several generations after a disastrous galactic war between an alien species the Trentians and us, the Earthians. Tensions are still high although there is a truce. This particular story is about a woman who is given a deadly mission to discover why hundreds of ships have vanished after they have left the network's reach. She is the last attempt for the Earthian Council to figure out what is happening. Her only crew-mate is Atlas, the acerbic, deadly Cyborg and they are stuck in close quarters for a long time. They have to learn to trust each other as they face many of the deadly aspects of space. Illness, corruption, pirates, and aliens.

Cynthia Sax: What creates problems between Reina and Atlas?
Naomi Lucas: They start off not trusting each other regardless of each other's' reputation. Reina has dealt with harassment her whole career in the Space Fleet as being one of the only woman in her field. She has walls built around herself to protect her but she lets them break down because she finds Atlas as a being who can't physically hurt or take advantage of her. Atlas, on the other hand, has plans of taking control of the ship, taking control of his body, and taking control of Reina. Cyborgs=Control. This is all happening between them as they make their way out to dead space and the possibility of impending death.

Cynthia Sax: Is Star Navigator a series and will you be writing more stories in this series?

Naomi Lucas: This is the third standalone book in this series. Each book is connected but can be read alone and can start from anywhere. I try to write my books in a way that if someone starts on book two, let's say, it will make them want to read book one and three. I don't like answering any questions that are beyond my character's scopes. I find the answers to many of the 'biggest' questions take an entire story to explain. I plan on writing five books for Stranded in the Stars, with the last one featuring Larik. But I plan on writing off-shoot series for my aliens and cyborgs. Truthfully, it's hard to say, I have so many stories in my head and outlined that I might veer off now and again and write something random.
Cynthia Sax: Thank you for joining us today, Naomi Lucas!
Naomi Lucas's Website: https://naomilucasauthor.com/
*****************************************************************************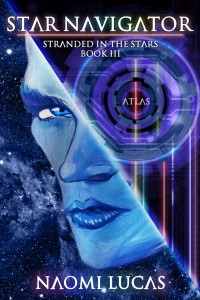 Reina stopped caring, and she doesn't know why.
After years of working for the Earthian Space Fleet, spending her days in quiet anticipation as a back-up pilot, doing her work well, if indifferently, she comes face-to-face with an alien warrior who tries to bargain away her free will and make her his own. Furious and unsure whether she should fight for a life when she was just going through the motions, Reina is approached by her superiors and asked to captain the last mission into the abyss, drastically altering the course of her life.
What does a Cyborg do when he has the power of the entire network? When his actions could alter the course of the universe? And his only obstacle is a woman in desperate need of his help?
Atlas is consumed with rage.
He is the best navigator for The Earthian Council and has been working for them for decades in hopes that they will free him. But when the Council forces his hand, the now sentient intelligence must undertake a mission that could irrevocably destroy his conscious mind. A mission that could force him to transcend his half-life state in order to protect the beautiful, lost captain that he would risk a second-death to claim; and to feel under his fingertips.
Buy Now:
On Amazon: https://www.amazon.com/Star-Navigator-Stranded-Stars-Book-ebook/dp/B06XBFVM7R/