I sat down (virtually) with Nicola M. Cameron for a short interview. Nicola M. Cameron's latest release, Degree of Resistance, is a SciFi Romance with a cyborg hero! (You know I love those! – grins)

Cynthia Sax: Where did you get the idea for Degree of Resistance?
Nicola M. Cameron: I had gone up to Ontario last October for a writer's retreat hosted by my publisher, and stayed a few days with my fellow author and sister from another mister L.D. Blakeley. When I got to her place she started raving about this new show called Westworld. I admitted I hadn't seen it yet. She looked at me in horror and said, "What do you mean, you haven't seen it? You write SF romance. Sit down – I'll cue it up."
*Instant* love. The dialogue, the plot, the casting, the cinematography, the concept of searching for humanity in artificial intelligence, the eminently sexy Louis Herthum – I fell for it all. Later that weekend I had a chat with our PR person Sandra Bunino about the popularity of cyborg romances, and I flashed back to Westworld and thought, "Huh – there are themes here I'd really like to explore." By the end of the weekend I had a six-book series in my head with at least two prequels and started working on Degree of Resistance while waiting at the airport for my flight home.
Cynthia Sax: What causes trouble between Ben and Evie?
Nicola M. Cameron: The biggest conflict stems from the fact that Ben asked Evie to marry him when she was nineteen, then supposedly died in a jumpship crash. Evie then spent the next twelve years raising his young daughter Ally (which meant giving up her shot at an engineering degree) before finding out that Ben was still alive and had been turned into a cyborg soldier. The two of them have a lot of guilt and anger issues to work out when they get back together; Ben is angry at himself for trusting the wrong superior and guilty that Evie had to give up her dream to raise his daughter, which he sees as his responsibility. Conversely, Evie is angry at the protectorate for screwing up both their lives and guilty that she engaged in a liaison with a rich young man named Gene while working for Gene's aunt. There's also the disconnect that, for Ben, the intervening twelve years never happened (cyborg soldiers have their consciousness suppressed) so he still feels the same way he did when he first proposed to Evie, but for her a lot of time has passed and she needs to figure out how she feels about Ben now as opposed to when she was nineteen. They work out some of their issues in this book, but others will crop up as the series progresses.

Cynthia Sax: Is Degree of Resistance part of a series and will you be writing more stories in this series?
Nicola M. Cameron: It's the first in at least six books with two prequels and a bunch of side stories as they occur to me. I absolutely LOVE this world and these characters, and I want to write more about them and all the people around them, as well as the post-apocalyptic world they're in.

Cynthia Sax: What do you love about writing in your SciFi Romance?

Nicola M. Cameron: I started off my professional writing career in 1995 as a SF writer. What I absolutely love about writing SF/fantasy romance is that I'm *still* writing science fiction and fantasy – it's just that I now get to add in the romantic scenes that I always had to censor before.
Cynthia Sax: Thank you for joining us today, Nicola M. Cameron!
Nicola M. Cameron's Website: http://www.nicolacameronwrites.com
*****************************************************************************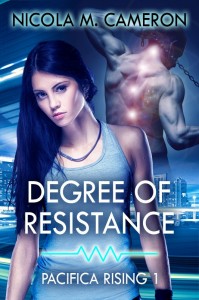 A perfect society hiding a terrible secret. An innocent man condemned to cyborg slavery. A brilliant woman determined to set him free.
Freelance tech Evie Contreras belongs to the Employee class of the Pacifica Protectorate, the "perfect society" that rose from the ruins of the West Coast. But Evie knows about Pacifica's festering core and the secrets that keep it in power. And when she discovers that Pacifica has turned her fiancé Ben into a cyborg soldier/slave, she will risk everything to rescue him.
Saving Ben is the first step in a deadly game between Pacifica and a shadowy resistance group known as Rubicon. In return for Rubicon's help, Evie must retrieve a hidden artificial intelligence that may hold the key to protecting Earth from a deadly new disaster.
Assuming the protectorate doesn't find Evie first…
Buy Now:
On Amazon: https://www.amazon.com/dp/B01N2A25GG
On Amazon UK: https://www.amazon.co.uk/dp/B01N2A25GG
On Smashwords: https://www.smashwords.com/books/view/705076
On Barnes & Noble: http://www.barnesandnoble.com/w/degree-of-resistance-nicola-m-cameron/1125853898
On iTunes: https://itunes.apple.com/us/book/degree-of-resistance/id1209817265?mt=11
On Kobo: https://www.kobo.com/us/en/ebook/degree-of-resistance