I sat down (virtually) with Christine d'Abo for a short interview. Christine d'Abo's upcoming release (available for pre-order NOW) is The Bond That Ties Us, an absolutely yummy SciFi Romance.
I devoured this story. The Bond That Ties Us will definitely make SciFi Romance Readers happy, especially if you love the sexy times and super hot alien males! The entire series is wonderful.

Cynthia Sax: What is super special about The Bond That Ties Us?
Christine d'Abo: There are so many things that makes this book special for me. This was THE book for me, when it came to what being an author meant to me. This was the first one that the whole writing thing clicked. I had a fun idea, strong characters, but I also learned more about craft writing this book than I'd ever had before.
Cynthia Sax: Where did you get the idea for The Bond That Ties Us?
Christine d'Abo: This will sound weird, but I'd gotten this idea from a reoccurring dream I'd been having. I kept seeing a man struggling and a woman knowing that she had to help him. He was a complete stranger to her, but she had this compulsion to help. From that thread the whole idea of the Briel people and their need to mate with only one person, grew.

Cynthia Sax: That doesn't sound at all weird to me. For me, writing is very much like dreaming. The story comes from my brain but I don't have any control over it.
Where is The Bond That Ties Us set?
Christine d'Abo: I set this story on a planet named Eurus. I wanted it to be far away from Earth, mostly so the society had to rely on their own people, on the others who will drift in and out of their lives. For me, it provided the opportunity to have a rich playground for these characters where anything could happen. Aliens, monsters, ghosts, anything can happen. But most importantly, these people are able to find love.

Cynthia Sax: I do love the monsters (thinks of Kralj from Dark Thoughts and smiles). What do you love about writing in SciFi Romance?

Christine d'Abo: My first love has always been science fiction. As a kid I watched every sci-fi show or movie I could get my hands on. Doctor Who, Star Trek, Space 1999…all of them. When I eventually found the world of romance and subsequently, romantic sci-fi, I knew I'd finally found my joy. Being able to write these stories, to create new worlds while having my characters also find love, is the best job in the world.
Cynthia Sax: Thank you for joining us today, Christine!
Christine d'Abo's Website: http:/www.christinedabo.com
*****************************************************************************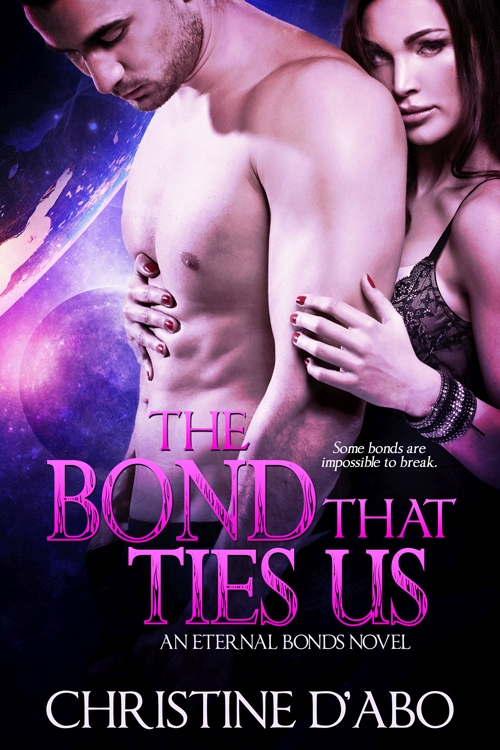 Haylie knows her life is about to change the moment she sets foot on the Eurus colony. What she didn't count on was her instant, overwhelming sexual desire for the seven-foot-tall, sexy as hell alien ambassador. He's in her every thought and dream, teasing and taunting her body into a sexual frenzy.
Kamran has waited his whole life to find his bonded mate. When she arrives in the form of a slender human with brilliant eyes, he can't stop his all-consuming need to possess her. If their bond is discovered, they will be forced by Briel law to leave the colony, giving up the lives they've worked so hard to build. While Haylie and Kamran fight their growing desire, their colony is threatened by an unseen enemy.
When the colony comes under attack by a brutal alien force, can Haylie and Kamran keep their bond a secret and stop the invasion in time to save everyone?
Buy Now:
On Amazon: https://www.amazon.com/dp/B06WLGTFQ1
On Kobo: https://www.kobo.com/ca/en/ebook/the-bond-that-ties-us-1
On iBooks: https://itunes.apple.com/ca/book/the-bond-that-ties-us/id1203538367?mt=11