I sat down (virtually) with Veronica Scott for a short interview. Veronica Scott's latest release, Danger in the Stars, is part of her delicious Sectors SF Romance Series!

Cynthia Sax: Where did you get the idea for Danger in the Stars?
Veronica Scott: When I was writing Star Cruise: Stowaway for the 'Pets In Space' anthology last year, I had the premise of an empathic alien priestess stolen from her own world and held captive by an interstellar crime syndicate to do their bidding. In that novella, the story was about the woman's escape with the help of my ship's crew and two pets. When I finished writing that one, I realized I had a lot more story to tell on the general theme, and so I started thinking about a sister, also held as a prisoner, but not lucky enough to escape. How would it be for her, to be in the midst of the criminal operations, trying to stay true to her own values, but forced to commit crimes? Who would help her? And then of course Conor, the hero, came into my head and said, "I will." He's a man of many secrets, by the way, but no spoilers from me!
Cynthia Sax: You had me at secrets. (grins) How does Danger in the Stars start?
Veronica Scott: Miriell and her mob controller have just arrived on a new planet, sent to help the mob boss there with a specific target. Miriell is ill from the cryo sleep and her handler is impatient, anxious to make a good impression on the people who hired them, so he's rough with her. Conor is there, to oversee things for his own boss and right away Miriell is attracted to him, feels safe around him, even though she knows that's crazy – why would a high ranking mob enforcer help her? But when she looks at him with her empathic power she sees an intriguing hint of the pure blue that signifies a warrior, hidden deep in his soul, but marking him as one to be trusted. So right from the beginning I've set up the conflict where she knows she can't trust anyone in this place, yet instinctively she wants to lean on Conor. Will he help her? Can he help her? Or is he a dangerous weakness in her self-protective stance? And the story takes off from there.

Cynthia Sax: Mmm… I love warrior heroes! Tell us a little bit about the series Danger in the Stars belongs to and the order we should read the stories.
Veronica Scott: This story fits into my Sectors series, which is set in the far future, out in the galaxy. Most of the books in the Sectors SF Romance series are standalone adventures with romance and an HEA, although occasionally I write a direct sequel. I'm already thinking about a third empathic priestess, and her story, so I may write one more in this general set of plots. Never say never! I have a page on my blog where I give suggestions on what order to read the Sectors books, to the extent that it's helpful to read any of them before reading others.

Cynthia Sax: That's awesome. What do you love about writing in your SciFi Romance?

Veronica Scott: In science fiction literally anything can happen (and often does). So the author isn't constrained by anything but their own imagination. And I love the idea of a hero and equally strong heroine up against the worst the galaxy can throw at them, and fighting through to that Happy Ever After ending.
Cynthia Sax: I love that too. Thank you for joining us today, Veronica Scott!
Veronica Scott's Website: https://veronicascott.wordpress.com/
*****************************************************************************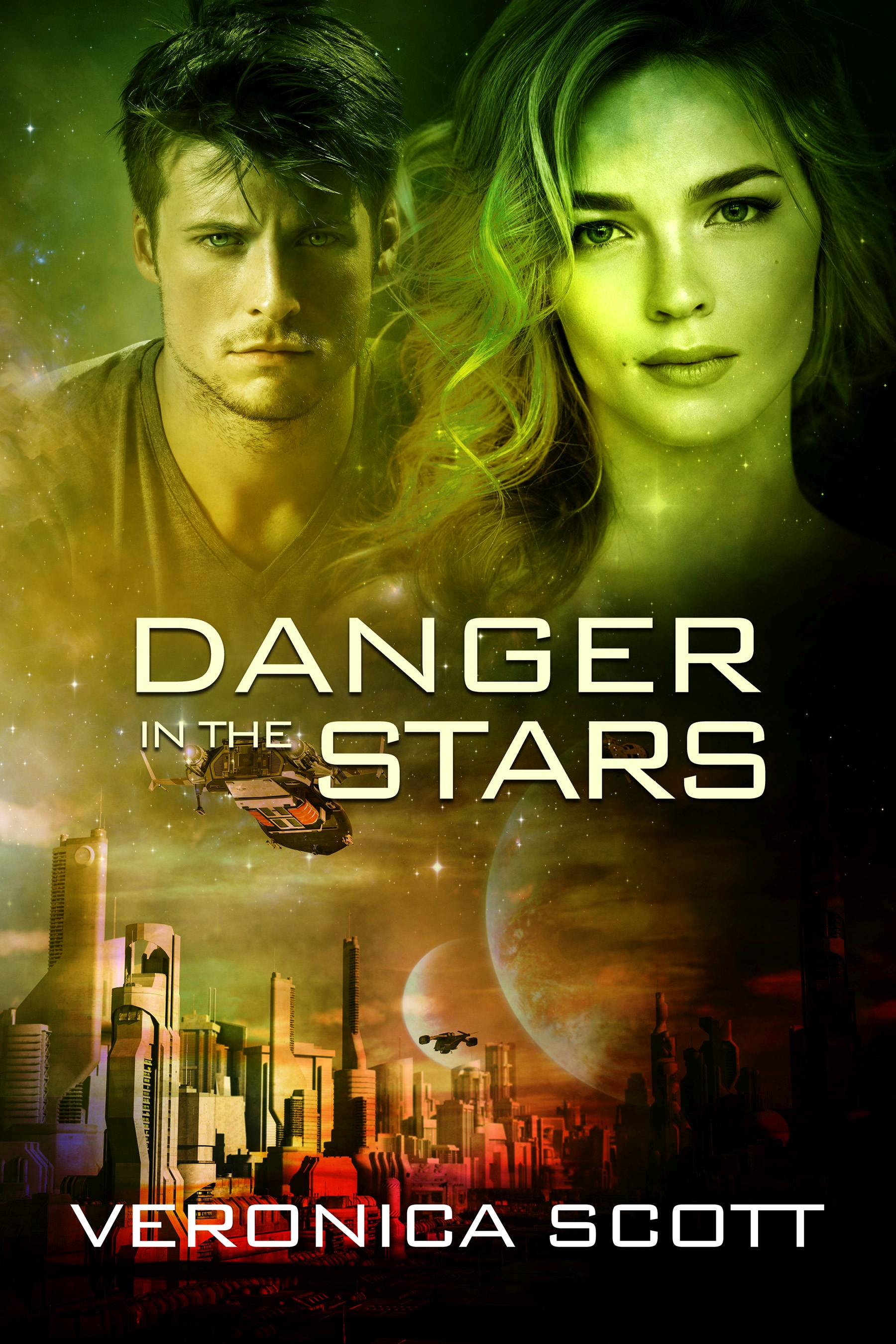 Miriell, a powerful empathic priestess, has been kidnapped from her own primitive planet along with a number of her people, and sold to the evil Amarotu Combine, largest organized crime syndicate in the Sectors. When she and her handler are sent to use her power to commit an assassination, she must leave behind her own sister as hostage to ensure her compliance. Miriell cannot ask for aid without endangering herself and others.
Despite his best efforts, Combine enforcer Conor Stewart is entranced by Miriell, and helps her evade the worst of brutal treatment from the rest of the mob. But Conor must keep his distance, before the lovely empath learns that he has secrets of his own–secrets that could get them both killed.
The situation becomes dire when Conor and Miriell come to the attention of both the Combine overlords and the deadly Mawreg, aliens who threaten the Sectors. Can she save herself and the Mawreg's next victims? And will Conor help her, or remain loyal to his evil bosses?
Buy Now:
On Amazon: https://www.amazon.com/dp/B06Y2BP8JZ
On Barnes & Noble: http://www.barnesandnoble.com/w/danger-in-the-stars-veronica-scott/1126166316
On iBooks: https://itunes.apple.com/us/book/danger-in-the-stars-the-sectors-sf-romance-series/id1223474332
On Kobo: https://www.kobo.com/us/en/ebook/danger-in-the-stars
Topics: Author Interviews | 6 Comments »
I sat down (virtually) with Christine d'Abo for a short interview. Christine d'Abo's upcoming release (available for pre-order NOW) is The Bond That Ties Us, an absolutely yummy SciFi Romance.
I devoured this story. The Bond That Ties Us will definitely make SciFi Romance Readers happy, especially if you love the sexy times and super hot alien males! The entire series is wonderful.

Cynthia Sax: What is super special about The Bond That Ties Us?
Christine d'Abo: There are so many things that makes this book special for me. This was THE book for me, when it came to what being an author meant to me. This was the first one that the whole writing thing clicked. I had a fun idea, strong characters, but I also learned more about craft writing this book than I'd ever had before.
Cynthia Sax: Where did you get the idea for The Bond That Ties Us?
Christine d'Abo: This will sound weird, but I'd gotten this idea from a reoccurring dream I'd been having. I kept seeing a man struggling and a woman knowing that she had to help him. He was a complete stranger to her, but she had this compulsion to help. From that thread the whole idea of the Briel people and their need to mate with only one person, grew.

Cynthia Sax: That doesn't sound at all weird to me. For me, writing is very much like dreaming. The story comes from my brain but I don't have any control over it.
Where is The Bond That Ties Us set?
Christine d'Abo: I set this story on a planet named Eurus. I wanted it to be far away from Earth, mostly so the society had to rely on their own people, on the others who will drift in and out of their lives. For me, it provided the opportunity to have a rich playground for these characters where anything could happen. Aliens, monsters, ghosts, anything can happen. But most importantly, these people are able to find love.

Cynthia Sax: I do love the monsters (thinks of Kralj from Dark Thoughts and smiles). What do you love about writing in SciFi Romance?

Christine d'Abo: My first love has always been science fiction. As a kid I watched every sci-fi show or movie I could get my hands on. Doctor Who, Star Trek, Space 1999…all of them. When I eventually found the world of romance and subsequently, romantic sci-fi, I knew I'd finally found my joy. Being able to write these stories, to create new worlds while having my characters also find love, is the best job in the world.
Cynthia Sax: Thank you for joining us today, Christine!
Christine d'Abo's Website: http:/www.christinedabo.com
*****************************************************************************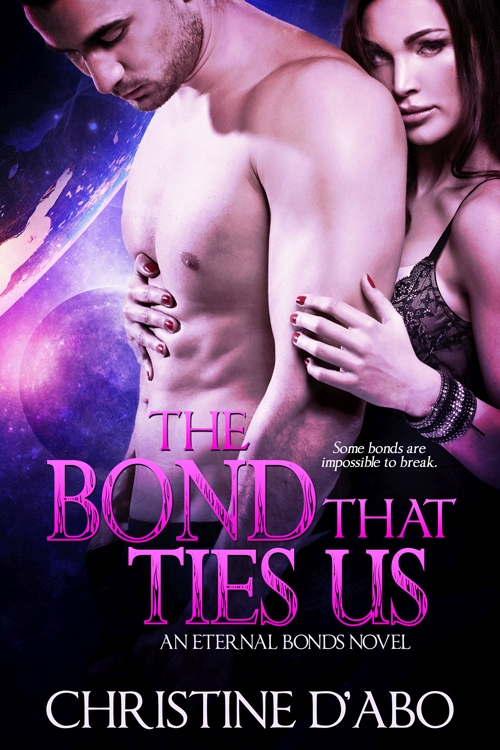 Haylie knows her life is about to change the moment she sets foot on the Eurus colony. What she didn't count on was her instant, overwhelming sexual desire for the seven-foot-tall, sexy as hell alien ambassador. He's in her every thought and dream, teasing and taunting her body into a sexual frenzy.
Kamran has waited his whole life to find his bonded mate. When she arrives in the form of a slender human with brilliant eyes, he can't stop his all-consuming need to possess her. If their bond is discovered, they will be forced by Briel law to leave the colony, giving up the lives they've worked so hard to build. While Haylie and Kamran fight their growing desire, their colony is threatened by an unseen enemy.
When the colony comes under attack by a brutal alien force, can Haylie and Kamran keep their bond a secret and stop the invasion in time to save everyone?
Buy Now:
On Amazon: https://www.amazon.com/dp/B06WLGTFQ1
On Kobo: https://www.kobo.com/ca/en/ebook/the-bond-that-ties-us-1
On iBooks: https://itunes.apple.com/ca/book/the-bond-that-ties-us/id1203538367?mt=11
On Smashwords: https://www.smashwords.com/books/view/702397
Topics: Author Interviews | No Comments »