In Hers To Command (releasing February 14th, available for pre-order now), we get the first glimpse of the Cyborg Homeland, the planet far away from Humanoid Alliance territory which the cyborgs have claimed for their own.
Here's a snippet…
***
The Homeland would hold little appeal for their human female. With more and more cyborgs escaping the Humanoid Alliance's control, the planet was becoming crowded. Structures were thousands of levels high. Ships filled the skies.
There were talks of terraforming more planets in the sector but no action had been taken. The priority was freeing their brethren.
Ace's priority was their female's happiness. If she chose to settle elsewhere, he would support that decision, celebrate it. He was conscious of his special bond with Thrasher, a bond many warriors didn't understand, and would rather not live in close quarters with other males.
Space was preferable and, ideally, surroundings they could more easily control. He'd enjoyed the privacy they'd experienced on their female's battle station. They were better able to protect their female there.
***
This might not seem like an ideal Homeland to you or I but we're not cyborgs. Cyborgs are accustomed to living in close quarters with their brethren. While they were enslaved to the Humanoid Alliance, they didn't have their own chambers or privacy. Hundreds of cyborgs would share one small space. Now freed, many of them would find solitude uncomfortable, perhaps even unbearably lonely.
The cyborg council also requires many living spaces to be build quickly. Every planet rotation, thousands of cyborgs are freed. All of these warriors require living spaces and they've run out of room on the planet's surface. The logical solution is to build upward.
What about flowers, trees, and other vegetation?
Cyborgs have lived their entire lifespans on ships and in compounds. They're unaccustomed to green spaces. When building, they wouldn't consider adding parks and other natural areas to their designs. (Green, with his love of Windy, his plant, is viewed as unusual.)
I suspect once the cyborgs free their brethren, this 100% logical approach to planning might change. (They ARE half human.) The cyborgs will progress beyond utilitarian housing to creating living spaces as diverse and as wonderfully designed as they are.
***
Subscribe To My Monthly Newsletter: http://tasteofcyn.com/2014/05/28/newsletter/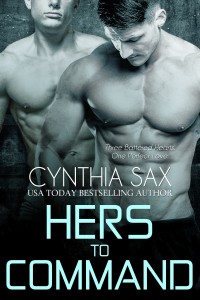 Three Battered Hearts. One Perfect Love
Ace and Thrasher share a special bond. They've never acknowledged that connection and have never fully acted on it. The Humanoid Alliance kill cyborg males like them, deeming the warriors to be defective. Now that Ace and Thrasher have escaped, they don't trust the cyborg council and their brethren to react any differently. Physical love is too risky for them to consider.
Until they meet her.
Carys is the Commander of a Rebel Battle Station. She has dedicated her lifespan to seeking vengeance against the Humanoid Alliance and the cyborgs who killed her daughter. On her battle station, she makes the rules, and if she wants to kiss, touch, and pleasure two mysterious warriors, she will. Nothing, not even enemy warships and a mass cyborg rebellion, can stop her.
In the midst of a war, enemies can become lovers and loyalties can change in a moment. Can a forbidden relationship between two cautious cyborgs and one unbending human Commander survive?
Hers To Command is Book 8 in the Cyborg Sizzle series.
Due to the number of returning characters in this story, you'll enjoy Hers To Command more if you've read the other stories first.
This is a MMF BBW Cyborg SciFi Romance.
Pre-order Now:
Amazon US: https://www.amazon.com/Hers-Command-Cyborg-Sizzle-Book-ebook/dp/B01N0I7X49/
Amazon UK: https://www.amazon.co.uk/Hers-Command-Cyborg-Sizzle-Book-ebook/dp/B01N0I7X49/
Apple/iBooks/iTunes: https://itunes.apple.com/us/book/hers-to-command/id1179869260
B&N: http://www.barnesandnoble.com/w/hers-to-command-cynthia-sax/1125247346