Hers To Command, the next story in the cyborg series, is releasing February 14th (Valentine's Day). It is available for pre-order now.
This week, I'll be sharing the third scene in the first chapter.
You can read the first scene here: http://tasteofcyn.com/2017/01/16/hers-to-command-first-scene/
***
She'd once had a healthy sex drive. Carys sat naked on the edge of the sleeping support. And she'd been careless, wild. That was how she'd ended up pregnant at eighteen solar cycles.
"That wasn't a mistake." She opened a projectile-proof container, withdrew a tiny cloth square. "You weren't a mistake. You were a gift."
She unwrapped the pair of tiny boots from the protective fabric, lifted the footwear closer to her face, inhaled deeply. Pimmy's baby scent lingered on the leather. "I wanted you."
Her daughter's brown curls had bounced against her round cheeks as she ran after Carys that last planet rotation, half a lifetime ago. "Mommy. Mommy. I go with you." She'd reached out her chubby arms.
Carys, angry with Pimmy's father, hadn't taken her. If she had, Pimmy might still be alive. Her daughter wouldn't have died in the Humanoid Alliance attack, killed by emotionless cyborgs. Carys' lips flattened. Machines had coldly executed her baby.
"There won't be a planet rotation that passes that I won't think of you." Carys vowed. "You will always have a piece of my heart."
She bowed her head, resting it against the tiny pair of boots. The toes were slightly scuffed, the leather rough against her chin. Her rambunctious daughter would kick empty containers, enjoying the ringing sound that action made.
Pimmy was why Carys fought, why she had to continue fighting. She'd joined the rebellion immediately after her daughter's death.
"You are strong. You are intelligent. You are loved." Carys kissed the boots, wrapped them in the cloth square, set the makeshift package back in the container and closed the lid.
There were no images of Pimmy in the chamber. They weren't needed. She saw her daughter every time she dreamed.
Carys relived that last planet rotation over and over again. Her grief might be old, but it was fresh, the pain cutting into her every rest cycle.
She curled up on the sleeping support, drew a concealing cloth over her naked body, closed her eyes, and searched the blackness for her baby's face.
* * *
"We should wake her," a male rumbled.
"Slow your processors, ass," a different male with an even deeper voice replied. "Our female needs this rest cycle. Look at her."
"I can't look away." A calloused finger caressed her cheek and Carys murmured, pressing her face against the warmth, the contact heating her all over. "She has silver in her hair. None of the other females had silver in their hair."
She must be dreaming. Carys smiled ruefully, part of her wishing she wasn't. Only fantasy males would be enchanted with gray hair.
And no beings could enter her chambers uninvited. She had the sole authority to open the doors. She'd have to settle for an imaginary rendezvous with her warriors.
The concealing cloth lifted. Cool air swept over her, tightening her nipples.
"She has markings on her breasts, stomach, upper thighs."
Yes, this was a dream. The male sounded as though he admired her stretch marks.
"And her curves are lush, enough for two warriors."
They liked larger females. She glowed, feeling beautiful. This was the best sexual fantasy she'd ever had.
"We shouldn't uncover her without her permission." Skin slapped against skin. The concealing cloth lowered once more. "Human females are accustomed to privacy."
Carys opened her eyes and gazed up at the brown-eyed warrior from the corridor, not surprised they were the males her mind had fabricated. "You have my permission."
"Frag yes." The blue-eyed male didn't hesitate, pulling the concealing cloth off her body. "You're stunning, my female."
"Our female," the brown-eyed male corrected.
They gazed at her with a pussy-clenching lust, their expressions reinforcing their words. Her fantasy warriors did believe she was stunning.
Carys shamelessly allowed them to survey her naked body. Two young, fit males were looking at her. That turned her on.
They remained clad in their tight body armor. Her brain must have been too exhausted to envision them nude. She did have the energy to imagine long, thick ridges in that body armor.
They were big all over. Carys skimmed her tongue over her bottom lip. She liked that.
The blue-eyed male groaned. "I need you, our female." He captured her face between his big palms and covered her mouth with his.
She gasped. He pushed his tongue inside her. Flesh slid over flesh. A peculiar bubbling sensation spread over her, the fizzing and popping exciting her.
She clutched his body armor-clad shoulders, holding onto him. He tasted like metal, male, and desire.
"My turn, Thrasher." The brown-eyed male turned her face toward him and claimed her lips. His fingers framed her jaw, his clasp on her light, yet sure.
When the blue-eyed male, the male her brain had bizarrely named Thrasher, had kissed her, it had been breath-catchingly savage. He had surged forward, his rhythm sporadic and wild.
His friend was more methodical, more restrained, leisurely exploring her mouth, learning the shape, the feel of her, what she liked, and what she didn't. The taste of him was the same, as was the bubbling, the fizzing intensifying.
Thrasher plundered other areas of her. He dragged his lips down her neck, across her collarbone. Carys arched her back, needing his hot mouth on her curves.
Her dream male didn't hesitate, mouthing over her right breast, cupping her left with one of his hands. As his friend ravished her lips, sucking on her tongue, he tugged on her skin and released, tugged and released.
She had two young males adoring her. They were fully clothed, not expecting or needing their own sexual fulfillment. The focus was on her, her body, her pleasure.
***
Read the next scene here (available February 6th): http://tasteofcyn.com/2017/02/06/hers-to-command-fourth-scene/
***
Subscribe To My Monthly Newsletter: http://tasteofcyn.com/2014/05/28/newsletter/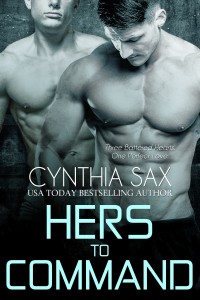 Three Battered Hearts. One Perfect Love
Ace and Thrasher share a special bond. They've never acknowledged that connection and have never fully acted on it. The Humanoid Alliance kill cyborg males like them, deeming the warriors to be defective. Now that Ace and Thrasher have escaped, they don't trust the cyborg council and their brethren to react any differently. Physical love is too risky for them to consider.
Until they meet her.
Carys is the Commander of a Rebel Battle Station. She has dedicated her lifespan to seeking vengeance against the Humanoid Alliance and the cyborgs who killed her daughter. On her battle station, she makes the rules, and if she wants to kiss, touch, and pleasure two mysterious warriors, she will. Nothing, not even enemy warships and a mass cyborg rebellion, can stop her.
In the midst of a war, enemies can become lovers and loyalties can change in a moment. Can a forbidden relationship between two cautious cyborgs and one unbending human Commander survive?
Hers To Command is Book 8 in the Cyborg Sizzle series.
Due to the number of returning characters in this story, you'll enjoy Hers To Command more if you've read the other stories first.
This is a MMF BBW Cyborg SciFi Romance.
Pre-order Now:
Amazon US: https://www.amazon.com/Hers-Command-Cyborg-Sizzle-Book-ebook/dp/B01N0I7X49/
Amazon UK: https://www.amazon.co.uk/Hers-Command-Cyborg-Sizzle-Book-ebook/dp/B01N0I7X49/
Apple/iBooks/iTunes: https://itunes.apple.com/us/book/hers-to-command/id1179869260
B&N: http://www.barnesandnoble.com/w/hers-to-command-cynthia-sax/1125247346