Many writers, myself included, are introverts. We prefer not to talk. Period. Talking about our books is extra painful because they're OUR books. That smacks of self-promotion.
The issue is if we don't talk about our books, no one will know how kick ass they are. They won't buy them. They won't read them. I heard in a podcast that there are over 6,000 books a DAY loaded to Amazon. It is easy for our release to get lost.
When I first sent my stories to publishers, I thought my publishers would promote my stories. I was wrong. They simply don't have the time or money to promote every book. Even the largest, most financially successful publishers have to pick their battles. Normally, they choose to promote their bestsellers. To become one of these bestsellers, we have to either promote our books ourselves or find someone else who will promote our books for us.
Notice I didn't say self-promote.
Because when we promote our stories, we're not merely promoting ourselves. We're promoting our cover artists, our editors, our formatters, our publishers (if we have them), our agents (again, if we have them). We have a team behind our stories and this team benefits from the success of our books.
When I pimp Hers To Command on a Facebook group, for example, more folks see my awesome cover. Some of these folks are writers and publishers. They might hire Amanda (from http://razzdazzdesign.com/ ), my talented cover artist. If they buy and read the story, they might hire ELF ( from https://musingsbyelf.wordpress.com/ ), my skilled editor, or Mark (from http://marksebookformatting.com/ ), my always-current-with-the-trends formatter.
These wonderful members of my team are counting on me to promote my stories. They do well when my stories do well. I can't let them down.
This is what I tell myself as I promote my stories. I have an amazing team behind me. They deserve recognition and the best way I can give them that is to talk about my stories.
Another thing I tell myself when I promote my stories is… I'm not spamming the world. I'm telling ONE reading/writing/reviewing/blogging buddy about my story. Using the Facebook group example, I'll look at the Members section (in the top right hand corner). Facebook shows me common friends.
I'll focus on one of these friends. I'm not telling the group about Hers To Command. I'm telling Jannie. She likes my cyborgs. I tell her everything. And I know she'd be sad if I didn't tell her about my upcoming release. I certainly don't want Jannie to be sad. She's my friend. So this post is for her. Because I love her and I think she'll enjoy the story.
The post is no longer spamtastic. I'm not 'bothering' anyone (one of my great fears). I'm talking with my buddy. If someone complains (which is very rare – Romance readers love to hear about upcoming romance releases, especially releases writers are excited about), well, the message wasn't meant for that unhappy person. It was meant for my friend.
That leads me to my final point. It is OKAY to be excited about our upcoming releases. That whole jaded, cynical, seen-it-all act? It's cheating you out of joy and it isn't fooling anyone.
Be happy. Tell the world. Share why you HAD to write this story, why you can't wait for us to read it. Follow the promo rules but let your enthusiasm show. Get giddy. Happy dance.
Your stories deserve to be read. Tell folks about them!
***
Subscribe To My Monthly Newsletter: http://tasteofcyn.com/2014/05/28/newsletter/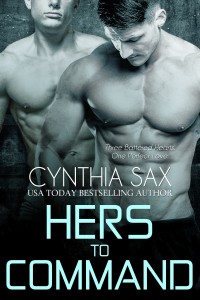 Three Battered Hearts. One Perfect Love
Ace and Thrasher share a special bond. They've never acknowledged that connection and have never fully acted on it. The Humanoid Alliance kill cyborg males like them, deeming the warriors to be defective. Now that Ace and Thrasher have escaped, they don't trust the cyborg council and their brethren to react any differently. Physical love is too risky for them to consider.
Until they meet her.
Carys is the Commander of a Rebel Battle Station. She has dedicated her lifespan to seeking vengeance against the Humanoid Alliance and the cyborgs who killed her daughter. On her battle station, she makes the rules, and if she wants to kiss, touch, and pleasure two mysterious warriors, she will. Nothing, not even enemy warships and a mass cyborg rebellion, can stop her.
In the midst of a war, enemies can become lovers and loyalties can change in a moment. Can a forbidden relationship between two cautious cyborgs and one unbending human Commander survive?
Hers To Command is Book 8 in the Cyborg Sizzle series.
Due to the number of returning characters in this story, you'll enjoy Hers To Command more if you've read the other stories first.
This is a MMF BBW Cyborg SciFi Romance.
Pre-order Now:
Amazon US: https://www.amazon.com/Hers-Command-Cyborg-Sizzle-Book-ebook/dp/B01N0I7X49/
Amazon UK: https://www.amazon.co.uk/Hers-Command-Cyborg-Sizzle-Book-ebook/dp/B01N0I7X49/
Apple/iBooks/iTunes: https://itunes.apple.com/us/book/hers-to-command/id1179869260
B&N: http://www.barnesandnoble.com/w/hers-to-command-cynthia-sax/1125247346