A popular Romance writing guideline, I try to follow, is to reduce the number of minor characters in a scene as much as possible. Every minor character takes page time away from the romantic couple (or more). He/she shifts the reader's focus from them permanently. For the rest of the story, the reader has to remember this minor character.
Reducing the number of minor characters isn't always possible. In Hers To Command, the heroine is a battle station Commander. She works with over a dozen direct reports (her Officers). I wanted to show her in this role, in charge, in her realm of power. That meant interacting with these minor characters. It would look bizarre if she strolled onto the bridge and was completely alone. (grins)
When I wrote the first draft, I gave all of these direct reports first and last names. They also had positions, which I often linked to these names to clarify what they did. It became an unwieldy mess. Halfway through writing the story, I was completely confused.
That got me thinking… if I'm confused, what is the Commander feeling? She's often in high stress situations, battles to the death. Every moment counts. When she gives an order, she can't issue it to the wrong being.
At the beginning of the story, she's also on the losing side of the war. There's constant turnover in her personnel because not everyone survives every battle. She has to learn names again and again, which would increase the risk of getting names wrong.
The solution I derived was to refer to all of her direct reports by their position only.
Here is a snippet from the story…
***
"Do you detect any activity, First?" Carys knew the female's name, knew which small planet her officer had originated from, knew she had lost her mother, father, two sisters and two brothers in a Humanoid Alliance attack.
But she never used her first officer's name. Carys had made that mistake once, solar cycles ago, when she was a warship captain.
Beings died in war. That was the unfortunate reality. Her officers were constantly changing, the dead being replaced with the living.
During an attack, she'd referred to her weapons officer by his predecessor's name. The correction and the delay it had caused, slight yet significant, had resulted in a crew member's death.
From that moment onward, she referred to beings by their position, by their function. That policy appeared cold and impersonal to outsiders. Carys didn't care. She was interested in ending a war, not winning a popularity contest.
***
Looking at the cast of thousands issue from the main character's point of view might give you solutions you haven't yet considered. Hey, it worked for me. (grins)
How have you solved this common problem?
***
Subscribe To My Monthly Newsletter: http://tasteofcyn.com/2014/05/28/newsletter/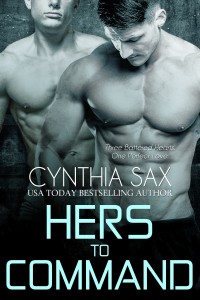 Three Battered Hearts. One Perfect Love
Ace and Thrasher share a special bond. They've never acknowledged that connection and have never fully acted on it. The Humanoid Alliance kill cyborg males like them, deeming the warriors to be defective. Now that Ace and Thrasher have escaped, they don't trust the cyborg council and their brethren to react any differently. Physical love is too risky for them to consider.
Until they meet her.
Carys is the Commander of a Rebel Battle Station. She has dedicated her lifespan to seeking vengeance against the Humanoid Alliance and the cyborgs who killed her daughter. On her battle station, she makes the rules, and if she wants to kiss, touch, and pleasure two mysterious warriors, she will. Nothing, not even enemy warships and a mass cyborg rebellion, can stop her.
In the midst of a war, enemies can become lovers and loyalties can change in a moment. Can a forbidden relationship between two cautious cyborgs and one unbending human Commander survive?
Hers To Command is Book 8 in the Cyborg Sizzle series.
Due to the number of returning characters in this story, you'll enjoy Hers To Command more if you've read the other stories first.
This is a MMF BBW Cyborg SciFi Romance.
Pre-order Now:
Amazon US: https://www.amazon.com/Hers-Command-Cyborg-Sizzle-Book-ebook/dp/B01N0I7X49/
Amazon UK: https://www.amazon.co.uk/Hers-Command-Cyborg-Sizzle-Book-ebook/dp/B01N0I7X49/
Apple/iBooks/iTunes: https://itunes.apple.com/us/book/hers-to-command/id1179869260
B&N: http://www.barnesandnoble.com/w/hers-to-command-cynthia-sax/1125247346