I sat down (virtually) with Jenn Nixon for a short interview. Her latest release is MIND: The Reckoning, a SciFi Romance!

Cynthia Sax: Where did you get the idea for MIND: The Reckoning?
Jenn Nixon: My brother and I were born three years and three weeks apart. We have a very strange, but close relationship. Sometimes, we actually think of the same ideas at the same time, even when we're not together. We've called each other at the same time to talk about the SAME THING! We often finish each other's thoughts too. So, I always wondered what it would be like if we were twins or psychic. Then, I wondered what we'd be like if we were half alien twins and the MIND series was born.
Cynthia Sax: What a cool bond to have with your brother! Where is MIND: The Reckoning set ?
Jenn Nixon: The MIND Series starts off in 2034, near future. This gave me the ability to add in some technology and world building, but still include many places around the country and world that people are familiar with already. I also tend to use pop culture references when my characters talk and I didn't want someone mentioning a comic book or movie hero when they are living in 3025 or some far off time where that reference wouldn't make sense.

Cynthia Sax: Is MIND: The Reckoning part of a series and will you be writing more stories in this series?
Jenn Nixon: Yes, Book 3 MIND: The Reckoning release this October and I've already finished #4 for a March 2017 release date. I've been brainstorming #5 and it's already too big for just one book so some of the plot will spill over into #6!

Cynthia Sax: (grins) That sounds like my cyborg series. I think of more and more stories to tell. What advice would you give new writers?

Jenn Nixon: Read, read, read, and write, write, write. Join writer's groups online and/or in person. Learn the rules of the craft, Showing Vs Telling, POV, Plotting, Crutch Words, etc. Pay attention to what editors and agents say to you if you get rejected. Is your plot lacking? Do you head hop? Is the pacing too slow? Are you telling us more than showing us?
Take honest, critical feed back to heart. Unless it's a trolling reader who always leaves bad reviews, listen to what the readers say to you. For example, in my Tiva Boon books, a few readers said my plot was lacking and for the most part, they were right. Tiva is a character driven book and looking back on it now, there are many places I can go back and tighten the narrative to make the plotting better. 🙂

Cynthia Sax: What do you love about writing in SciFi Romance?

Jenn Nixon: Science Fiction has been the biggest love of my live (other than my dog). It started early with reruns of 60s shows like Batman and Star Trek TOS. I didn't read much SciFi as a teen, I loved Mystery and Suspense books like Nancy Drew and Mary Higgins Clark, but I still watched SciFi Movies and TV shows all the time.
My first few books were Romantic Suspense. I felt I had read enough, learned enough, and loved Mystery Suspense so much, that it was the genre I should write in. While I do love my Romantic Suspense books, I think adding SciFi into the mix elevated my writing to a whole new level. I'm able to take all the cool things I love about the future and SciFi and add it into a Mystery or Suspense story for a new take on the genre.
Thank you so much for having me!
Jenn
Cynthia Sax: Thank you, Jenn Nixon, for joining us today!
Visit Jenn Nixon's Website: https://www.jennnixon.com
*****************************************************************************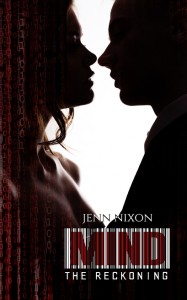 Baldwin Bates has only wanted one thing since joining MIND, to take care of his friends and keep them all safe. While the Meta-Alien Investigation and Neutralization Department is busy monitoring an emergence of human psychic and alien activity, Bates takes his first solo assignment searching for a woman who claims to see the future, only to botch it up and let her get away.
After helping to destroy an alien device called the Transcender, Lexa Quinn wakes from a two-week coma a very different person than she was before. While her abilities grow stronger, her feelings for Bates begin to interfere with the MIND team's mission, putting everyone at risk. Secrets from her past threaten the present and future, forcing Lexa to decide who she is and where she belongs.
When a powerful, ancient enemy lays claim to the Earth and brings his judgment upon the population, Bates, Lexa, and the entire MIND team must do whatever it takes to save the human race before the reckoning is complete.
Buy Now: