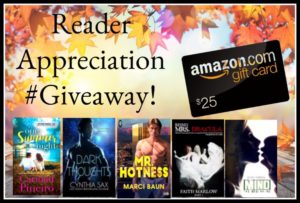 I'm participating in a Reader Appreciation Contest (because you know I love you).
You can enter here: http://www.jennnixon.com/giveaways/readerappreciation/
Note: By entering this giveaway you are signing up for ALL FIVE AUTHOR MONTHLY NEWSLETTERS!
***
Subscribe To My Monthly Newsletter: http://tasteofcyn.com/2014/05/28/newsletter/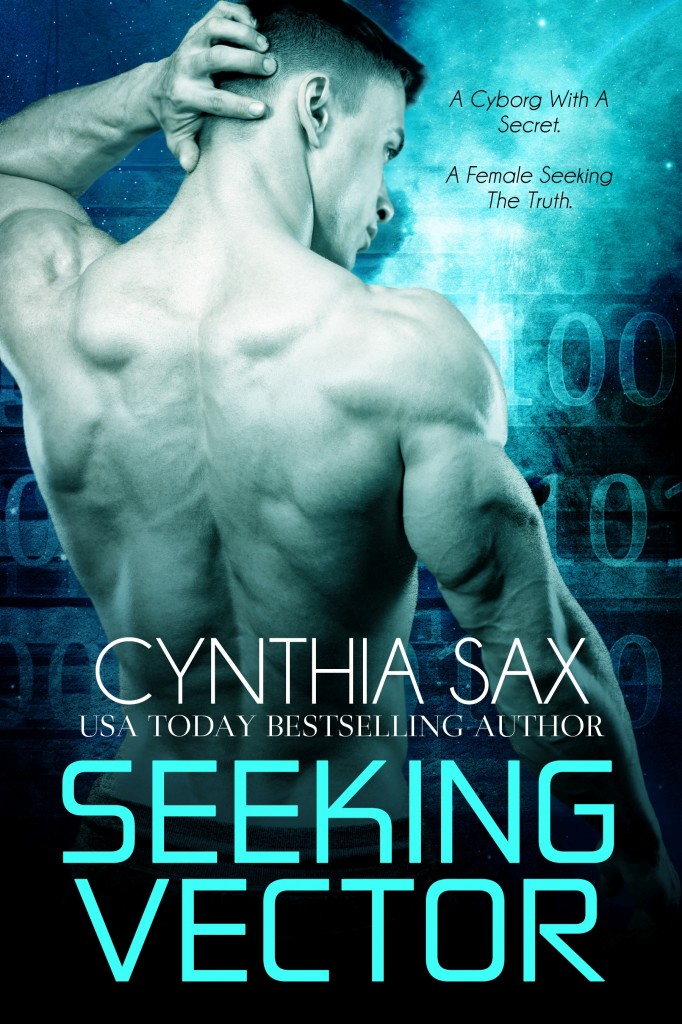 Seeking Vector
A cyborg with a secret… A female seeking the truth…
Vector, the C Model captain of the Freedom, is a cyborg many warriors wish to emulate. He fights fiercely, leads with honor, has earned the respect and loyalty of his crew. But no being, not even a cyborg, is perfect. Since arriving at the Homeland, Vector has been hiding a dark truth about his past. If his secret is exposed, he could lose everything – his position, his ship, and his life.
Kasia excels at uncovering secrets. Half a lifespan ago, her curiosity placed her on the Humanoid Alliance's kill list. Now she has accessed information the cyborg council would prefer remain hidden. Their warriors are hunting her and won't rest until she's dead.
When Vector arrives on her battle station, all grim determination, gray skin, and bulging muscles, Kasia knows he has been sent to kill her. That doesn't stop her from wanting the dominant cyborg. She senses the savage nature under the male's controlled exterior, sees the mysteries in his brilliant blue eyes, craves the roughness of his touch. She will risk all she has to experience his embrace.
Kasia braved the cyborg council's ire for a reason. If she doesn't convince Vector to act on the information she uncovered, the enemy could destroy his home planet and render every cyborg in the universe immobile.
Can a doubting C Model warrior learn to trust and to love before it is too late?
Seeking Vector is Book 10 in the Cyborg Sizzle series and is a STAND-ALONE story.
It is also a Cyborg SciFi Romance.
Buy Now:
Amazon US: https://www.amazon.com/Seeking-Vector-Cyborg-Sizzle-Book-ebook/dp/B075FHBW87/
Amazon UK: https://www.amazon.co.uk/Seeking-Vector-Cyborg-Sizzle-Book-ebook/dp/B075FHBW87/
Apple/iBooks/iTunes: https://itunes.apple.com/us/book/seeking-vector/id1280185990
B&N: https://www.barnesandnoble.com/w/seeking-vector-cynthia-sax/1127072529
Kobo: https://www.kobo.com/us/en/ebook/seeking-vector
Smashwords: https://www.smashwords.com/books/view/746717
Topics: Guest Post | No Comments »
I'm writing Ghost's story next (Ghost Of A Machine will be my May release).
Is there another cyborg you'd really like to see find his female?
I'm talking about that today on Jenn Nixon's blog.
Read the full post here: http://jennafern.blogspot.ca/2017/02/valentines-teaser-tuesday-with.html
***
Subscribe To My Monthly Newsletter: http://tasteofcyn.com/2014/05/28/newsletter/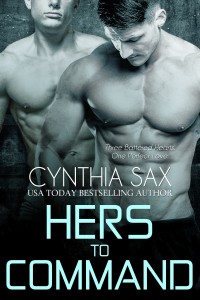 Three Battered Hearts. One Perfect Love
Ace and Thrasher share a special bond. They've never acknowledged that connection and have never fully acted on it. The Humanoid Alliance kill cyborg males like them, deeming the warriors to be defective. Now that Ace and Thrasher have escaped, they don't trust the cyborg council and their brethren to react any differently. Physical love is too risky for them to consider.
Until they meet her.
Carys is the Commander of a Rebel Battle Station. She has dedicated her lifespan to seeking vengeance against the Humanoid Alliance and the cyborgs who killed her daughter. On her battle station, she makes the rules, and if she wants to kiss, touch, and pleasure two mysterious warriors, she will. Nothing, not even enemy warships and a mass cyborg rebellion, can stop her.
In the midst of a war, enemies can become lovers and loyalties can change in a moment. Can a forbidden relationship between two cautious cyborgs and one unbending human Commander survive?
Hers To Command is Book 8 in the Cyborg Sizzle series.
Due to the number of returning characters in this story, you'll enjoy Hers To Command more if you've read the other stories first.
This is a MMF BBW Cyborg SciFi Romance.
Pre-order Now:
Amazon US: https://www.amazon.com/Hers-Command-Cyborg-Sizzle-Book-ebook/dp/B01N0I7X49/
Amazon UK: https://www.amazon.co.uk/Hers-Command-Cyborg-Sizzle-Book-ebook/dp/B01N0I7X49/
Apple/iBooks/iTunes: https://itunes.apple.com/us/book/hers-to-command/id1179869260
B&N: http://www.barnesandnoble.com/w/hers-to-command-cynthia-sax/1125247346
Kobo: https://www.kobo.com/ca/en/ebook/hers-to-command-6
Smashwords: https://www.smashwords.com/books/view/684788
Topics: Guest Post | No Comments »
I sat down (virtually) with Jenn Nixon for a short interview. Her latest release is MIND: The Reckoning, a SciFi Romance!

Cynthia Sax: Where did you get the idea for MIND: The Reckoning?
Jenn Nixon: My brother and I were born three years and three weeks apart. We have a very strange, but close relationship. Sometimes, we actually think of the same ideas at the same time, even when we're not together. We've called each other at the same time to talk about the SAME THING! We often finish each other's thoughts too. So, I always wondered what it would be like if we were twins or psychic. Then, I wondered what we'd be like if we were half alien twins and the MIND series was born.
Cynthia Sax: What a cool bond to have with your brother! Where is MIND: The Reckoning set ?
Jenn Nixon: The MIND Series starts off in 2034, near future. This gave me the ability to add in some technology and world building, but still include many places around the country and world that people are familiar with already. I also tend to use pop culture references when my characters talk and I didn't want someone mentioning a comic book or movie hero when they are living in 3025 or some far off time where that reference wouldn't make sense.

Cynthia Sax: Is MIND: The Reckoning part of a series and will you be writing more stories in this series?
Jenn Nixon: Yes, Book 3 MIND: The Reckoning release this October and I've already finished #4 for a March 2017 release date. I've been brainstorming #5 and it's already too big for just one book so some of the plot will spill over into #6!

Cynthia Sax: (grins) That sounds like my cyborg series. I think of more and more stories to tell. What advice would you give new writers?

Jenn Nixon: Read, read, read, and write, write, write. Join writer's groups online and/or in person. Learn the rules of the craft, Showing Vs Telling, POV, Plotting, Crutch Words, etc. Pay attention to what editors and agents say to you if you get rejected. Is your plot lacking? Do you head hop? Is the pacing too slow? Are you telling us more than showing us?
Take honest, critical feed back to heart. Unless it's a trolling reader who always leaves bad reviews, listen to what the readers say to you. For example, in my Tiva Boon books, a few readers said my plot was lacking and for the most part, they were right. Tiva is a character driven book and looking back on it now, there are many places I can go back and tighten the narrative to make the plotting better. 🙂

Cynthia Sax: What do you love about writing in SciFi Romance?

Jenn Nixon: Science Fiction has been the biggest love of my live (other than my dog). It started early with reruns of 60s shows like Batman and Star Trek TOS. I didn't read much SciFi as a teen, I loved Mystery and Suspense books like Nancy Drew and Mary Higgins Clark, but I still watched SciFi Movies and TV shows all the time.
My first few books were Romantic Suspense. I felt I had read enough, learned enough, and loved Mystery Suspense so much, that it was the genre I should write in. While I do love my Romantic Suspense books, I think adding SciFi into the mix elevated my writing to a whole new level. I'm able to take all the cool things I love about the future and SciFi and add it into a Mystery or Suspense story for a new take on the genre.
Thank you so much for having me!
Jenn
Cynthia Sax: Thank you, Jenn Nixon, for joining us today!
Visit Jenn Nixon's Website: https://www.jennnixon.com
*****************************************************************************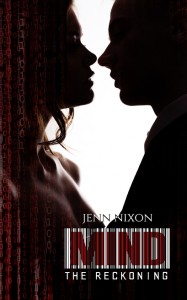 Baldwin Bates has only wanted one thing since joining MIND, to take care of his friends and keep them all safe. While the Meta-Alien Investigation and Neutralization Department is busy monitoring an emergence of human psychic and alien activity, Bates takes his first solo assignment searching for a woman who claims to see the future, only to botch it up and let her get away.
After helping to destroy an alien device called the Transcender, Lexa Quinn wakes from a two-week coma a very different person than she was before. While her abilities grow stronger, her feelings for Bates begin to interfere with the MIND team's mission, putting everyone at risk. Secrets from her past threaten the present and future, forcing Lexa to decide who she is and where she belongs.
When a powerful, ancient enemy lays claim to the Earth and brings his judgment upon the population, Bates, Lexa, and the entire MIND team must do whatever it takes to save the human race before the reckoning is complete.
Buy Now:
On Amazon: https://www.amazon.com/Jenn-Nixon/e/B002BLNBBQ
Topics: Author Interviews | 1 Comment »