I was chatting with a reading buddy, telling her I couldn't wait to finish the first draft of Hers To Command and find out how that story ends. She asked me why I wasn't writing. Why didn't I simply hunker down and finish it?
I can't. My brain is dead.
Why Is Your Favorite Writer Spending Time On Facebook When She Should Be Writing?
Welcome to the wonderful yet wacky world of writer brains aka the muse.
That is truly what the muse is—a code word for the way an artist's (very) peculiar brain works. And all of our brains work differently. I can write about 2,500 fresh words or 10 fresh pages a day. At that point, the creative part of my brain is zapped. There's nothing in there. The hamster is dead. My Dear Wonderful Hubby will ask me to write a message in a mutual friend's birthday card and I'll have nothing, no words.
I've tried to write when my creativity has been sucked dry. (winces) It wasn't pretty. Those forced words not only had to be discarded but they severely damaged my flow. It slowed my writing. It didn't speed it up.
I've learned to step back at that point and do other things like revise stories, stare up at the ceiling, looking for new plots there, and yes, play around on Facebook.
Every writer has a different limit. One of my buddies hits the wall at 10,000 words or 40 fresh pages a day. Yeah, she's a machine.
Some writers binge write. That's how their muses work. They go into the writing cave, start writing and don't stop until their stories are done. They don't shower. They don't change their clothes. They've trained their cats to feed them while they type. (joking…sort of) They emerge from the writing cave extremely smelly with horror-flick-style bloodshot eyes but they are triumphant. Their stories are finished.
Then they fall into a deep sleep for about a month.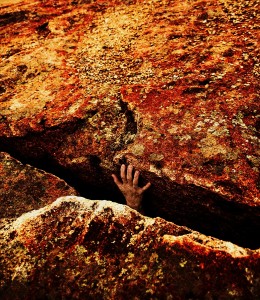 Note: This isn't procrastination, which is another serious writing issue. We've written our words for the day. This refers to a writer not having the ability to write 24 hours a day, 7 days a week, 365 days a year. (Unless you're Nora Roberts but we suspect she's an android.)
Why Is Your Favorite Writer Cheating On Her Series With Another Story?
This can be an even more challenging issue for readers to understand. Your favorite writer is writing but, gasp, she's not writing the next story in your favorite series. That beyotch! She's cheating on her series. Doesn't she love this series and her series readers anymore?
I'm 99% confident she does. My guess is she loves the series more than any reader ever could. The characters are family to her. But it can be challenging to spend 24 hours a day, 7 days a week, 365 days a year with even the loveliest family members. She sometimes needs a vacation from them.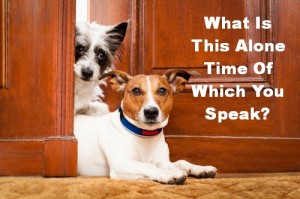 EVERYONE is likely telling her not to take this vacation. Her readers, editor, agent, publisher, even many of her writing buddies are likely telling her it is career suicide to take a break from her most popular series. She might lose her readers forever. She's messing with the momentum of the series. She also realizes she'll receive angry emails and messages from readers. Some of these messages will be REALLY harsh.
Yet she takes this break. Why? Very often this is because she knows if she doesn't, her brain aka muse will shut down and she won't be able to write ANYTHING. Writing this other story, often a story that won't sell as well and might not even break-even (*cough* my contemporaries), might allow her to return to her popular series refreshed and excited.
Again, being the stubborn gal I am, I've forced myself to write the next story in a series when I knew, deep down in my heart, I needed a creative break from it. I wrote garbage for three months. All those words had to be discarded. If I had switched to the side project, I would have finished that project AND the first draft of the next story in the series. Readers would have received the next story in the series sooner.
Some writers can stay in the same series without switching. Some writers switch between different series in the same subgenre, juggling two SciFi Romance series, for example. Some writers have to get the heck out of the subgenre entirely. They might juggle a Paranormal Romance and a SciFi Romance as one example. They don't necessarily WANT to do this. They NEED to do this.
As readers, we don't have to be thrilled about this but we should realize that it is part of our favorite writer's creative process. This is why she is able to write the stories we love.
Reading buddies, are there any other writer quirks that you'd like to learn more about? Writing buddies, do you have a cap on your daily word count? Do you have to switch series?
***
Subscribe To My Release Day Newsletter: http://tasteofcyn.com/2014/05/28/newsletter/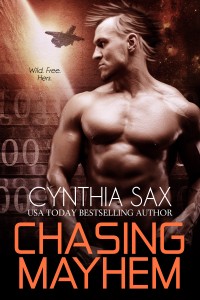 Wild. Free. Hers.
Mayhem has spent his lengthy lifespan obeying the Humanoid Alliance's rules. Finally free from their cruel control, the cyborg warrior plans to cause chaos. He infiltrates a remote settlement, provokes the savage locals until they want him dead, and allows himself to be captured by the sexiest little Retriever he has ever laid his mechanically-enhanced eyes on.
Imee's sole mission in life is to keep her family alive. To do this, she must hunt rebels, returning them to the Humanoid Alliance's evil clutches where they will be executed. She doesn't allow herself to feel anything for her targets…until she meets a tall, muscular cyborg with wild hair and even wilder eyes.
With his sure hands, laughing lips and erotic holds, Mayhem makes Imee's body sizzle and her resistance melt. Their love is doomed. She must deliver the warrior to his death or she'll place her family's safety at risk. But she can't resist him.
Imee soon discovers that Mayhem, life, and love are never predictable.
Chasing Mayhem is Book 6 in the Cyborg Sizzle series and is a STANDALONE story.
It is also a BBW Cyborg SciFi Romance.
Buy Now:
Amazon US: https://www.amazon.com/Chasing-Mayhem-Cyborg-Sizzle-Book-ebook/dp/B01IRPO9WY#nav-subnav
Amazon UK: https://www.amazon.co.uk/Chasing-Mayhem-Cyborg-Sizzle-Book-ebook/dp/B01IRPO9WY/
Apple/iBooks/iTunes: https://itunes.apple.com/us/book/chasing-mayhem/id1136333685
ARe: https://www.allromanceebooks.com/product-chasingmayhem-2077430-340.html
B&N: http://www.barnesandnoble.com/w/chasing-mayhem-cynthia-sax/1124139998
Kobo: https://store.kobobooks.com/en-us/ebook/chasing-mayhem