Woot! I have a cover and a blurb for Jumping Barrel, the December FREE cyborg short story!
I don't have an exact date in December. I have to initially list it on Amazon for 99 cents and then ask them to price match it to other booksellers. I'll send my December newsletter out as soon as the story is available.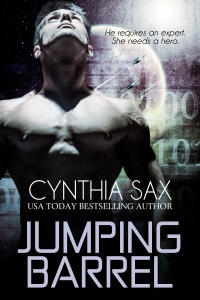 He requires an Expert. She needs a hero.
Barrel requires an Expert for the Tau Cetian orphans. He's looking for a female who is willing to commit to a lifespan-long role, who is comfortable with moving off planet, and who, preferably, has the ability to speak the offsprings' first language.
Nola wants the role Barrel is offering so badly she bends a few truths. Yes, she was born off planet but she has lived almost all of her lifespan in sheltered Academies. Yes, she has learned Tau Cetian but she has never spoken with a local. Yes, she plans to follow the rules but his deep, sexy voice tempts her to rebel.
When a fact-morphing human academic meets her battle-worn cyborg warrior, deceptions are revealed, passions flare, and circuits sizzle. Wrong seems right. Lies turn into truth. The candidate least qualified for the role becomes the one candidate Barrel can't let go.
Jumping Barrel is a short companion story in the Cyborg Sizzle series and is meant to be read after Releasing Rage, Breathing Vapor and Crash And Burn.
It is also a BBW Cyborg SciFi Romance.
***
Subscribe To My Release Day Newsletter: http://tasteofcyn.com/2014/05/28/newsletter/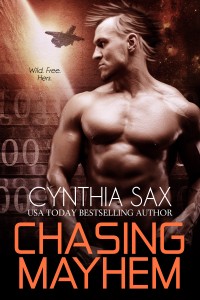 Wild. Free. Hers.
Mayhem has spent his lengthy lifespan obeying the Humanoid Alliance's rules. Finally free from their cruel control, the cyborg warrior plans to cause chaos. He infiltrates a remote settlement, provokes the savage locals until they want him dead, and allows himself to be captured by the sexiest little Retriever he has ever laid his mechanically-enhanced eyes on.
Imee's sole mission in life is to keep her family alive. To do this, she must hunt rebels, returning them to the Humanoid Alliance's evil clutches where they will be executed. She doesn't allow herself to feel anything for her targets…until she meets a tall, muscular cyborg with wild hair and even wilder eyes.
With his sure hands, laughing lips and erotic holds, Mayhem makes Imee's body sizzle and her resistance melt. Their love is doomed. She must deliver the warrior to his death or she'll place her family's safety at risk. But she can't resist him.
Imee soon discovers that Mayhem, life, and love are never predictable.
Chasing Mayhem is Book 6 in the Cyborg Sizzle series and is a STANDALONE story.
It is also a BBW Cyborg SciFi Romance.
Pre-order Now:
Amazon US: https://www.amazon.com/Chasing-Mayhem-Cyborg-Sizzle-Book-ebook/dp/B01IRPO9WY#nav-subnav
Amazon UK: https://www.amazon.co.uk/Chasing-Mayhem-Cyborg-Sizzle-Book-ebook/dp/B01IRPO9WY/
ARe: https://www.allromanceebooks.com/product-chasingmayhem-2077430-340.html
B&N: http://www.barnesandnoble.com/w/chasing-mayhem-cynthia-sax/1124139998
Kobo: https://store.kobobooks.com/en-us/ebook/chasing-mayhem