I sat down (virtually) with Tina Donahue for a short interview. Tina Donahue's latest release is This Time When We Touch, an Erotic paranormal.

Cynthia Sax: What excites you about This Time When We Touch?
Tina Donahue: I've always loved the idea of reincarnation, especially when it brings lovers back together. In This Time When We Touch, fate has repeatedly and cruelly separated Jade and Patrick for centuries. Since this is their last reincarnation, the stakes are impossibly high for Jade to break the deadly pattern and to have Patrick's love for a lifetime. Heady, romantic stuff.
Cynthia Sax: What is your favorite line from This Time When We Touch?
Tina Donahue: It has to be when Patrick sees Jade at the beach for the first time. In this reincarnation they haven't met. Technically, they're strangers…yet they're not. As their eyes meet, a rush of tenderness and love floods him. Patrick doesn't understand it. Since his presence in Jade's life has always led to her death in the past, he unconsciously fights his memory of her and their enduring love in order to protect her. Not that he can fully resist. Driven to be near her, he finally asks, "Who are you?"
There's wonder, hope and sadness in that one question, which makes it my favorite line.

Cynthia Sax: Where did you get the idea for This Time When We Touch?
Tina Donahue: I was watching a remake of H. G. Wells The Time Machine on cable. I was taken with the hero's desire to return in time so he could save the woman he loves from death. No matter how he tried to change fate, she still died. That really stuck with me and the idea for This Time When We Touch was born.

Cynthia Sax: What one piece of advice would you give new writers?

Tina Donahue: Outside of don't ever give up, I'd have to say – don't think it's easy. I've known so many newbies who honestly believe all they have to do is slap a story together, put it on Amazon and they'll hit all the lists. That happens once in a blue moon. Writing is hard. Writing romance is even harder. I've heard so many critics say that it's only romance. Sure. Why don't they try to get emotions down on paper and make readers feel what the characters are experiencing. It's the hardest thing in the world to accomplish. Sometimes there don't seem to be enough words to convey what I want to say. I have no trouble writing humor. I can do it in my sleep. No trouble plotting, piece of cake. Creating action scenes, building suspense, writing dialogue is second nature to me. But digging deep into a character's soul, having emotional build, getting readers to laugh, cry, shout in frustration or anger and sigh in relief with your characters is freaking hard.
Cynthia Sax: SO true, Tina! Relaying emotional is dang difficult!
Thank you, Tina Donahue, for joining us today!
Tina Donahue's Website: http://www.tinadonahue.com/
*****************************************************************************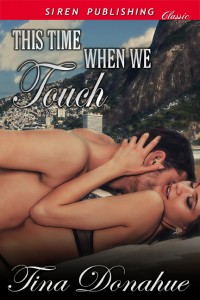 Fate has cruelly torn them apart through the centuries…
Endless desire and unparalleled love will bring them together a final time.
Through numerous reincarnations, Jade Jacome has adored one man. His love for her has repeatedly led to her murder, always on the same day and time. Jade's scientific research proves this is their final rebirth, her last chance to outwit destiny and fulfill their passion. Against a backdrop of Brazil's lushly decadent Carnaval, Jade has forty-eight hours to meet and tempt her lover, now known as Patrick Kane, then break fate's deadly pattern.
Irresistibly drawn to Rio, Patrick senses Jade's yearning that matches his. Seeing her again, time stops. Though they've never met in this life, he feels their connection, and that she's in danger because of him. Baffled and unsettled, Patrick resists his attraction to Jade to keep her safe.
In a contest of wills and shameless seduction, Jade must gamble all, even her life, before the anniversary of their first separation or risk losing Patrick forever.
A Siren Erotic Romance
Buy Now: