I sat down (virtually) with Kate Hill for a short interview. Kate Hill's latest release is Storm Stallion, an erotic paranormal.

Cynthia Sax: What makes Ivan so freakin' sexy?
Kate Hill: Other than being a handsome stud (he's a shapeshifting winged centaur), Ivan is protective of those he loves. He enjoys taking care of others, especially the woman in his life. There's nothing sexier than a guy who isn't afraid to show love for his family and Ivan is definitely that kind of guy.
Cynthia Sax: Where did you get the idea for Storm Stallion?
Kate Hill: Ivan and Bala were secondary characters in Mystery Stallion. They appeared throughout the entire story, but didn't actually meet each other until the end. After writing their first scene together, I knew I had to give them a story of their own.

Cynthia Sax: What makes Ivan and Bala right for each other?
Kate Hill: They both want the same things in a relationship. They love having a family life and they enjoy being together in the bedroom and out. Ivan and Bala truly love making a home for their daughter and each other.

Cynthia Sax: What creates problems between Ivan and Bala?

Kate Hill: When Ivan and Bala first met, she had recently lost her first husband. Bala was prepared to follow him to an early grave, but Ivan literally swooped in and rescued her from a fiery death. Though for Ivan it was love at first sight, he didn't push for romance because he knew Bala was still in love with her first husband. Eventually she realizes that she would like more than friendship with Ivan, but she is plagued by guilt about finding love a second time. To keep from hurting each other, they're not completely honest about their feelings regarding her first husband and it strains their relationship. Only when danger strikes do they realize–possibly too late–the depth of their love for each other.
Thank you, Kate Hill, for joining us today!
Kate Hill's Website: http://www.kate-hill.com
*****************************************************************************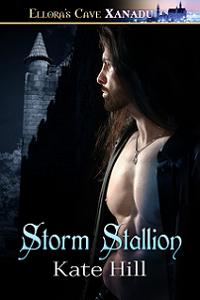 From the moment Ivan rescued Bala from the inferno that wiped out her village, he has been in love with her. Knowing the young widow's heart belongs to her husband who died from the Horseman Plague, he struggles to keep his passion for her a secret.
Bala is burdened by guilt over the lustful fantasies she's been having about the handsome Fighting Carrier. When he surprises them both by asking her to marry him, she accepts. With Ivan she enjoys a sexual freedom she has never experienced before. Despite their love for each other, their marriage is threatened by the shadow of her first husband.
Ivan and Bala realize they're meant to be together, but first they have to find their way back to each other.
Buy Now: