I sat down (virtually) with Sara Jane Stone for a short interview. Sara Jane Stone's latest release is Full Exposure, a sexy Contemporary.

Cynthia Sax: What excites you about Full Exposure?
Sara Jane Stone: Two words—adventure and sex. Georgia, the twenty-six year old heroine who recently returned from serving her country in Afghanistan, craves both. She is a little wild, but very strong. And she is more than willing to go after what she wants . . .
Cynthia Sax: What is your favorite line from Full Exposure?
Sara Jane Stone: I have two. Actually, I had a lot more, but I narrowed it down to two.
First one: "Truth or dare." Because every red-hot romance should have a super-sexy game of truth or dare on the beach.
Second: "I am strong. Don't you dare doubt that." Georgia says these words to Eric when he finds her surfacing from a nightmare. One of the things I love about Georgia is her strength. She fought for her country and is suffering from PTSD, but she does not allow that to define her.

Cynthia Sax: Where did you get the idea for Full Exposure?
Sara Jane Stone: I was rocking my daughter to sleep—waiting for the moment I could place her in her crib and she would not wake up screaming—and reading the news on my iPhone. A headline about soldiers returning home from war caught my eye. I love reading and writing about military heroes, so I clicked through and started reading. But the part that grabbed my attention, the quotes I couldn't forget, were from a twenty-something woman who'd served her country and returned home with a burning need to live, to not let going to war be her last great adventure. Her words haunted me and I started reading all the first-hand accounts I could find of women veterans. And bit by bit characters started forming in my head, and I stared writing.

Cynthia Sax: Where is Full Exposure set?

Sara Jane Stone: FULL EXPOSURE is set in Oregon's Willamette Valley, in the heart of timber country. I needed a strong, Alpha hero for my war-veteran heroine and I wanted the setting to play a role in the story. Eric Moore owes the largest timber operation in the state. And while he spends most of his days wearing suits (that Georgia longs to take off), he is not above working along side his crew. When a forest fire stars on his land, he is out there wielding a chainsaw side by side with his employees to cut a line and keep the flames from spreading. And this forest fire becomes a key plot point for the story.
Oregon's Willamette Valley also provided lots of opportunities for Georgia to seek adventures. There's lots of wide open space for a girl to take her boss to dinner on four-wheelers—and bring along a bow and arrow. The imaginary town of Independence Falls, Oregon is also a short drive to the coast, where my hero happens to own a condo with a hot tub. What better setting for a the hero and heroine to explore their desires, removed from the day-to-day reminders of the reasons they shouldn't cross that line?
Thank you, Sara Jane Stone, for joining us today!
Sara Jane Stone's Website: http://www.sarajanestone.com
*****************************************************************************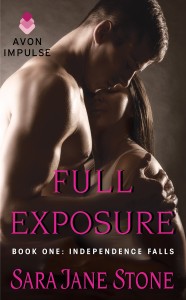 No touching allowed …
After serving her country, Georgia Trulane craves adventure—and sex. She's set her sights on her brother's best friend—now her boss, since she took a temporary job as his nephew's live-in nanny. Only problem? Eric refuses to touch her. That doesn't stop Georgia from seducing him. But an earth-shattering encounter leaves her fully exposed, body and soul.
Eric has a long list of reasons to steer clear of the woman he has wanted for as long as he can remember. For one, he refuses to be her next thrill ride. When he claims her, it will be for good. But the attraction is undeniable, and the more they fight it, the stronger it pulls. But will it be enough to conquer their obstacles?
Buy Now From Amazon:
Buy Now From Barnes And Noble:
Buy Now From iTunes:
Buy Now From Google: