I sat down (virtually) with Paige Matthews for a short interview. Paige Matthews's latest release is Dominate Me, a sexy BDSM.

Cynthia Sax: What excites you about Dominate Me?
Paige Matthews: I believe the thing that excites me the most about this story is that it was my favorite to write so far. The premise was one that I really enjoyed streching myself and my writing ability. The story has drama, sex, fun one liners and of course a happy ending!
Cynthia Sax: What creates conflict between your characters?
Paige Matthews: There are a few different factors that create conflict between the characters (btw-there are 3 main characters) including, secret pasts, inability to express ones self and the fact that an ex-lover returns with his life in danger. That always adds a few chapters of conflict, LOL. Seriously though, conflict is drawn from the alpha male's inability to recitify his pasts and feelings that he harbours including his unwillingness to tell the heroine about it.

Cynthia Sax: What one piece of advice would you give new writers?
Paige Matthews: The biggest piece of advice that I would give new writers is to never give up. The publishing world can be harsh, but you need to let half of it roll off your back and continue on with what you enjoy. The more you read in and out of your genre and the more you write, the better you get. Another piece of advice is to have a team behind you. Meaning, make sure you have a competent editor, a cover designer and you are willing to spend hours on social media to build your folowing, whether or not you are traditionally published or self-published.

Cynthia Sax: What do you love about writing BDSM?

Paige Matthews: I love, love, love writing the BDSM subgenre. Besides it being sexy and full of sex, I enjoy putting a plot behind the sex. The purpose of my writings, and what I hope to get across to my readers, is the emotional aspect of the relationships, the feelings and thoughts that the characters have. I enjoy diving into their pysche to help readers and the general public understand the parts of BDSM that they do not necessarily understand. BDSM sub genre has gained a tremendous amount of publicity since FSOG, but not many know the true nature behind the lifestyle and what it is that a person gets from it.
Thank you, Paige Matthews, for joining us today!
Paige Matthews's Website: http://www.paigematthews.com
*****************************************************************************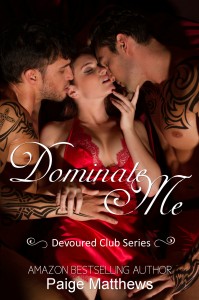 Devlin Fitzpatrick is a man of few words. Usually. An expert in surveillance and security, and a Dominant at Devoured, Devlin is known for his authoritative ways. After making the decision to observe rather than participate, and hiding from feelings and desires only few know about, Devlin throws himself into his work, and away from the practice of the lifestyle – that is, until he meets Ally. A chance encounter sets a new fire burning inside of Devlin – one that, up until then, has been absent. But, just as their relationship flares, a face from Devlin's past returns, re-igniting long-subdued desires.
Ally O'Conner was not looking for a man – especially one like Devlin. Yet, the mysterious, gorgeous, and dominant stranger becomes the one person Ally didn't know she was seeking. As Devlin opens Ally's world up to hidden emotions and uncharted desires, Ally quickly finds herself falling, even though she knows Devlin is hiding something from her: desires or needs she is unsure of. When a stranger calls, looking for Devlin's help, Ally begins to fear the worst as he begins to pull away.
Aiden MacCarrick has spent the last few years bouncing from place to place – drumming up work wherever he can. After a job gone wrong, Aiden finds himself on the wrong side of the bullet. With no other choice, Aiden reaches out to the one person he knows can help him.
As Devlin works to clear Aiden of a misunderstanding, and save his life in the process, the three of them are entwined in a foreign world of deep desires, unbidden wants and uncharted feelings. Can they find a happy resolution to their desperate situation, or will their emotions dominate them?
Buy Now From Amazon:
http://www.amazon.com/Dominate-Me-Devoured-Club-Novel-ebook/dp/B00L9J45YI