I sat down (virtually) with J.K. Coi for a short interview. J.K. Coi is a dear friend of mine, a wonderful person and a gifted writer. Her latest release is In Bed with the Competition, a sexy Contemporary.

Cynthia Sax: What makes your Ben, your hero, so freakin' sexy?
J.K. Coi: Ben is confident and smart – OMG so smart. He wears these reading glasses when he's working that just make you want to drool because they're so nerdy that they're somehow uber hot. And yet he can totally rock a business suit like nobody's…uh…business and still look fantastic and chiseled in nothing but a swimming trunk. He's quick to smile and loves to tease, but he also has a deep heart.
Cynthia Sax: That's PUNtastic! (grins) What excites you about In Bed with the Competition?
J.K. Coi: I love the back-and-forth between these characters. They really challenge each other, and their story challenged me to give them an adventure!

Cynthia Sax: What is your favorite line from In Bed with the Competition and why?
J.K. Coi: Well, I like this little snippet of a few short lines because it's fun, but also sexy and intense, which is exactly what my two characters are like when they're together! *grin*
"We have to be careful about cavorting with the enemy," Beth murmured.
He stepped closer. "Is that what we are?"
"What? Enemies?" Her gaze fixed on his mouth, and he watched as she pulled her bottom lip between her teeth. He'd been waiting for that all night.
He pulled her against him. "No…cavorting."

Cynthia Sax: What creates conflict between Ben and Beth?

J.K. Coi: Ben and Beth have a past, but now they're also each other's biggest business competitor. Each of them are attending this industry convention in Antigua looking to snag a big opportunity that could make or break their careers.
Thank you, J.K. Coi, for joining us today!
J.K. Coi's Website: http://www.jkcoi.com
*****************************************************************************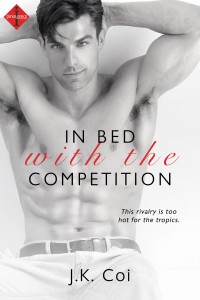 This rivalry is too hot for the tropics…
Elizabeth Carlson and Ben Harrison used to be friends, coworkers… and almost lovers. But that was before Ben proposed mixing business with pleasure. Elizabeth refuses to lose her heart to a hotshot tycoon with a cutthroat, take-no-prisoners attitude. Not with the prospect of starting her own company at stake.
Driven to succeed in all areas of his life, Ben couldn't resist the temptation to make Liz his. But then she walked away, igniting a bitter rivalry. Competing for the same contract at a Caribbean conference ignites sparks too hot to ignore, and Ben's determined to finish what they started, even if it'll only last a few steamy, tropical nights.
Elizabeth's resolve begins to crumble under Ben's blatant seduction. Can she walk away from a hot island fling with the sexiest man she's ever known with her heart intact, or will losing herself in Ben destroy everything she's fought to achieve?
Buy Now From Amazon:
http://www.amazon.com/Bed-Competition-Entangled-Indulgence-ebook/dp/B00KK433NW
Buy Now From Amazon.CA:
http://www.amazon.ca/Bed-Competition-Entangled-Indulgence-ebook/dp/B00KK433NW
Buy Now From Barnes And Noble:
http://www.barnesandnoble.com/w/in-bed-with-the-competition-jk-coi/1119610289
Buy Now From Kobo:
http://store.kobobooks.com/en-ca/books/in-bed-with-the-competition/9tmw62-sck2QEhZFxqNFUw?MixID=9tmw62-sck2QEhZFxqNFUw&PageNumber=1