I sat down (virtually) with Carla Swafford for a short interview. Carla Swafford crafted The Circle Series, a wonderful Romantic Suspense Trilogy from Avon.

Cynthia Sax: What is your favorite line from The Circle Series?
Carla Swafford: My favorite is in CIRCLE OF DANGER and from the hero's point of view. "When had his life turned into a porn version of a James Bond movie?"
Ryker has led a hard and dangerous life, especially after his parents were killed in a car bomb when he was twelve. From the same blast, he suffered burn scars on one side of his face and lost the vision in that eye. The following years were spent training to become the best operative in The Circle organization. The man in-charge of Ryker's life abused him and used the only person he loved against him. With all that drama, he rarely found anything humorous. So when he had that thought, you knew he'd been caught off guard by the woman and her libidinous actions. The sarcasm showed how much of a regular guy he was deep inside.
Cynthia Sax: Where does The Circle Series start?
Carla Swafford: I like this question. No one has ever asked me that.
Let me refer to the first book, CIRCLE OF DESIRE. I adore that scene for I love taking something that is common for a male role and then twisting it by placing a female in the same situation. So the opening scene has Olivia St. Vincent on ready with a sniper rifle, waiting for her mark to come into sight. She caresses her weapon, loving the feel of it in her hands. Could it be that this is the only part of her life she feels in control? To her, killing people is a job and something she does to stay alive. Thankfully, she's very good at it. The man she works for expects her obedience, and failure will only bring her a death sentence. But with all that deadly confidence comes at a cost. For no matter how cold she appears, she's a human being struggling to hide a tiny crack in her protective shell.

Cynthia Sax: What is one aspect that makes your couples right for each other?
Carla Swafford: Let me refer to the third book, CIRCLE OF DECEPTION. Abby and Rex are polar opposites, but they need each other. Rex is a big man (oh, yes, six-five and well built) and doesn't really believe in himself or his ability to do the job he needs to do. Abby is confident in her work but is more apt to be found hanging back and watching others make fools of themselves. Rex is loud and loves to talk, especially during sex. Abby is quiet and isn't sure if being with Rex again is a good move. When Rex is with Abby, he realizes she makes him a better, confident man, and Abby begins to believe that Rex is man enough to forgive her for her mistakes. Oh, yeah, and they're explosive on paper. (Pun intended, if you've read my book, you'll get it. HA!)

Cynthia Sax: Does someone in The Circle Series have a secret?

Carla Swafford: Oh, all of the characters in all three books have secrets. Since some would be spoilers, I'll give you hint about each of the heroes' secrets. It's like this: each fellow has a different hang up about sex that gets them off. You'll have to read them to figure it out. HA! HA! I'm such a tease. LOL!

Cynthia Sax: Tell us a bit more about The Circle Series.

Carla Swafford: The three books are part of a series, but I wrote each to be read alone. BUT to get the full enjoyment of the series, I suggest reading them all. In order, CIRCLE OF DESIRE, CIRCLE OF DANGER, and CIRCLE OF DECEPTION.
Though Avon has passed on further installments, I plan to self-publish another one next year. It will be Jack's story. He's in all three of the books and needs his story told. Bless his heart, he's needs someone to love him, and I have the perfect girl to teach him about love.
Thank you, Carla Swafford, for joining us today!
Carla Swafford's Website: http://www.carlaswafford.com/
*****************************************************************************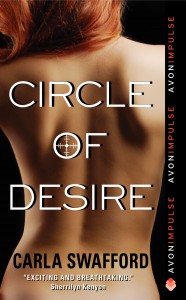 She knew how to fight but not to love …
As the top assassin at The Circle, a shadowy group of mercenaries, Olivia St. Vincent can hunt down anyone. She's been trained since she was a teenager to kill without feeling, to interact with men without love. But when she's kidnapped by the enigmatic leader of a rival organization, she learns she's been lied to for years. She never worked for the good guys.
Collin Ryker believes the sultry woman he's abducted knows more than she's telling about The Circle and its plans for complete domination. Over time, as they work together, Olivia's tenacity and vulnerability captivate him. But if he isn't careful, Collin will fall into the biggest trap of all: caring for a woman who can betray him to his greatest enemy.
Buy From Amazon: http://www.amazon.com/Circle-of-Desire-ebook/dp/B005JWU8QU
Buy From Barnes and Noble: http://www.barnesandnoble.com/w/circle-of-desire-carla-swafford/1105159510
*****************************************************************************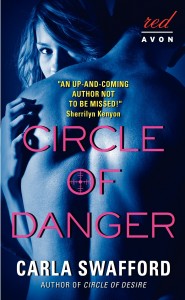 In a follow-up to Carla Swafford's sexy Circle of Desire, the agents of The Circle-a top secret group of assassins-are back and on the hunt for a dangerous druglord capable of bringing women to the brink of pleasure . . . and devastation.
Marie Beltane, a lowly records-keeper for the Circle resents being treated like a little girl and wants to help by proving she's worthy of being a Circle operative. Disobeying Arthur Ryker's orders to stay out of the way, she accepts a simple fact finding assignment-only to have everything go horribly wrong. Now she's been injected with the drug responsible for the death of four local women, a drug that puts her sex drive into over-drive.
Ryker wants nothing more than to keep Marie safe from the world. He's already killed to protect her from one madman and he may have to do it again. While on a search for an antidote to her mysterious drug, he falls into a trap and must fight a new evil. Now he must become the monster he always feared to save the woman he always loved.
Buy From Amazon: http://www.amazon.com/Circle-Danger-Avon-Red-ebook/dp/B007MAU2UO
Buy From Barnes and Noble: http://www.barnesandnoble.com/w/circle-of-danger-carla-swafford/1109601215
*****************************************************************************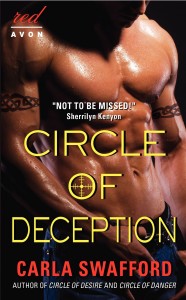 Carla Swafford's erotic Circle series comes to an exhilarating finale as the team of sexy spies and assassins goes undercover-under the covers.
After disappearing days before her wedding to fellow Circle agent Rex Drago, Abby's discovered that trying to reclaim a life-and a love-lost is a whole lot harder than she thought. When her family's safety is threatened by an arms dealer, Abby must go undercover with the one man who sees right through her and play the scariest role yet: husband and wife.
Mission or no mission, Rex Drago wants answers from his ex-fiancé. Forced to play along as a rival arms dealer and the husband he once wanted to be, Rex is finding it tough to stay professional-especially when Abby is just as hot as ever. And when they find themselves in a very intimate position, Abby and Rex must act the part-or risk blowing their cover entirely.
Buy From Amazon: http://www.amazon.com/Circle-of-Deception-ebook/dp/B007UPDF96
Buy From Barnes and Noble: http://www.barnesandnoble.com/w/circle-of-deception-carla-swafford/1110199425