I sat down (virtually) with B.J. McCall for a short interview. B.J. McCall's latest release is Kela's Guardian, a very sexy Paranormal Romance.

Cynthia Sax: What makes Ansara, your hero, so super sexy?
B.J. McCall: Ansara is the quintessential hero. He's handsome, brave and fights against evil. He enters the story as a hero, saving Kela from a pack of vampires. She's in the thick of battle using pointed stakes for weapons and exhibiting rudimentary skills at best. It's obvious she's in way over her head, but she stands her ground and earns Ansara's respect.
Ansara is a soldier for the warrior angels. Coming to Earth to destroy a demon is just another day on the job, but the moment he sees the cross Kela is wearing his quest changes. Guarding Kela is the mission.
Some missions come with perks and this would-be warrior is Ansara's kind of woman.
Cynthia Sax: What excites you about Kela's Guardian?
B.J. McCall: I enjoy the challenge of putting a new twist on a vampire tale and I love interweaving a vampire story with fantasy and sci-fi. Kela's fiance has become a vampire. No one else knows or understands what is happening and the cops think she's crazy.
Kela is thrown into a paranormal world and doubts her sanity, but she's determined to stop the man she once loved. Instead of running away from the situation, she takes on the danger. Then Ansara, a guardian from the mystical planet of Thasia, appears. Kela's life takes another decidedly paranormal turn as she joins forces with the guardian and enters the age old battle against evil.
Writing Kela's journey from an ordinary citizen to vampire hunter captivated me from the first chapter. I love telling her story.

Cynthia Sax: Where did you get the idea for Kela's Guardian?
B.J. McCall: I've always liked stories about an ordinary person confronting and overcoming an extraordinary situation. My 'What If ' plot bunnie perked up its ears at the idea of an ordinary woman living in suburbia being confronted with a situation beyond her wildest dreams. She must deal with a problem beyond her skill set. She must stop a vampire.
The odds are against her until she finds help from an unexpected source and has to deal with another out-of-this-world situation, a hunky, sword-wielding, demon-slaying guardian.

Cynthia Sax: Where does Kela's Guardian start?

B.J. McCall: The first scene takes place in a club called the Devil's Warehouse. It's the reader's introduction to Chabeau. The vampire has chosen his victim, plucking the young healthy woman off the dance floor for nourishment and pleasure.
The reader knows what is happening and must join Kela as she discovers that vampires do exist and her fiance, Roland Chabeau has joined dark side.
Thank you, B.J. McCall, for joining us today!
B.J. McCall's Website: http://www.bjmccall.com/
*****************************************************************************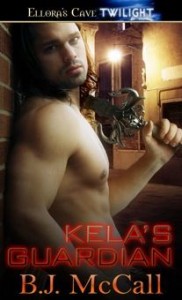 Vampires don't exist. That's what Kela believed before her fiancé joined the dark side. The cops think she's crazy, but there's a job to be done and someone's got to do it.
Ansara has been ordered to destroy Vakkar, a demon bent on raising a vampire army. A celestial jump lands him in the middle of a fight between a feisty female and a group of vampires. Ansara soon realizes protecting this sexy warrior is as important as his mission. Their lust is as strong as the danger surrounding them.
Vampires, demons and a sexy hunk from a mystical galaxy? Kela's carnal guardian quickly becomes an anchor in a world that has taken a decidedly supernatural turn.
Buy From Ellora's Cave: http://www.ellorascave.com/kela-s-guardian.html
Buy From Amazon: http://www.amazon.com/Kelas-Guardian-ebook/dp/B00DJ725GS
Buy From Barnes and Noble: http://www.barnesandnoble.com/w/kelas-guardian-bj-mccall/1115864279
Buy From ARe: https://www.allromanceebooks.com/product-kela039sguardian-1225042-340.html