How about some Christmas in August? I sat down (virtually) with Genevieve Scholl for a short interview. Genevieve Scholl's latest release is Love Claus- Book 1 in The Naughty North Pole Novels.

Cynthia Sax: What makes Trent sexy?
Genevieve Scholl: He's Santa Claus's son, loves the Christmas holiday, and loves animals; what's NOT sexy about that?
Cynthia Sax: Where did you get the idea for Love Claus?
Genevieve Scholl: I love Christmas and everything having to do with it- except the religion part of it- and I wanted to share my love of the holiday and my belief in Santa Claus and the North Pole with everyone. My ultimate fantasy is to meet and fall in love with Santa Claus's son; in this book, I and my readers were able to.

Cynthia Sax: What makes Trent and Cindy right for each other?
Genevieve Scholl: My characters, Trent and Cindy, are perfect for each other, because Cindy loves Christmas, but none of the people in her life do; her parents don't celebrate it and her best friend hates cold and snow. Being with Trent makes Cindy feel safe and at home, because she doesn't have to be ashamed of her love of the holiday.

Cynthia Sax: Does a character in Love Claus have a secret?

Genevieve Scholl: Yes, Trent keeps the secret of him being Santa Claus's son at first until he knows Cindy is ready for the truth.

Cynthia Sax: Is Love Claus a series and will you be writing more stories in this series?

Genevieve Scholl: Books 2 and 3 will be out in November and December of 2013.
Thank you, Genevieve Scholl, for joining us today!
Genevieve Scholl's Website: https://www.facebook.com/pages/Genevieve-Scholl-The-Author-Fanpage/363728479105
*****************************************************************************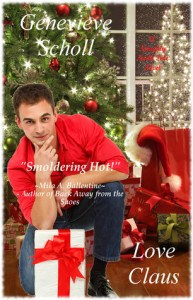 Cindy Gingerman loves the Christmas holiday, but sometimes she feels like she's the only one. Her parents don't celebrate, her best friend would rather be in Tahiti than watch the snow fall, and Cindy's been single for a while. What a depressing Christmas.
Until, Trent shows up at her door dressed like Santa and holding a tree. Something draws her to him and she lets him into her home and her head…
Now, the only question is, will she let him into her heart as well?
Trent Claus knew that Cindy was his destined bride. From the moment he saw her, there was no denying it. The only challenge he had to face was getting her to believe it as well. Can he do it?
"Sweet Cindy…"
He believes he can, until his father falls ill and he has to move his plans along a lot faster than expected. What will Cindy think of his little town and the truth of who he is?
Will she run like his ex-girlfriend had? Or will she stay and make him the luckiest, and happiest, man on Earth?
"Please don't go…"
Buy From Amazon: http://www.amazon.com/Claus-Naughty-North-Novels-ebook/dp/B00APKJM5Y
Buy From Barnes and Noble: http://www.barnesandnoble.com/w/love-claus-genevieve-scholl/1114302425
Buy From Smashwords: https://www.smashwords.com/books/view/268577