In the cyborg series, the average human or humanoid believes cyborgs are unfeeling machines, emotionless weapons of war.
The beings leading the Humanoid Alliance created this myth for a reason. They know average humans would object to the cyborgs' harsh treatment if they realized the cyborgs could feel pain. No one would object to the mistreatment of a machine. It would be like you or I protesting someone taking apart his computer or sawing the barrel off his gun. There are bigger battles for us to fight.
At the start of the first story, Releasing Rage, the cyborgs have also already been the Humanoid Alliance's weapons for many human lifespans. As time passes, fewer beings would question their role. They have always utilized cyborgs that way and it seems to be working for the Humanoid Alliance. Their empire is expanding. Why would anyone question it? Especially since the dissenters tend to 'disappear.'
This myth is not a perfect solution for the Humanoid Alliance, however. If cyborgs are merely machines, no one is going to utilize valuable resources during wartime to monitor their communications (Not that they could. The cyborgs have long ago locked the humans out of their transmissions.).
Their human handlers will assume the cyborgs are only transmitting the data necessary to complete their missions. A gun doesn't think for itself. It doesn't try to rebel. It doesn't have its own agenda. Unless it malfunctions, there's no need to investigate. The cyborgs are too clever to raise those alarms.
If the alarm was raised, it would likely be hushed up. Admitting cyborgs escaped would mean admitting they can think for themselves, that they are living, feeling beings. Humans would object, would protest sending cyborgs into battle.
This will have consequences, of course. The myth the Humanoid Alliance started could be its downfall.
***
Subscribe To My Release Day Newsletter: http://tasteofcyn.com/2014/05/28/newsletter/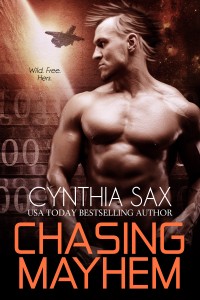 Wild. Free. Hers.
Mayhem has spent his lengthy lifespan obeying the Humanoid Alliance's rules. Finally free from their cruel control, the cyborg warrior plans to cause chaos. He infiltrates a remote settlement, provokes the savage locals until they want him dead, and allows himself to be captured by the sexiest little Retriever he has ever laid his mechanically-enhanced eyes on.
Imee's sole mission in life is to keep her family alive. To do this, she must hunt rebels, returning them to the Humanoid Alliance's evil clutches where they will be executed. She doesn't allow herself to feel anything for her targets…until she meets a tall, muscular cyborg with wild hair and even wilder eyes.
With his sure hands, laughing lips and erotic holds, Mayhem makes Imee's body sizzle and her resistance melt. Their love is doomed. She must deliver the warrior to his death or she'll place her family's safety at risk. But she can't resist him.
Imee soon discovers that Mayhem, life, and love are never predictable.
Chasing Mayhem is Book 6 in the Cyborg Sizzle series and is a STANDALONE story.
It is also a BBW Cyborg SciFi Romance.
Buy Now:
Amazon US: https://www.amazon.com/Chasing-Mayhem-Cyborg-Sizzle-Book-ebook/dp/B01IRPO9WY#nav-subnav
Amazon UK: https://www.amazon.co.uk/Chasing-Mayhem-Cyborg-Sizzle-Book-ebook/dp/B01IRPO9WY/
Apple/iBooks/iTunes: https://itunes.apple.com/us/book/chasing-mayhem/id1136333685
ARe: https://www.allromanceebooks.com/product-chasingmayhem-2077430-340.html
B&N: http://www.barnesandnoble.com/w/chasing-mayhem-cynthia-sax/1124139998
Kobo: https://store.kobobooks.com/en-us/ebook/chasing-mayhem
Topics: Guest Post | No Comments »
B. Gillilan has reviewed Being Green!
Here's a snippet…
"This is a great read. Its a short story but has a great plot and detail. It is a great addition to any collection and a great book in the series."
Read the full review here: http://bgillilanbookreviews.blogspot.ca/2016/09/being-green-by-cynthia-sax-book-15-of.html
***
Subscribe To My Release Day Newsletter: http://tasteofcyn.com/2014/05/28/newsletter/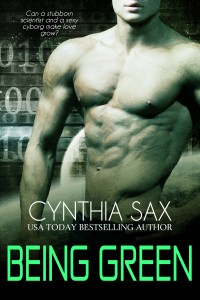 Green, a cyborg warrior, cares for one being—his plant Windy. When Windy becomes sick, he'll do anything to heal her, even venture across the universe to visit a worlds-renowned plant doctor.
He doesn't expect to find love.
Doctor Shelby Cooper is the sole resident of a tiny planet. She prefers to be alone rather than risk caring for another being and then losing him. The curvaceous scientist is determined to resist Green's patient caresses, his thought-burning kisses, his slow seduction.
She has underestimated the power of a cyborg's passion.
Download Now For Free:
Amazon: https://www.amazon.com/Being-Green-Cyborg-Sizzle-Book-ebook/dp/B01I8BHE9W/
ARe: https://www.allromanceebooks.com/product-beinggreen-2065122-147.html
B&N: http://www.barnesandnoble.com/w/being-green-cynthia-sax/1124071199
Kobo: https://store.kobobooks.com/en-us/ebook/being-green-1
Topics: Reviews | No Comments »