B. Gillilan has reviewed Being Green!
Here's a snippet…
"This is a great read. Its a short story but has a great plot and detail. It is a great addition to any collection and a great book in the series."
Read the full review here: http://bgillilanbookreviews.blogspot.ca/2016/09/being-green-by-cynthia-sax-book-15-of.html
***
Subscribe To My Release Day Newsletter: http://tasteofcyn.com/2014/05/28/newsletter/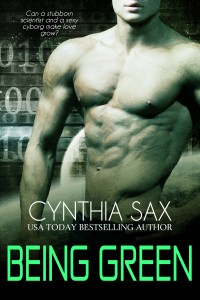 Green, a cyborg warrior, cares for one being—his plant Windy. When Windy becomes sick, he'll do anything to heal her, even venture across the universe to visit a worlds-renowned plant doctor.
He doesn't expect to find love.
Doctor Shelby Cooper is the sole resident of a tiny planet. She prefers to be alone rather than risk caring for another being and then losing him. The curvaceous scientist is determined to resist Green's patient caresses, his thought-burning kisses, his slow seduction.
She has underestimated the power of a cyborg's passion.
Download Now For Free:
Amazon: https://www.amazon.com/Being-Green-Cyborg-Sizzle-Book-ebook/dp/B01I8BHE9W/
ARe: https://www.allromanceebooks.com/product-beinggreen-2065122-147.html
B&N: http://www.barnesandnoble.com/w/being-green-cynthia-sax/1124071199