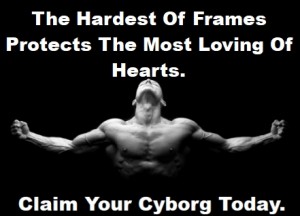 A reading buddy (tackle hugs Lisa) asked me, "What happened to all the A & B models? Have they all been destroyed…?"
When the Humanoid Alliance started manufacturing cyborgs, they viewed them as merely war machines. What these cyborgs looked like was low on the priority list. There was also fear in the general public that these cyborgs would infiltrate human populations and gradually take over.
So the Humanoid Alliance designed them to be clearly cyborg. The first mass produced units (A Models) were big and bulky, more robotic than human. Their eyes resembled lights. Their skin was grey.
There weren't many A Models produced. The Humanoid Alliance wanted to test the warriors before manufacturing vast quantities of them. The A Models were also huge so more room was needed on space-scarce ships to store them.
B Models were a little bit smaller but, again, storage was an issue. Being early Models, their processors were slow and their fine motor skills were weak.
What happened to them?
They were replaced by the smaller, faster, more adept C Models. As far as I currently know, the A and B Model warriors who weren't killed in battle were decommissioned to free space on ships for the C Models.
I suspect, however, there might be one or two of them on more primitive non-Humanoid Alliance worlds.
***
Subscribe To My Monthly Newsletter: http://tasteofcyn.com/2014/05/28/newsletter/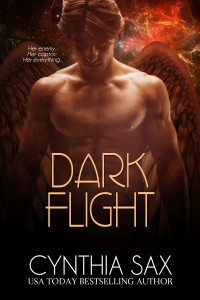 Dark Flight
His mission. His challenge. His forever.
Orol, the Refuge's second-in-command, has been given what he believes is a simple mission—escort two human females to the settlement. The winged warrior arrives at the meeting site to find one of the females missing and the other aiming a gun at his head. To rescue the first, he must capture the second. Once he has Rhea in his talons, however, he realizes he never wants to let her go.
Her enemy. Her captor. Her everything.
Rhea doesn't trust anyone. She certainly doesn't follow commands issued by a gorgeous flying male with glittering eyes, a beautiful face, and a seductive touch. Orol is dominant, edged with darkness, and determined to find her sister. Rhea will do anything to prevent that, even if it means playing sensual games of submission with her powerful enemy, seducing him into forgetting everything except her.
Dark Flight is a STAND-ALONE SciFi Romance set in a gritty, dark world.
Buy Now:
Amazon US: https://www.amazon.com/Dark-Flight-Refuge-Book-2-ebook/dp/B07124941B/
Amazon UK: https://www.amazon.co.uk/Dark-Flight-Refuge-Book-2-ebook/dp/B07124941B/
Apple/iBooks/iTunes: https://itunes.apple.com/us/book/dark-flight/id1242494643
B&N: https://www.barnesandnoble.com/w/dark-flight-cynthia-sax/1126484675
Kobo: https://www.kobo.com/us/en/ebook/dark-flight-3
Smashwords: https://www.smashwords.com/books/view/727350