In Ghost Of A Machine, the heroine's name is Lethe.

That's, of course, a nod to one of the five rivers of the underworld in Greek mythology.
All those who drank from the river Lethe experienced complete forgetfulness.
In contrast, Ghost, our hero, has been 'cursed' with a perfect memory (as all cyborgs are).

He can't forget the beings he has failed and is unable to find peace because of this.
Lethe makes a comment that Ghost is an appropriate name for our hero because, during the discussion on Commander's battle station, beings were treating him as though they couldn't see him.
***
Subscribe To My Monthly Newsletter: http://tasteofcyn.com/2014/05/28/newsletter/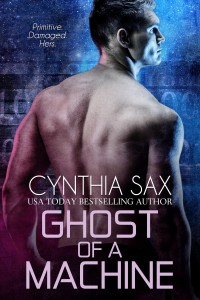 Fragile. Stubborn. His.
Ghost, a C Model cyborg, has disconnected his machine from his human side. Severely damaged, he knows two things—the curvy human female on his ship belongs to him and he must keep her safe. He'll stop at nothing to protect her, claim her, make her his.
Primitive. Damaged. Hers.
Lethe has seen the savage side of beings. The courageous Rebel captain has never met a male like Ghost. Overpoweringly dominant, he appeals to her on a primal level, filling her mind with thoughts of sweet surrender, hard kisses, and body-heating encounters against the warship's walls.
They are two broken beings, one determined to protect, the other intent on flying into danger. Can love heal them both before they face their common enemy?
Ghost Of A Machine is Book 9 in the Cyborg Sizzle series and is a STAND-ALONE story.
It is also a BBW Cyborg SciFi Romance.
Pre-order Now:
Amazon US: https://www.amazon.com/Ghost-Machine-Cyborg-Sizzle-Book-ebook/dp/B06XR6M6GG/
Amazon UK: https://www.amazon.co.uk/Ghost-Machine-Cyborg-Sizzle-Book-ebook/dp/B06XR6M6GG/
Apple/iBooks/iTunes: https://itunes.apple.com/us/book/ghost-of-a-machine/id1218969448
B&N: http://www.barnesandnoble.com/w/ghost-of-a-machine-cynthia-sax/1126040142
Kobo: https://www.kobo.com/us/en/ebook/ghost-of-a-machine