The dual-meaning word/phrase lover in me couldn't resist titling Ghost's story Ghost Of A Machine. The name our C Model cyborg gave himself was Ghost (I'll talk about why he called himself this in a future blog post) and he IS half machine.
He is, also, a ghost of himself, of the cyborg he once was. Ghost has been so severely damaged; he is barely functional. He has been isolated from his brethren both physically and emotionally. He has lost touch with the machine part of him.
In addition to this, Ghost Of A Machine, as a title, is a nod to 'Ghost In The Machine,' a term used in philosophy. It refers to the belief that the mind is a nonphysical presence within the framework of the body. Our thoughts aren't merely the result of neural processes, the physical activity of our brains. They come from something greater, something spiritual, a 'ghost' residing inside us.
That applies to Ghost's situation. He has spent his entire lifespan protecting the females who belong to his cyborg brethren. He knows how he detects that these females are special. Their scents and their voices are 'right.' But he doesn't know why they are 'right.' His machine half, his more logical side can't explain that. It is as though this knowledge comes from outside his physical systems.
***
Subscribe To My Monthly Newsletter: http://tasteofcyn.com/2014/05/28/newsletter/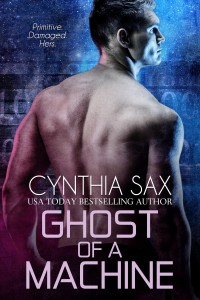 Fragile. Stubborn. His.
Ghost, a C Model cyborg, has disconnected his machine from his human side. Severely damaged, he knows two things—the curvy human female on his ship belongs to him and he must keep her safe. He'll stop at nothing to protect her, claim her, make her his.
Primitive. Damaged. Hers.
Lethe has seen the savage side of beings. The courageous Rebel captain has never met a male like Ghost. Overpoweringly dominant, he appeals to her on a primal level, filling her mind with thoughts of sweet surrender, hard kisses, and body-heating encounters against the warship's walls.
They are two broken beings, one determined to protect, the other intent on flying into danger. Can love heal them both before they face their common enemy?
Ghost Of A Machine is Book 9 in the Cyborg Sizzle series and is a STAND-ALONE story.
It is also a BBW Cyborg SciFi Romance.
Pre-order Now:
Amazon US: https://www.amazon.com/Ghost-Machine-Cyborg-Sizzle-Book-ebook/dp/B06XR6M6GG/
Amazon UK: https://www.amazon.co.uk/Ghost-Machine-Cyborg-Sizzle-Book-ebook/dp/B06XR6M6GG/
Apple/iBooks/iTunes: https://itunes.apple.com/us/book/ghost-of-a-machine/id1218969448
B&N: http://www.barnesandnoble.com/w/ghost-of-a-machine-cynthia-sax/1126040142
Kobo: https://www.kobo.com/us/en/ebook/ghost-of-a-machine