It's human nature to compare ourselves to others, to reassure ourselves that we're 'normal' (whatever that is – grins). Many writers will tell you not to do that. They'll point out that comparing yourself to other writers will cause you unhappiness.
I'm not going to tell you that. I think it's impossible to stop comparing ourselves to others. It would also be hypocritical of me because I compare myself to other writers ALL THE TIME.
I AM going to tell you that you shouldn't feel bad after the comparison.
Why?
Because you don't know the entire story.
The Successful First Time Writer
This is the comparison that would bother me the most.
Years ago, a writer released her first book, coming out of nowhere. She sold a gazillion copies, was beloved by (almost) every reviewer in Romanceland.
I had 50 plus releases and was still struggling for my first 100 readers. I wouldn't have received media attention if I had set myself on fire.
Then I found out… that 'first time writer?' She was a HUGE bestselling writer secretly trying out a new subgenre under another pen name. She had over 30,000 newsletter subscribers, which she leveraged for that release (putting an ad in her own newsletter). She knew and was liked by almost everyone in the business (including myself).
E.L. James, another bestselling first time writer? She had TV experience, had brilliantly leveraged the fanfic community, is a savvy marketer.
Luck is almost always an element in every writer's success but, time after time, when I delved into backgrounds, there was usually something else, something I might or might not have been able to duplicate.
What IS Success?
Then there's the discussion around what success truly is. Is it hitting the bestseller lists? Is it being beloved by reviewers? Is it having the largest readership? Is it making a great income?
Often these definitions of success don't co-exist.
When I first started, I thought every writer on the bestseller lists (USA Today or New York Times) was making six figures. (grins) Yes, stop laughing.
Sometimes (rarely), that's true. Often it's not. I've hit the USA Today Bestseller List twice. Both times, my earnings didn't cover my costs. You read that correctly. I hit the lists and lost money.
I know writers with New York Bestseller above their name who can't cover their writing costs. And I know writers who have never made a list and they quietly sell a steady number of books each and every day. Those sales add up to an almost obscene income.
Some of the bestselling writers aren't the darlings of the influential reviewers. Some of the writers with the highest incomes don't have the largest readerships.
We can't determine this by glancing at the lists or rankings or bios.
This is true of other goals also, including word counts. I write 2,500 fresh words a day but I require 12 drafts. My buddy writes 500 fresh words a day but she requires 1 draft. Word count alone isn't an indication of a successful day writing.
Why Compare Ourselves To Other Writers?
If we never see the entire picture, why compare ourselves at all?
First, I don't think we can stop comparing ourselves to others. I certainly can't.
Second, sometimes when I delve deeper into successes, I learn tactics I can use with my own career. Writers, especially in Romanceland, are often open about what they think contributed to their successes. Maybe there was a change at a bookseller I didn't know about. Maybe there was a promotion I hadn't considered. Maybe there was a trend I wasn't aware of.
Compare yourself to other writers but, keep in mind, you don't know the entire story.
You Are Someone Else's Success
And keep in mind that someone is comparing herself to you.
One of my sisters is a reader only. She has always envied my ability to write, even when that writing was done in a lemon-scent diary. When I was writing part-time, I envied anyone who finished stories. When I finished my first story, I envied anyone who received a request from a publisher or agent.
There is someone in Romanceland who considers you a success. She's comparing herself to YOU. Remember that when you're comparing yourself to another writer.
***
Subscribe To My Monthly Newsletter: http://tasteofcyn.com/2014/05/28/newsletter/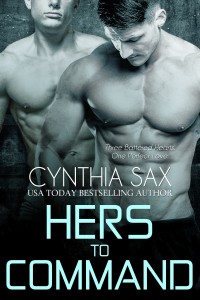 Three Battered Hearts. One Perfect Love
Ace and Thrasher share a special bond. They've never acknowledged that connection and have never fully acted on it. The Humanoid Alliance kill cyborg males like them, deeming the warriors to be defective. Now that Ace and Thrasher have escaped, they don't trust the cyborg council and their brethren to react any differently. Physical love is too risky for them to consider.
Until they meet her.
Carys is the Commander of a Rebel Battle Station. She has dedicated her lifespan to seeking vengeance against the Humanoid Alliance and the cyborgs who killed her daughter. On her battle station, she makes the rules, and if she wants to kiss, touch, and pleasure two mysterious warriors, she will. Nothing, not even enemy warships and a mass cyborg rebellion, can stop her.
In the midst of a war, enemies can become lovers and loyalties can change in a moment. Can a forbidden relationship between two cautious cyborgs and one unbending human Commander survive?
Hers To Command is Book 8 in the Cyborg Sizzle series.
Due to the number of returning characters in this story, you'll enjoy Hers To Command more if you've read the other stories first.
This is a MMF BBW Cyborg SciFi Romance.
Pre-order Now:
Amazon US: https://www.amazon.com/Hers-Command-Cyborg-Sizzle-Book-ebook/dp/B01N0I7X49/
Amazon UK: https://www.amazon.co.uk/Hers-Command-Cyborg-Sizzle-Book-ebook/dp/B01N0I7X49/
Apple/iBooks/iTunes: https://itunes.apple.com/us/book/hers-to-command/id1179869260
ARe: https://www.allromanceebooks.com/product-herstocommand-2178067-340.html
B&N: http://www.barnesandnoble.com/w/hers-to-command-cynthia-sax/1125247346