Hers To Command, my February release, is a MMF cyborg story. It is a ménage (a threesome) with two male cyborgs (Ace and Thrasher) and a female human Commander (Carys).
MMF means the two males have a physical relationship. (If the story was MFM, that would mean the heroes only had a physical relationship with the heroine. She divides them in the sleeping chamber.)
Ace and Thrasher first appeared in Breathing Vapor and it was clear even then that their relationship was closer than that of mere brethren. Some reading buddies have asked me why they needed a female in the mix.
A third being was needed to stabilize their relationship. Without Carys, it doesn't work, not well.
Why?
Because cyborgs are part human, part machine and Ace and Thrasher are at opposite ends of that spectrum. Ace is more machinelike. He bases his decisions on logic. Thrasher is more humanlike. He bases his decisions on emotion, on gut instinct. They argue constantly because they don't speak the same language.
Carys, a brilliant leader, is the perfect translator. She's well versed in communication and takes command of their relationship.
Here's a snippet…
***
Thrasher placed his hand on top of Ace's. "I don't consider us to be defective."
"We are defective and don't touch me." Ace pulled his hand away. "Focus on our Commander."
Someone was in denial about his feelings. Carys watched the interchange with interest. Is that why Ace considered himself defective—because he desired the other male? "Your Commander wants to kiss both of you."
Ace covered her lips with his.
She drew back, breaking the embrace. "No. I want to kiss both of you. Keep your mouth slightly open. Allow Thrasher to join us."
She kissed him, demonstrating, leaving space for the other warrior. Thrasher, the more fearless of the two, filled that space.
Ace's body twitched. She petted his cheek, soothing him, reassuring her cautious warrior that this was what she wanted, what they all needed.
Lips pressed against lips. Tongues tumbled with tongues. Some might view what they were doing as unnatural. It felt right to Carys.
***
Carys isn't an add-on to their relationship. She's an essential component. I doubt Ace and Thrasher would have ever kissed without her involvement. They also desire her as much as they desire each other.
Hers To Command is my only planned ménage in the cyborg series. All of the other stories will likely be MF couples. Ace, Thrasher and Carys' story is truly unique and I was thrilled to write it.
***
Subscribe To My Monthly Newsletter: http://tasteofcyn.com/2014/05/28/newsletter/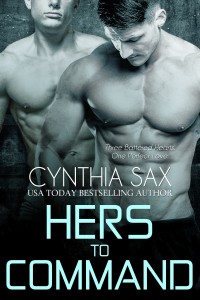 Three Battered Hearts. One Perfect Love
Ace and Thrasher share a special bond. They've never acknowledged that connection and have never fully acted on it. The Humanoid Alliance kill cyborg males like them, deeming the warriors to be defective. Now that Ace and Thrasher have escaped, they don't trust the cyborg council and their brethren to react any differently. Physical love is too risky for them to consider.
Until they meet her.
Carys is the Commander of a Rebel Battle Station. She has dedicated her lifespan to seeking vengeance against the Humanoid Alliance and the cyborgs who killed her daughter. On her battle station, she makes the rules, and if she wants to kiss, touch, and pleasure two mysterious warriors, she will. Nothing, not even enemy warships and a mass cyborg rebellion, can stop her.
In the midst of a war, enemies can become lovers and loyalties can change in a moment. Can a forbidden relationship between two cautious cyborgs and one unbending human Commander survive?
Hers To Command is Book 8 in the Cyborg Sizzle series.
Due to the number of returning characters in this story, you'll enjoy Hers To Command more if you've read the other stories first.
This is a MMF BBW Cyborg SciFi Romance.
Pre-order Now:
Amazon US: https://www.amazon.com/Hers-Command-Cyborg-Sizzle-Book-ebook/dp/B01N0I7X49/
Amazon UK: https://www.amazon.co.uk/Hers-Command-Cyborg-Sizzle-Book-ebook/dp/B01N0I7X49/
Apple/iBooks/iTunes: https://itunes.apple.com/us/book/hers-to-command/id1179869260
ARe: https://www.allromanceebooks.com/product-herstocommand-2178067-340.html
B&N: http://www.barnesandnoble.com/w/hers-to-command-cynthia-sax/1125247346