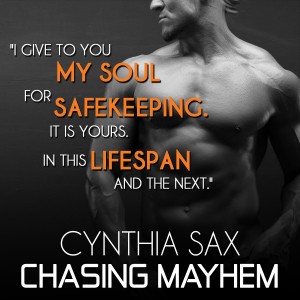 Chasing Mayhem is releasing on Tuesday. This is a sidequel to Defying Death. It happens at the same time.
Why is this important?
Because cyborgs share everything they learn. As long as their transmission lines are open, information is being transferred. Millions of bits of knowledge are whizzing through the lines all at once.
If one cyborg calls the love of his life 'my female' (as Rage did), other cyborgs are likely to use the same endearment (especially if it works with the female – grins – they might be cyborgs but they are still males – if it works, they'll use it again and again until it's no longer effective). If one cyborg battles the Humanoid Alliance, all of the cyborgs view the fight and learn from the experience.
This is why cyborgs no longer use the expression 'Thank the Designer.' Mira, the heroine in Breathing Vapor, is the daughter of the current Designer (there have been many Designers – this is a position, not a being). Her father hurt and disappointed her. Greatly. She still loves him but she'll never see him again. Out of respect for both Mira and Vapor, her male, the warriors would never casually refer to the Designer in conversation.
This sharing of information influences more than knowledge. A writing buddy asked me if there would ever be a cyborg as angry and as dark as Rage.
That's unlikely.
Because, after Releasing Rage, all cyborgs have hope.
Before Rage met Joan, cyborgs lived with the knowledge that eventually their kind would cease to exist. They might free themselves. They might be able to choose their battles and how they died. But they'd never have females and they'd never have a next generation.
At the end of Releasing Rage, all cyborgs have been given hope. Finding their compatible females might be tremendously difficult but it COULD happen. They COULD have offspring. They COULD have a future.
A little hope is a powerful thing.
When you're reading Chasing Mayhem, keep in mind that, for much of the story, Mayhem doesn't have any knowledge about the activities in Defying Death. For him, these events haven't yet occurred.
***
Subscribe To My Release Day Newsletter: http://tasteofcyn.com/2014/05/28/newsletter/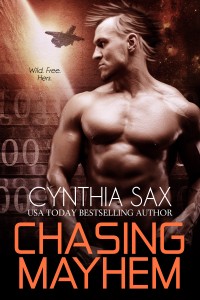 Wild. Free. Hers.
Mayhem has spent his lengthy lifespan obeying the Humanoid Alliance's rules. Finally free from their cruel control, the cyborg warrior plans to cause chaos. He infiltrates a remote settlement, provokes the savage locals until they want him dead, and allows himself to be captured by the sexiest little Retriever he has ever laid his mechanically-enhanced eyes on.
Imee's sole mission in life is to keep her family alive. To do this, she must hunt rebels, returning them to the Humanoid Alliance's evil clutches where they will be executed. She doesn't allow herself to feel anything for her targets…until she meets a tall, muscular cyborg with wild hair and even wilder eyes.
With his sure hands, laughing lips and erotic holds, Mayhem makes Imee's body sizzle and her resistance melt. Their love is doomed. She must deliver the warrior to his death or she'll place her family's safety at risk. But she can't resist him.
Imee soon discovers that Mayhem, life, and love are never predictable.
Chasing Mayhem is Book 6 in the Cyborg Sizzle series and is a STANDALONE story.
It is also a BBW Cyborg SciFi Romance.
Pre-order Now:
Amazon US: https://www.amazon.com/Chasing-Mayhem-Cyborg-Sizzle-Book-ebook/dp/B01IRPO9WY#nav-subnav
Amazon UK: https://www.amazon.co.uk/Chasing-Mayhem-Cyborg-Sizzle-Book-ebook/dp/B01IRPO9WY/
ARe: https://www.allromanceebooks.com/product-chasingmayhem-2077430-340.html
B&N: http://www.barnesandnoble.com/w/chasing-mayhem-cynthia-sax/1124139998
Kobo: https://store.kobobooks.com/en-us/ebook/chasing-mayhem