Yay! I have a cover for Crash And Burn, the next cyborg story (releasing February 23rd), and I love it!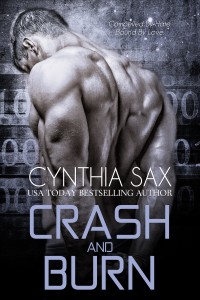 Crash And Burn
Crash was manufactured to be one of the best warriors in the universe. The cyborg has spent many human lifespans fighting the enemy. But, unlike his battle-loving brethren, he doesn't enjoy killing. When he escapes the Humanoid Alliance, he vows to never end another life.
Then he meets Safyre, an infuriating human female, and he considers breaking his vow.
Safyre will do anything to save her friend, the being she loves like a sister. She'll ravish a huge hunky cyborg, kiss his best friend, and invoke scorching hot desires the male never realized he could feel. Dark soulful eyes, a quick wit, and a tempestuous passion won't divert her from her mission.
Love, and a planet-destroying weapon, however, might stop her permanently.
Pre-order link coming soon (and you WILL wish to pre-order Crash And Burn. Trust me on this.)
***
Subscribe To My Release Day Newsletter: http://tasteofcyn.com/2014/05/28/newsletter/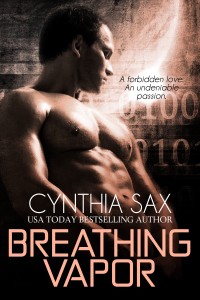 Vapor is the most advanced cyborg the Humanoid Alliance has ever developed. He's a finely honed weapon, a warrior without parallel, half man and half machine. No lock can contain him. No being can stop him. Whatever he wants, he takes.
He wants Mira Breazeal, the Designer's daughter.
She's his one temptation, his sexy target. Vapor shouldn't crave her caresses, steal her kisses, make her scream with ecstasy. The cyborgs want her dead and they would question his loyalty if he didn't kill her. The humans would shoot him on sight if he dared to touch her.
Their love is forbidden. Their desire could be lethal. One human and one cyborg will risk everything for a moment of passion.
Buy Now:
Amazon US: http://www.amazon.com/Breathing-Vapor-Cyborg-Sizzle-Book-ebook/dp/B015UN87JC/
Amazon UK: http://www.amazon.co.uk/Breathing-Vapor-Cyborg-Sizzle-Book-ebook/dp/B015UN87JC/
ARe: https://www.allromanceebooks.com/product-breathingvapor-1897324-340.html
B&N: http://www.barnesandnoble.com/w/breathing-vapor-cynthia-sax/1122718203
Kobo: https://store.kobobooks.com/en-ca/ebook/breathing-vapor