Names of characters are really important. I put quite a bit of thought into each of them. Mira Breazeal, the name of the heroine in Breathing Vapor, is no exception.
Mira (https://en.wikipedia.org/wiki/Mira ) is a nod to a 6 billion year old red giant star positioned about 200–400 light years away from Earth in the constellation Cetus. Mira is a binary star, consisting of Mira A and Mira B, which is appropriate for a cyborg's heroine. She'll be paired with her warrior forever.
Mira also means 'wonderful' or 'astonishing' in Latin. Johannes Hevelius gave the star this name in 1662 because he thought it acted like no other known star. Mira, our heroine, acts like no other being Vapor has ever met.
Breazeal is a nod to Cynthia Breazeal (https://en.wikipedia.org/wiki/Cynthia_Breazeal ), the director of the Personal Robots Group at the MIT Media Laboratory. Cynthia Breazeal is known as a pioneer of social robotics and human–robot interaction. She's co-developed several robots and is one of the top innovators in the field.
Vapor's name was easier to choose. He is the most advanced cyborg ever developed. No lock can contain him. He's like vapor, like mist, going wherever he wants.
***
Subscribe To My Release Day Newsletter: http://tasteofcyn.com/2014/05/28/newsletter/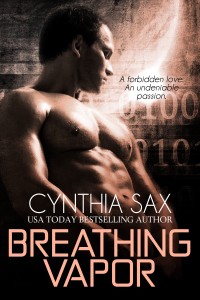 Vapor is the most advanced cyborg the Humanoid Alliance has ever developed. He's a finely honed weapon, a warrior without parallel, half man and half machine. No lock can contain him. No being can stop him. Whatever he wants, he takes.
He wants Mira Breazeal, the Designer's daughter.
She's his one temptation, his sexy target. Vapor shouldn't crave her caresses, steal her kisses, make her scream with ecstasy. The cyborgs want her dead and they would question his loyalty if he didn't kill her. The humans would shoot him on sight if he dared to touch her.
Their love is forbidden. Their desire could be lethal. One human and one cyborg will risk everything for a moment of passion.
Pre-order Now:
Amazon US: http://www.amazon.com/Breathing-Vapor-Cyborg-Sizzle-Book-ebook/dp/B015UN87JC/
Amazon UK: http://www.amazon.co.uk/Breathing-Vapor-Cyborg-Sizzle-Book-ebook/dp/B015UN87JC/
ARe: https://www.allromanceebooks.com/product-breathingvapor-1897324-340.html
B&N: http://www.barnesandnoble.com/w/breathing-vapor-cynthia-sax/1122718203
Kobo: https://store.kobobooks.com/en-ca/ebook/breathing-vapor