I sat down (virtually) with Jane Leopold Quinn for a short interview. Jane Leopold Quinn's latest release is Welcome to Dust-Part 1-Eve and Brandon, part of Smokin' Hot Mini Tales of the Olde West, an Erotic historical western romance serial!

Cynthia Sax: What makes Brandon so very sexy?
Jane Leopold Quinn: You mean I have to explain what makes a cowboy sexy? 😉 Brandon Prosper looks like the quintessential cowboy in a Stetson and has a secret to boot. He's an undercover federal marshal looking for train robbers. He takes his mission seriously but is distracted by the beauteous Eve Storm. He flirts wildly with her, giving her the idea that's all he is — a flirt. And the fact that Eve easily handles the riff raff coming in for drinks doesn't threaten his masculinity. He gets a kick out of watching her put the bozos in their place.
Cynthia Sax: Where did you get the idea for Welcome to Dust?
Jane Leopold Quinn: I've been trying to remember exactly where the story of Dust and its denizens came from. I wanted to try to write a serial. Okay, that's a start. I just began making notes. The town name, Dust, describes exactly what it looks like — desolate and dusty. Then came the character names. Names just come to me. When I first began writing, I poured through naming books for just the right thing. But as the years went on, character names would just appear in my mind. I have to laugh at myself coming up with a name like Sam Dash (the hero of Part 2).

Cynthia Sax: How does Welcome To Dust start?
Jane Leopold Quinn: I've watched enough western movies and TV shows to have no problem imagining an upscale, fancy saloon bar. The first scene begins with the Emerald Saloon. I could see it in my mind. It appeared to me like in a play with Eve wiping off the bar and lusting over Bran. Then Bran flirts and the story is on!

Cynthia Sax: What causes problems between Eve and Brandon?

Jane Leopold Quinn: Neither Eve nor Bran know anything about each other's pasts. Eve is only working in Dust in the saloon until she earns enough money to go back East. She wants to become a school teacher like the ones who taught her. She's attracted to Bran but holds him off because she certainly doesn't want to become serious with a man out here in the West. Bran is a federal marshal undercover in Dust to catch train robbers. Eve, gorgeous and gutsy enough to handle the cowboys who come into the saloon, is distracting him from his job and driving him nuts. He wants her and considers her standoffishness a challenge and he wants to win her.

Cynthia Sax: Does someone in Welcome To Dust have a secret? I love secrets!

Jane Leopold Quinn: Eve is determined to keep her secret especially from Bran. She left her father's home in the East because of her uncle's actions. Age and distance makes her feel able to handle the man when she goes back. I've mentioned that Bran is an undercover officer.

Cynthia Sax: Is Welcome To Dust a series and will you be writing more stories in this series?

Jane Leopold Quinn: At this point, the Smokin' Hot stories are a serial in two parts. Welcome to Dust is Part 1 and ends on a cliffhanger. Part 2, The Emerald Saloon, features the saloon owner Francine and the town sheriff Sam. I have more stories in mind, for example Johnny, the saloon's piano player.

Cynthia Sax: What advice would you give new writers?

Jane Leopold Quinn: Never give up, but if for some reason your muse leaves town for a while, don't despair. The stories are still in you. They'll come back.

Cynthia Sax: What do you love about writing in your historical western romance?

Jane Leopold Quinn: The happily ever after is what attracts me to romance. Recently I tried to read a couple of "literary" historical novels and they might have ended happily but things happened, tragedies early in the stories, that turned me off. Real life has some really sucky things going on, and I think romance is the best antidote. I love to write the hope and promise of a happy ending. And read it.
Thank you, Jane Leopold Quinn, for joining us today!
Jane Leopold Quinn's Website: http://janeleopoldquinn.blogspot.com
*****************************************************************************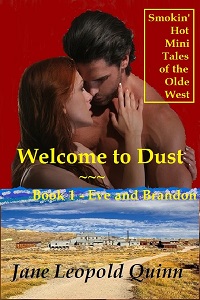 Welcome to Dust is the first of an erotic two-part serial and ends with a cliffhanger.
Dust, a town on the edge of nowhere, has a lot going on.
Eve Storm tends bar at the Emerald Saloon and yearns to increase her savings to go home back East. The fly in her ointment is the gorgeous cowboy who comes in all the time.
Brandon Prosper, federal marshal undercover as a simple cowboy, cannot stay away from Eve. She doesn't have a problem keeping away from him though and thwarts his attempts at seduction at every turn.
Dust, the Emerald Saloon, and its denizens are the centerpieces in this erotic historical western two-part serial about a down and out town, train robbers, female saloon owners and bartenders, and hunky lawmen. Welcome to Dust is just the beginning…
Buy Now: