I sat down (virtually) with Angelina J. Windsor for a short interview. Angelina J. Windsor's latest release is Seventh Son, a Paranormal with werewolves!

Cynthia Sax: What makes Lord Bram Snowdon so freakin' sexy?
Angelina J. Windsor: Oh Boy! He's a huge, alpha male who can turn into a werewolf at will! Sexy, hot and passionate is our Lord Snowdon. The first of the Dragonstone Clan, he's the ultimate tortured soul. Cursed by his wife, he roams the woods feeling too much a monster to deserve to be the liege of his clan. Until that is, one day, he runs into his equal, a mate (Isobelle, my favorite heroine!) who makes it her life's mission to lead him back to his true calling. Lord Snowdon is cultured and wild, a deadly combination, eh! I can't but think of him and I get wound up and feeling fine…
Cynthia Sax: What do you find especially exciting about Seventh Son?
Angelina J. Windsor: Oh my, all of it does, you have to have a passion for your stories to stay with them for weeks, if not months, on end. But I would imagine the fact that it is set during the time of the Arthurian Legends, a thousand plus years ago, in the fabled Isle of Albion, drew me the most. Such a time and setting allows for so much passion and excitement. Not to mention the evocative language possible. The story of Bram and Isobelle, two memorable characters I loved working with, is a dark gothic tale with time spent on the windswept moors, like so many of the books I enjoyed growing up. Side note: I loved to read then and I love to read just as much now! Think of Heathcliff and Cathy. Except living in this time and place looking back has many advantages like being able to write about it more explicitly which adds a whole other layer of tension and intensity. If you know what I mean, nudge-nudge wink-wink!!!

Cynthia Sax: What is your favorite line from Seventh Son?
Angelina J. Windsor: That's an easy one! It's a scene from my heroine, Isobelle's journey. I had to let myself fall into what this experience would feel like, the coming back from true unconsciousness. And of course my editor adding a happy face to this line made my day and told me it was all I had hoped it would be. Thanks Rebecca! Here's the line:
"I came to consciousness slowly, the land of dreams and the land of the living twisted together giving me no purchase to find the opening to my own life, much like a swimmer stuck under the frozen ice with no borehole."
*This is the kind of ancient language structure I enjoyed creating.

Cynthia Sax: How does Seventh Son start?

Angelina J. Windsor: Ah, my heroine, Isobelle, is at her wits end having been cast out of hearth and home. She's desperate to leave the world that has turned its back on her and looks to end it all on a high bridge. As she is about to jump into the cold, rushing waters below where death awaits she is accosted by Bram looking to save her. Her rescue fires her passions for this man who has risked much and she falls into his arms without delay. They rut right there on the bridge, for she has discovered she is gloriously happy to be alive and in the arms of this warm, enticing stranger. She feels little shame for accepting his embraces. But will that be enough for her to become a part of his life as she so desperately wants? Or will the beast inside him drive her away?

Cynthia Sax: What creates problems between Isobelle and Bram?

Angelina J. Windsor: Again, oh boy! The fact that our heroine is attracted to the female in the story and allows her to be overly familiar if you get what I mean causes all sort of grief! It was my first f/f scene and my editor agreed it was scorching hot. I think I'd better have a cold shower.
Okay, I'm back. Yes, conflict drives stories. And Isobelle's betrayal has dire consequences. She has much to atone for in proving her love for Bram and she suffers greatly.
Thank you, Angelina J. Windsor, for joining us today!
Angelina J. Windsor's Website: http://www.angelinajwindsor.com/
*****************************************************************************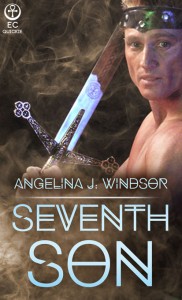 An ancient curse. A darkly handsome lord. A desperate woman.
Hungry and homeless, Isobelle refuses to sell her only possession, her body. When she is finally driven to end her suffering, Lord Bram Snowdon rescues her.
Bram lives under a curse, one that's driven him to become a creature in hiding, knowing every full moon will turn him into a monster.
Bram and Isobelle both have demons to fight, and their struggles soon turn to lust…and love. But destiny awaits them: they are fated to help the Dragonstone clan reclaim its birthright. This mission puts Isobelle's life in peril and worse, puts Bram's trust in her at risk.
Morganas, daughter of the Merlin, mage of Dragonstone and Avalon, offers to be a source of the purest help to Isobelle but also becomes her darkest temptation.
Inside Scoop: This story contains a scorching-hot f/f scene.
Reader Advisory: This story has graphic sexual language and scenes—no closed bedroom doors (or other rooms) here!
An adult historical romance from Ellora's Cave
Buy Now: