I sat down (virtually) with Whitley Gray for a short interview. Whitley Gray's latest release is Crash Pad, a MM Contemporary.

Cynthia Sax: What is your favorite line from Crash Pad?
Whitley Gray: "Okay. I'm back. The boys are trying to murder each other. Superman and Batman are not friends, no matter what they tell you."
"It's that superpower-envy thing." Jamie chuckled.
This is from a telephone conversation Jamie has with his sister. I like the visual of Jamie's two nephews racing around in capes, Bat powers versus Spidey senses. No cooperation of superheroes in a household with two young boys, who compete with each other about everything.
One of the things I like the most about writing is layering in little details like this, especially things the typical reader may be able to relate to.
Cynthia Sax: Where did you get the idea for Crash Pad?
Whitley Gray: I set out to create a story set in the summer. Lots of people run in the park year-round, and I wanted to add an activity more confined to nicer weather—like rollerblading. This activity also lent itself to an accidental meeting, as rollerblading isn't easy, especially for beginners.
Remy is an Emergency Medicine doctor and has seen a lot of sports injuries due to accidents. Naturally he wants to help. Jamie is suspicious of doctors due to his background. The opposing viewpoints makes for some nice conflict.

Cynthia Sax: How does Crash Pad start?
Whitley Gray: As they say, always start in the action. Each of the guys has a backstory that contributes to the story, but initially it's not necessary to know that history in order to understand what's happening. I like to start with a brief orientation of location and what each character is doing, and then throw them right into the action. The story starts when Remy and Jamie "crash."

Cynthia Sax: What one piece of advice would you give new writers?

Whitley Gray: Voracious readers make the best writers. If you don't like to read, writing is the wrong career choice.
In the beginning, I think it's vital to ground yourself in the fundamentals of writing. I don't have a background in English Composition or Creative Writing—I'm a hard science person. For me, the best way to learn about writing was with a combination of online workshops and devouring a lot of books on craft. Since romance adds another complex layer to any story, it was important to move on to workshops about writing romance in particular. Finally, because I write M/M romance, I did a lot of reading in the genre itself, then workshops and books to help me get a good handle on what I wanted to do.
Thank you, Whitley Gray, for joining us today!
Whitley Gray's Website: http://www.whitleygray.com
*****************************************************************************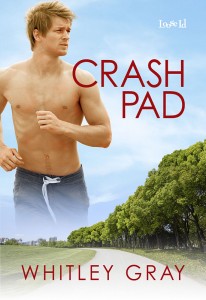 Physician Remy Marshall has two loves: Emergency Medicine and running. Work doesn't leave much time to meet guys, and most seem more interested in his bank account than him. With a week off to train for a marathon, Remy plans to make the most of his precious vacation. The last thing he needs is a distraction.
Jamie Sutton is new to the area. He hopes to make a fresh start after leaving an abusive relationship with an orthopedic surgeon. He's got a new job as a massage therapist and wants to meet some nice guys. Against his better judgment, Jamie decides the best way to meet a cute rollerblader he's seen in the park is on wheels.
With attention on his watch and not where he's going, Remy crashes into Jamie and fractures the first-time rollerblader's ankle. Jamie has no one to help him after the injury; Remy proposes Jamie stay with him. Jamie is reluctant, but it's a better option than staying with the odd guy in the neighboring motel room. As the two get acquainted, Jamie's past comes calling. Remy discovers the prize he really wants isn't a medal in a marathon, but the man right in front of him.