I sat down (virtually) with Ella Sheridan for a short interview. Today is the cover reveal day for Ella Sheridan's Teach Me, a Romantic Suspense.

Cynthia Sax: What makes your heroes sexy?
Ella Sheridan: Having been involved in the martial arts for close to a decade, the sexiest thing about my heroes (for me) is that they are fighters. There's nothing quite like a man that can fight for his woman and still know how to touch her with tenderness, love, and of course, hunger.
Cynthia Sax: What is one thing you find super exciting about Teach Me?
Ella Sheridan: Teach Me is the first full novel I wrote. Though it has gone through many incarnations since, it excites me to know I accomplished what I set out to accomplish—to make this story the best it could be.

Cynthia Sax: Where did you get the idea for Teach Me?
Ella Sheridan: The hero. 🙂 Really, the story didn't come to me; the hero did. Conlan dictated the story from day one, and I've never been more grateful to a character for taking over the reins!

Cynthia Sax: How does Teach Me start?

Ella Sheridan: The intersection of Conlan's and Jess's lives occurs in only one place: the little coffee shop around the corner from the company where Jess works. They've seen each other there for months, but neither has had the nerve to move beyond attraction across a crowded room to actually meeting. They needed something to help them along (so I helped 😉 ).

Cynthia Sax: What is one aspect that makes Conlan and Jess right for each other?

Ella Sheridan: In the physical realm, Conlan and Jess are opposites (and you know what they say about opposites…). Conlan is the strong one, and Jess, after what she's been through, is less so. But in the emotional realm, it is Jess who has the courage to go after what she wants, despite the pain she's been through. It's Conlan who has to find the strength to follow his heart.

Cynthia Sax: Does a character in Teach Me have a secret?

Ella Sheridan: What is it? If I told you that, it wouldn't be a secret anymore, now would it? 😉

Cynthia Sax: Is Teach Me a series and will you be writing more stories in this series?

Ella Sheridan: Teach Me is a series. Conlan's best friend, Jack, meets his match in book two, Trust Me, out at the end of December. And book three will feature another soldier from Jack's past, Gabe, and his twin brother. That book, Take Me, will be released in February of next year. To find out more about these releases (and all the other great things I've got going on), readers can check out my newsletter at http://eepurl.com/IJkRf .
Thank you, Ella Sheridan, for joining us today!
Ella Sheridan's Website: http://ellasheridanauthor.com/
*****************************************************************************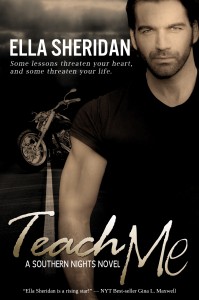 A woman determined to heal…
Shy researcher Jess Kingston spent the last eight weeks recovering from her ex-boyfriend's brutal attack. Body healed, she's ready to put her life back together—except her ex isn't ready to let go. She won't cower in a corner while Brit tortures her, but she's powerless to fight back.
A man determined to resist…
Ex-military security specialist Conlan James avoids commitment like the plague. His job, his Harley, and the occasional one-night stand are all he needs, until the day he rescues Jess from a tense situation and realizes he can't get her off his mind. He can teach her to protect herself, but protecting his heart is another matter.

A madman determined to win…
As the deadly game of cat-and-mouse with Brit heats up, so does the hunger between Con and Jess. Safety might be found in numbers, but in bed, all bets are off—and the wrong move could lead to heartbreak. Or death.
Pre-order Now On Amazon: http://www.amazon.com/Teach-Me-Southern-Nights-Book-ebook/dp/B00NW16WTC
Pre-order Now On ARe: https://www.allromanceebooks.com/product-teachme-1635417-149.html
Pre-order Now On Kobo: http://store.kobobooks.com/en-US/ebook/teach-me-11