I sat down (virtually) with Lexi Post for a short interview. Lexi Post's latest release is Cruise into Eden, a SciFi Erotic Romance set on a cruise ship. Woot!!! The dear wonderful hubby and I LOVE cruising!

Cynthia Sax: What excites you about Cruise into Eden?
Lexi Post: What excites me the most about this story is the social constructs of the planet Eden These are only touched upon in this book, but from what is included, the reader can see this is a very different planet. For example, to wear clothes on Eden is to be rude. All women must have at least two husbands. All criminals are banished outside the city walls to live or die on their own. And in order for Eden men to receive portal chips, they must prove themselves morally worthy. Then there are other planet-wide rules that are specific to choosing, interacting and bonding with women. These were primarily written by an Earth woman who visited Eden back in the 19th Century. Her name was Emily Dickinson.
Cynthia Sax: Where did you get the idea for Cruise into Eden?
Lexi Post: I got the idea for this story from an Emily Dickinson poem called "Wild Nights! Wild Nights!" In some ways, this is not unique for me since I write erotic romance inspired by classic literature; however, I usually choose short stories and create a whole new modern day story that generally runs about 300 pages. One evening over drinks, my former editor challenged me to write short. When I told my agent this, she suggested I use a poem because I had yet to write a short romance. The poem, "Wild Nights! Wild Nights!" stood out from thousands of Dickinson poems because its subject matter is so passionate as opposed to what the poet is best known for which is all aspects of death. Since I like putting opposites together, such as classic literature and erotic romance, when I read the poem I just knew that Eden had to be another planet and Emily Dickinson, the recluse, must have visited it. And so not only was a novella born, but a whole series.

Cynthia Sax: Where is Cruise into Eden set?
Lexi Post: I set the story on a nude Caribbean cruise. This was necessary. Since Edenists are used to being naked, I had to bring them somewhere where the heroine would expect them to be so, otherwise she might run screaming in the opposite direction. That meant I had to find a way to get my heroine, who had never even thought of being nude in front of other people, onto this cruise. Luckily, these cruises aren't actually called "nude" cruises. They are called "clothing optional" cruises which means that it was perfectly understandable for Erin to board the ship expecting to wear clothes throughout the trip. It was very freeing for me as well as the writer because I didn't have to continually describe what everyone was wearing. They were wearing nothing! I found this an exciting setting because there are many rules to a nude cruise which were fun to incorporate for a realistic feel. Also, it was great to show Erin's struggle with being nude in public, and the heroes, Ware and Nase, being completely baffled by her shyness.

Cynthia Sax: Is Cruise into Eden a series and will you be writing more stories in this series?

Lexi Post: Cruise into Eden is the first in the Eden series. I wanted the first book to not only show Erin getting used to being nude, but also show one way in which the men of Eden connect with their chosen women from Earth. The next book in the series Unexpected Eden, will also be based on an Emily Dickinson poem, but except for the first chapter, the entire book will take place on the planet. Ware, Nase, and Erin will be a part of this one as well, but the focus is on three Eden men, Jahl, Sandale, and Khaos and their woman. I'm hoping that my readers will fall in love with Eden as much as I have.
Thank you, Lexi Post, for joining us today!
Lexi Post's Website: http://www.lexipostbooks.com/
*****************************************************************************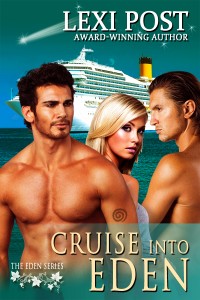 After eleven years of forced abstinence, television Sci-fi employee and IT geek Erin Danielson, boards a nude cruise in the hopes of finally getting lucky. It seems her luck has changed when two handsome men with ripped bodies, enticing accents, and hearts of gold invite her into their stateroom. But if this erotic ménage seems too good to be true, then…
Nassic Wild and Wareson Night hail from the planet Eden, where women are scarce, and their mission is simple—meet the woman they've been waiting for for the last eleven years, bond with her and take her home. At first all goes according to plan as they pleasure her with their bodies and their special abilities. But when their best intentions lead to the worst results they lose her, along with their hearts.
Now they must find a way to woo her back or return to Eden with no hope for the future.
Buy Now From Amazon: http://www.amazon.com/Cruise-Into-Eden-Book-ebook/dp/B00N6FIWHY
Buy Now From B&N: http://www.barnesandnoble.com/w/cruise-into-eden-lexi-post/1120255876
Buy Now From ARe: https://www.allromanceebooks.com/product-cruiseintoeden-1611096-340.html