I sat down (virtually) with Zenobia Renquist for a short interview. Zenobia Renquist's latest release is Wine Service (Professional Courtesy 1), a Contemporary Erotica with BDSM AND Menage.

Cynthia Sax: Where did you get the idea for Wine Service?
Zenobia Renquist: The theme of the series actually led to the idea for this story. I wanted a non-secretary-esque job where a woman might find herself entangled in a sexual relationship during work hours. A few ideas came to mind, but hotel housekeeper got the first spot in the line up. I was going to start with a different story about a hypno-therapist and his IT person but it grew to the point of becoming its own series. Plus I didn't want to start two series with hypnosis. The other being the High Relief Series.
Cynthia Sax: How does Wine Service start?
Zenobia Renquist: Lexie is about to punch the clock and head home after a long day of running to and fro doing her job. She's ready to strip down and put her feet up but a coworker and friend asks for a favor—cover the last hour of her shift because she has a family emergency. Lexie agrees and ends up being sent to a VIP's room on a mystery errand.
I started the story there because most readers can sympathize with the end-of-the-day clock watch feeling. A lot of readers can also sympathize with being steps away from the time clock when the boss (or someone else) clock-blocks (teehee) with another task or an urgent favor or something that will delay escape.

Cynthia Sax: Where is Wine Service set?
Zenobia Renquist: The story is set in an unnamed five-star hotel in an undisclosed city. I'm not big on details like that, mostly because I don't want some hotel coming after me. The setting is exciting because one of the hotel housekeepers is indulging in some extracurricular activity while on the clock and constantly scared she'll get caught.

Cynthia Sax: Is Wine Service part of a series and will you be writing more stories in this series?

Zenobia Renquist: Most definitely. The titles are stand alone but some of the characters will know each other. For instance, Lexie's boss Franceska is the aunt of the main character in the next book I have planned.
Thank you, Zenobia Renquist, for joining us today!
Zenobia Renquist's Website: http://zenobiarenquist.com/
*****************************************************************************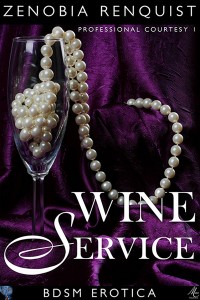 She offers satisfaction above and beyond what is requested.
Lexie's job as a housekeeper at a five-star hotel doesn't normally include the unique and risqué form of room service that important hotel guest Mr. Malena has requested, nor the generous tip he's offered. Lexie can't resist, and what should have been a one-time thing turns into an introduction into the sensual world of customer satisfaction. She finds much enjoyment in her "work," but is it worth risking her job?
Buy Now: http://zenobiarenquist.com/bookshelf/pro-courtesy/wine-service