The first romance story I ever completed writing was a 150,000 word, 500 page Regency romance called The Dragon Duke's Protector. This story incorporated every plot you could ever imagine. There was a secret baby, a spy ring, a lady disguised as a governess, a self-made, half-Asian scarred bastard son of a Duke who somehow inherited the title, a haunted castle, a wicked stepmother and a wicked butler and a wicked maid and a wicked yet beautiful rival. There were pirates, missing gold, and murdered parents. You name the Regency plot. It was in there.
It was also a horrendous mess. My dear wonderful hubby often tells me if I ever become famous, he'll rescue The Dragon Duke's Protector from its place under the bed and have it published. But that's a joke. This story will never see the light of day.
It was a first story and I made a very common first story mistake, a mistake I see in numerous contest entries while judging. I made the story too complicated, thinking I was being clever, thinking that complicated was a good thing.
Complicated is a bad thing, especially in romance. Every complication, every additional plotline or character or setting takes our attention away from the true reason we're reading the story. We're reading for the romance.
Of course, things should happen. No one wants to read a story about a couple drinking tea. But the focus of the story should always be on the romantic couple (or more if the story is a ménage). Every scene, every setting, every subplot, every secondary character should support the romance.
This is challenging to accomplish. Creating simple stories isn't easy. Look at ballroom dancing. The professionals make it appear so effortless, as though anyone could do it, yet it has taken years, decades of hard work to create this illusion. A well-crafted romance is similar. It appears easy yet is dang difficult and never foolproof (This is why 1 star reviews happen. Some stories don't work.).
I write a quick, messy, bare bones first draft of a story and then usually spend three or four drafts simplifying the story. Can I eliminate characters, making one character do the job of three? Do I have to change settings? Can I return to a setting I've already created? Does that oh-so-clever subplot serve the romance or should it be eliminated? Is my hero or heroine too complex? Can I reduce the heroine's emotional baggage from twenty large trunks to one or two carryon pieces? All of this returns the focus to the romance, where it should be.
How do you simplify your stories?
***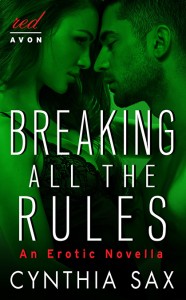 Nathan Lawford, Blaine Technologies' chief financial officer, is known as the Iceman. He conducts his personal and business affairs without emotion, never allowing himself to become involved with anyone. When Nate sees something or someone he wants, he negotiates, paying a simple, set monetary price.
Now he wants Camille, the company's green-haired intern.
Camille Joplin Trent never expected to be paid to pleasure the man of her dreams. She can't quite figure out why this is a bad thing. Nate is intelligent, handsome, sophisticated, everything she's ever wanted in a lover and never thought she could have. Their contract is for a month, thirty lust-filled days of making every sexual fantasy they've ever had come true. At the end of this month, the rules state their relationship will end.
Of course, Camille has never been good at following rules.
Buy Now At Amazon: http://www.amazon.com/Breaking-All-Rules-Erotic-Novella-ebook/dp/B00F2I2GXY
Buy Now At Barnes And Noble: http://www.barnesandnoble.com/w/breaking-all-the-rules-cynthia-sax/1117501082
Buy Now At ARe: https://www.allromanceebooks.com/product-breakingalltherules-1453084-149.html