I sat down (virtually) with Amy Ruttan for a short interview. Amy Ruttan writes hot erotic romances for Ellora's Cave and her latest release is Private Release, a very sexy paranormal. I love Amy to bits. She is a great writer and an even better friend. I feel extremely grateful to know her!

Cynthia Sax: Where did you get the idea for Private Release?
Amy Ruttan: The idea stemmed from Mounted Release. The heroine's brother just barged his way in and then I had emails from readers requesting Jared's story. Jared's clan was left in ruins by Levi (villain from Mounted Release), so he had to go home and clean up the pieces.
Cynthia Sax: What causes problems between Adele and Jared?
Amy Ruttan: The conflict is she's not a Mukswa. She's not a bear shifter and the bear shifter society is secret. He wants to be with her, but he's chief, how can he marry an outsider?

Cynthia Sax: Is this a series and will you be writing more stories in this series?
Amy Ruttan: Yes, this is a series. It's the second book. The first book is Mounted Release. The stories are standalone though. There is a third book in the works.

Cynthia Sax: What one piece of advice would you give new writers?

Amy Ruttan: Never give up! Believe in yourself and keep trying. We all get rejections, but if you want it reach out and take it.
Thank you, Amy Ruttan, for joining us today!
Amy Ruttan's Website: http://www.amyruttan.com
*****************************************************************************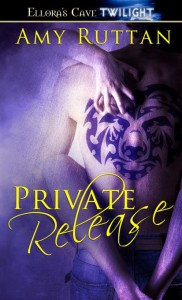 Jared Stevens hasn't been the same since he was shot. His duty is to marry a Mukswa woman and be a strong leader. He lets the elders of his clan choose his bride, because the woman he wants is only in his fantasies, the only woman who brings him to exquisite release.
Adele Banks loved being a Mountie, but one shot ended her career and altered her world forever. Adele is determined to make a life for herself. She's hired to recover Beare Enterprises embezzled funds, but what she didn't count on is being extremely attracted to her client when meeting him for the first time as he's naked in his shower.
Adele is Jared's mystery woman, but she's taboo. He bonds to her, but has to keep his society secret, as much as he wants to mark her as his own.
As Jared fights his own inner beast, remnants of the prior chief's wrath is affecting the clan and Adele. To save Adele's life, Jared may just have to betray his clan's secret and risk his heart.
A Romantica® paranormal erotic romance from Ellora's Cave
Buy From Ellora's Cave: http://www.ellorascave.com/private-release.html
Buy From Amazon: http://www.amazon.com/Private-Release-ebook/dp/B00D93NMVO