I sat down (virtually) with Madison J. Edwards for a short interview. Madison J. Edwards writes hot erotic romances and her latest release is According to Plan, a very sexy contemporary. I love Madison and I love this story (though my favorite story of hers is still The Perfect Secretary… likely because it was the first story of hers I read)!

Cynthia Sax: What makes Tank super sexy?
Madison J. Edwards: Tank (Jake Steele) is sexy because he is totally committed to one woman. Even though he's drop dead gorgeous and could have any woman he wants, he chooses Shelby and never waivers in his love for her. Never!
How sexy is that?
Cynthia Sax: What is your favorite line from According to Plan?
Madison J. Edwards: "Do you want it hard and fast, or soft and slow?"
"Yes," I whispered. God help me. I wanted it all.
I mean, really? Look at them. Smoke is rising between the punctuation marks. How could it not be my favorite?
This small interchange sums up the relationship between Tank and Shelby. He's completely Alpha and could do whatever he wanted. Shelby would willingly acquiesce. However, he lets her lead the dance. She sets the boundaries. Flimsy, waking up the girly parts boundaries, but dammit – they're hers.
Physically, they are smoking hot for each other and although it takes some time, we see they complement each other in so many other ways.

Cynthia Sax: Where did you get the idea for According to Plan?
Madison J. Edwards: A phrase kept rolling through my brain, one inner thought.
"I hated when he called me Ro…made me think of salmon swimming upstream."
At the time my heroine was called Rowena and this was her reaction to Regis, the icky neighbor calling her – yet again.
I originally was going to write it Bridgette Jones Diary style, a piece of chick lit, but romance and hot sex kept popping up everywhere. In the kitchen, the hallway, on the pool table – *sigh* – I love the pool table scene….
What's a girl to do?

Cynthia Sax: Does someone in According to Plan have a secret?

Madison J. Edwards: Tank is a Federal Agent, and the reader finds this out in the first chapter. No spoiler alerts here. However Shelby doesn't know this and thinks Tank left her for another woman. He has to keep her in the dark until the case is closed, and it kills him.

Cynthia Sax: What do you love about writing Romance?

Madison J. Edwards: Everything. Romance is my passion. If boy doesn't meet girl, or vice versa I flounder. Although I enjoy reading a variety of genres, romance is my go to read. Always has been, always will be.
And to think it all started with The Cat in The Hat when I was four.

Cynthia Sax: (laughs) I'm not even going to ask. Is there any question you wish I had asked?

Madison J. Edwards: Nope. Gotta have some secrets.
Thank you, Madison J. Edwards, for joining us today!
Madison J. Edwards's Website: http://www.maddieedwards.com/
*****************************************************************************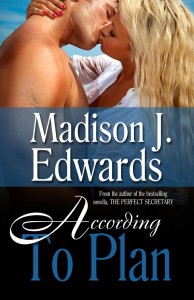 What do you do when things don't go According to Plan? For starters, you trick, deceive and lie to the very person who ruined your best laid plans.
Shelby Stewart, P.I., has been hired to find socialite, Harrison Grant. However, Jake Steele (aka Tank) – her ex-partner, ex-lover, ex-everything is looking for Harrison as well, albeit for a very different reason. Harry's the prime suspect in the murder of a call girl in L.A.
Frustration becomes Shelby's newest partner as she attempts to out maneuver Tank in their parallel quest. However, Tank is not what, or who Shelby thought.
Buy From Barnes & Noble: http://www.barnesandnoble.com/w/according-to-plan-madison-j-edwards/1104471760
Buy From Amazon: http://www.amazon.com/According-To-Plan-ebook/dp/B005EDN90G
Buy From All Romance eBooks: https://www.allromanceebooks.com/product-accordingtoplan-578652-149.html