I sat down (virtually) with B.J. McCall for a short interview. B.J. McCall writes hot erotic romances for Changeling Press and her latest release is Night Sins, the second book in her wonderful Forever series.

Cynthia Sax: Where does Night Sins begin?
B.J. McCall: Night Sins begins appropriately on the city streets near the windowless, high rise complex for vampires called the Cemetery. My hero, Egan, is a Cemetery vampire and my heroine, Harper, is a Dead Souls Agency officer. It's illegal for vampires to leave the Cemetery, but no matter how many laws are passed and precautions taken, vampires are drawn to the living. It's Harper's job to patrol the streets and deal with law-breaking vampires.
The book begins with a confrontation between Harper and several bloodsuckers. The scene defines the relationship between vampires and humans and why humans don't walk the streets at night. This clash sets the stage for an unlikely romance.
Cynthia Sax: What creates conflict between Egan and Harper?
B.J. McCall: Egan and Harper were enemies before they ever laid eyes on one another. He's a vampire and she's DSA. When two enemies interact things happen. When a Deal Souls Agent and a vampire come face-to-face things usually go bad for the vampire.
After the death of a young vampire at Harper's hand, Egan swears revenge. He stalks her and takes her as his prisoner. Harper has a history with bloodsuckers. She's burned them, arrested them and destroyed them. She's at his mercy, but she won't beg for her life.
Admiration and attraction add to the conflict that makes their interaction intimate and sensual on a level neither of them wanted or expected.

Cynthia Sax: What is your favorite line from Night Sins?
B.J. McCall: "Remember me, Agent Croix?"
This line is at the point of the story where Egan and Harper meet again. She's alone, outside her reinforced vehicle and has just been grabbed from behind. His silky voice gives him away. The vampire now has the upper hand and she's in big trouble.
Egan knows Agent Croix would prefer a quick death instead of becoming a vampire's source of nourishment. Revenge is a dish best served cold, but Croix is hot. Revenge can take many forms and Egan's choice surprises him. She'll hate every touch, every climax and every sip, but eventually he will be satisfied.

Cynthia Sax: Will you be writing more stories in your Forever series?

B.J. McCall: Night Sins is the second book in my Changeling Press vampire series, Forever. I love writing vampire stories. I enjoy the urban fantasy element and I intend to write more books set in this unique world. The Cemetery vampires were introduced in Eternity Factor, the first book in my new series.
Thank you, B.J. McCall, for joining us today!
B.J. McCall's Website: http://www.bjmccall.com/
*****************************************************************************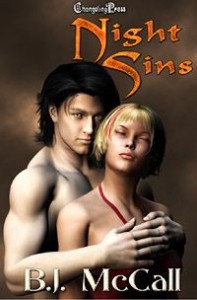 Night is made for sin and vampires rule the dark.
An officer for the Dead Souls Agency, Harper Croix's job is vampire enforcement. One night her job takes a lethal turn, and Harper has a showdown with an old one. He's nothing like the rabid bloodsuckers she burns, arrests and destroys. He's handsome, strong, disciplined and he wants revenge.
Egan wants Agent Croix to suffer for her sins against his kind. Revenge is a dish best served cold, but Croix is hot and tasty. One encounter leads to another. Enemies become lovers.
Harper has sworn to enforce the vampire laws, not break them. An affair with a vampire is reckless. Falling in love is crazy stupid. Egan is irresistible.
Buy From Changeling Press: http://changelingpress.com/product.php?&upt=book&ubid=2024
Buy From ARe: https://www.allromanceebooks.com/product-nightsinsforever-1216094-340.html
Buy From Barnes and Noble: http://www.barnesandnoble.com/w/night-sins-bj-mccall/1115427242?ean=2940016473314