I sat down (virtually) with Milly Taiden for a short interview. Milly Taiden is a wonderful friend and a great writer. She writes VERY sexy wolf shifters. Milly Taiden's latest release is Wolf Protector. (Did I mention about the sexy wolf shifters?)

Cynthia Sax: What makes your heroes so dang sexy?
Milly Taiden: I like to read what I feel are real heroes and heroines. Women and men who are flawed but still have a sense of humor, have insecurities but are strong. I love men who aren't 100% physically perfect. A scar, a painful past. Something that makes me want to reach out and hug him. I also like women who are strong and won't take BS. From men, women or bad guys. Doesn't matter if they are in danger and can't win, they'll still try.
Cynthia Sax: What do you find especially exciting about Wolf Protector?
Milly Taiden: From this book I love to see Erica and Trent go from fighting attraction to finally giving in. I love seeing him show her that not everyone will desert her and that she can trust him. I love seeing her realize she can open her heart to him and he won't abandon her.

Cynthia Sax: What is your favorite line from Wolf Protector?
Milly Taiden: She folded her arms over her chest. "You love all women, Trent."
"No, I don't. I'm nice to all women. I've never told anyone I love them other than my mother."

Cynthia Sax: Where did you get the idea for Wolf Protector?

Milly Taiden: Have no clue it just popped into my head. LOL.

Cynthia Sax: Where does Wolf Protector start?

Milly Taiden: It starts with them arguing over Trent's flirting. I think it was a good spot to start because you see immediately how Erica is fighting her attraction and how Trent loves to tease her. But then they jump into the case and they're all business.

Cynthia Sax: Does anyone in Wolf Protector have a secret?

Milly Taiden: Yes, can't tell you LOL. It's part of the story.
Thank you, Milly Taiden, for joining us today!
Milly Taiden's Website: http://www.millytaiden.com
*****************************************************************************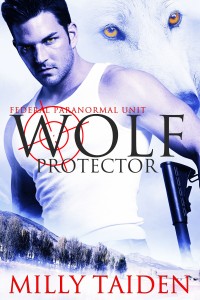 A woman with a secret…
The Federal Paranormal Unit is an elite squad of supernaturals dedicated to solving missing persons cases. Erica's gift allows her a special connection with the crime, but it comes at a deep personal cost… Until now, she's kept her gift a secret, even from the other members of the team. But this case will throw her together with Agent Trent Buchanan. He's the object of her secret desires, but he's also a cocky womanizer. She'd rather swim in shark-infested waters with a paper cut than admit she has feelings for him.
A man with one desire…
Wolf Shifter Trent wants Erica more than he's ever wanted any woman. He's spent years patiently waiting for her to admit that she wants him too. Working one-on-one in a race to find a serial killer, Trent's patience and Erica's resolve wear thin. When Trent discovers the truth about Erica, will he accept her for who she is? And can he protect her from the horrors that her gift brings?
A case that pushes them to the edge…
Erica will have to risk it all if she wants to stop the killer, and when she does, Trent may have to put his own life on the line to make sure his mate is protected…
Buy From ARe: http://bit.ly/14xROux
Buy From Barnes and Noble: http://bit.ly/14wb9MU